Hey Chica!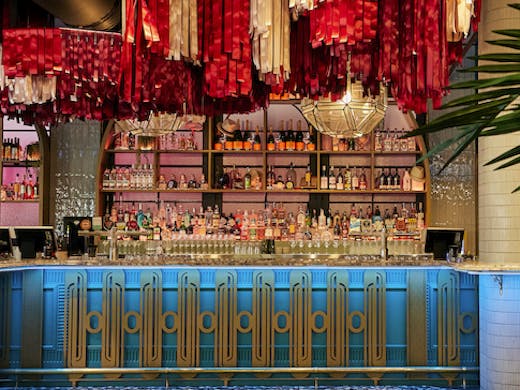 The Verdict
Banish boring and turn up your next night out in Brisbane thanks to this vibrant new late-night venue. Hey Chica! is a Latin American-inspired social club taking over Fortitude Valley and you're going to want to check it out ASAP.
The team behind this fun-filled setup, hospo royalty Hallmark Group, is all about bringing you Latin American-inspired street charm, minus the expensive plane ticket. So the good news is there's more cash for you to splash on their next-level cocktails.
So what's to expect when you step (or dance) through the doors of Hey Chica!? Picture one big block party, dropping the lively energy and colourful flavours inspired by Latin America on your doorstep. We're talking groove-inducing live music, artistic interiors and friendly staff bringing the vibes. This place is the definition of 'add a little spice'.
Slide into a bright leather booth with your crew and take in the Latin American-inspired sights, sounds and scents. From the glamorous metallic bar through to pops of green, red and yellow, as well as an abundance of lush greenery, the design alone is a feast for your eyes.
Sporting a cocktail list of traditional sips with a twist, we dare you to pick just one. Between the 'Gram-worthy watermelon-and-basil sour, the Hemingway daiquiri or the mezcal Smoky Cuban, you'll have a tough time choosing.
If you find yourself in need some fuel to keep you dancing into the early hours of the morning, your tastebuds will be more than impressed by the menu. Tuck into a tempting selection of tapas, from spicy beef empanadas to kingfish ceviche and prawn skewers. But that's not all, because a mouth-watering list of tacos, nachos, grilled meats, sandwiches and salads is also available. And we haven't even made it to dessert yet! Look, we won't dwell, but let's just say churros, chocolate and whipped cream is involved.
So what are you waiting for? Be the trailblazer you know you are and make tracks for Hey Chica! before the rest of Brisbane clues up that this is going to be the best venue to fling open its doors in 2021.
Image credit: Supplied
---