Hustle And Grind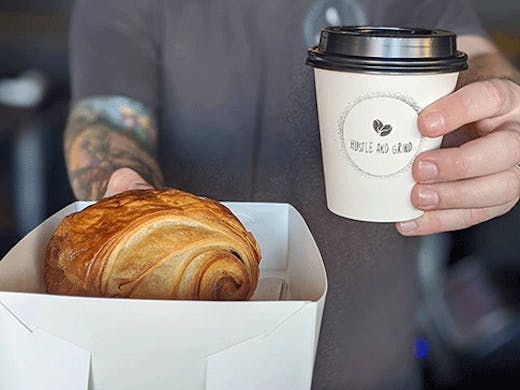 Hustle and Grind represents everything good happening in Fortitude Valley right now.
It's a new hole-in-the-wall coffee shop on Mclachlan Street, just down the road from late-night staples like Press Club, Cloudland and The Flying Cock. And like most pint-sized cafes these days, the guys aren't trying to do everything all at once. You've got A-grade coffee, courtesy of Tim Adams in Warana, some handmade vegan treats from local bakeries, and plenty of grungy, industrial swagger. Do you really need anything else on a Sunday morning?
"We're in the business of good coffee and good vibes," says co-owner Brooke Mcilroy. "We just wanted to create a space where you can have a laugh and get consistently great coffee at the same time." Sounds pretty bloody good to us.
Hustle and Grind is also doing its bit to support local Queensland artists. Right now that means up-and-coming tattooist Jordan Crabtree, but the plan is to hero different Brisbane creatives every few months. You can browse designs while nibbling vegan choc-chip cookies, buy a few prints, and every dollar you spend goes straight back to the artist.
"We would love to get to the point where we can start really giving back to the community," says Mcilroy. "At this point, we have a charity tip jar with all proceeds of the month going to a particular charity."
This is what we mean by improving the Valley. Hustle and Grind isn't just trying to score 'cool points'. It's a café that wants to give back to the community, not just caffeinate the community. The sort of place you can relax, shoot the shit, and watch the weekend slide by.
---
You May Also Like
Restaurants
Brisbane City , QLD
Taking over the space once occupied by OTTO before its migration across the river to…
Cafes
Fortitude Valley, QLD
After just over a year of pouring smooth coffees and slinging pastries and toasties…