JoJo's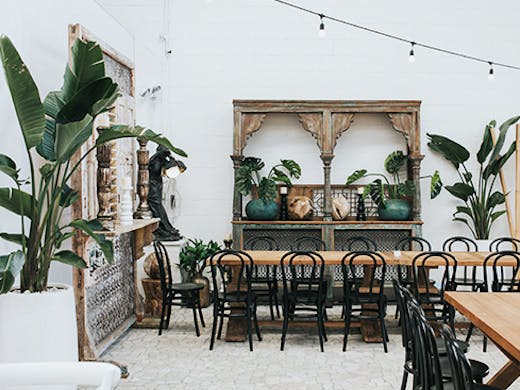 Arguably one of Brisbane's most iconic restaurants, Jo-Jo's has upped sticks from the CBD to a gorgeous new location in West End! With new designer digs comes a whole new menu: serving breakfast, lunch, dinner, coffee, and drinks, Jojo's has a whole new lease on life, and is now a go-to for drinks and eats in West End.
Featuring a European-style courtyard and stone-floored bar, it's easy to see how days quickly turn into nights at Jo-Jo's. A huge fucus on getting the ambience just right means that the new location is homely, classy and has weekend vibes aplenty.
Serving up a delicious multi-cuisine inspired menu, Jo-Jo's has done food right. Some stand outs on the breakfast menu are the Israeli baked eggs as well as their cacao pancake stack for those with a sweet tooth—guilty! For lunch and dinner, they offer generous Euro-style share platters: stand outs being the grilled haloumi slabs and truffle cheese fries, as well as killer mains and an impressive seafood selection.
The Jo-Jo's bar serves up both classic cocktails and their own signatures, including the Coffee Caramello, Hibiscus Kombucha, and Superberry Daiquiri. Because we're all about #health these days...
A dining institution, Jo-Jo's has taken innovative cross cultural dining to a whole new level and breathed new life into an iconic brand, merging cuisines and flavours to create something quite wonderful.
Image credit: Hayley Williamson
---