Kickin' Inn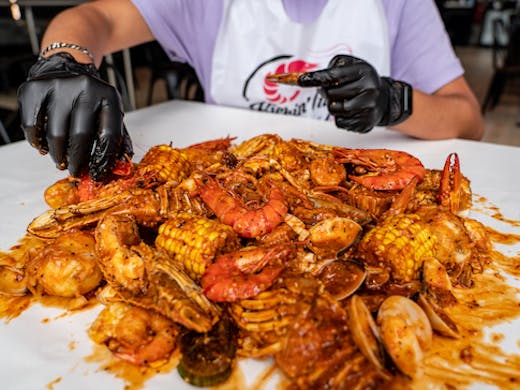 The Verdict
Ditch the table manners, along with the cutlery, and get ready to rip in at the recently opened Kickin'Inn in Spring Hill. The first Queensland location of this mega-popular seafood joint, this new spiced seafood destination is bringing plenty of Cajun spice and hands-on dining to the City's edge.
Sitting down to dine is quite the experience with a range of different signature 'Kajun'-style spice mixes and flavours that accompany the fresh range of Aussie seafood. There's plenty of ocean-based treasures to choose from with lobsters, mussels, baby octopus, bugs, crabs, and whole prawns among the selections for the signature seafood boils, as well as loads of snacks and starters, too.
Your pick of seafood is then cooked and doused in sauce and spices of your own choosing, including the signature 55-spice blend, garlic kajun, garlic butter, and the 'Sha Bang' a lethal combination of all the sauces combined.
Put on a bib, glove up and get ready to get deliciously dirty.
Image credit: Kickin' Inn
---