Kid Curry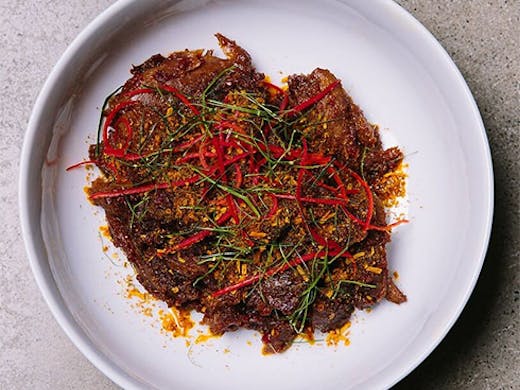 Remember Kid Curry, the dark kitchen dedicated to feisty takeaway curries launched in lockdown last year by the Happy Boy team? Well, they're back, this time for good, setting up shop in a minimalist venue next door to Happy Boy on East Street in Fortitude Valley, and expanding their menu from just curries to a full list of Southeast Asian eats.
Whether you're a lover of Thai, Indian, Malay or Indonesian flavours, you'll find something to drool over on the menu here. Wishing you were on a pristine white beach in Thailand? Start off with smaller dishes of marinated chargrilled pork skewers and green mango salad with dried shrimp and cashews before moving on to drool-worthy beef cheek massaman curry. Reminiscing about your last trip to Indonesia? Go for the rendang with spices from India and Arabia that coalesce in a fragrant sauce served over confit duck. Or, if you're a seafood fan, try the fragrant and spicy Sri Lankan fish curry.
If you're liking what you're hearing, sit tight because this is only a taste of what's on offer—you may want to dine with a big group so you can sample more, and pile on plenty of sides like roti, pappadums, raita and chutneys.
Image credit: Kid Curry
---