La Valle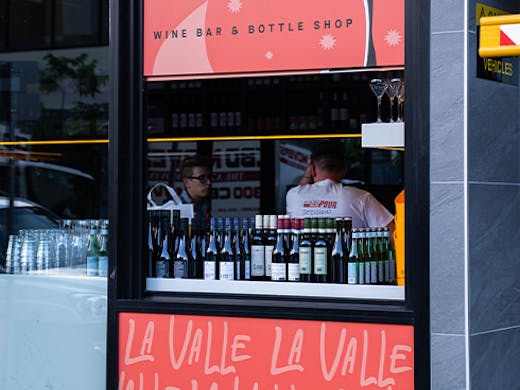 Joining its sibling venues Cielo Rooftop Bar and La Costa Restaurant around the corner, La Velle is much more than just a wine bar. Part bottle shop, part wine club, part snack stop, it's the perfect place to head for after-work drinks, pre-dinner drinks or even just a cheeky lunch of focaccia with a glass of rose.
Small in size it may be, but you'll find over 200 varietals of wine lining the shelves inside, a combination of the entire, Italian-heavy wine lists at Cielo, La Costa and also Eterna, the other venue owned by the group (who are also the crew behind Salt Meats Cheese, just FYI). Sparkling, organic, pink, white, red and orange—it's all here, with some French and Australian wines and a few beers thrown in for good measure. The best part though, is that you don't have to just order by the glass—you can order every single sip by the bottle to drink right there and then or take home, with curb-side pick-up even available.
For those who decide to drink in, you can opt to sit inside at one of the handful of tables under the endless wine shelves, or outside on the footpath of quiet, breezy Alfred Street. It wouldn't be a wine bar without decent snacks though, so make sure you order something to nibble on off the menu, whether it be a cheese or charcuterie board, or one of the street-style focaccias, which come stuffed with the likes or porchetta, smoked eggplant cream, semi-dried tomato and scarmorza or sliced mortadella, basil pesto, grilled zucchini and pecorino.
Image credit: Supplied
---
You May Also Like