LendMyTrend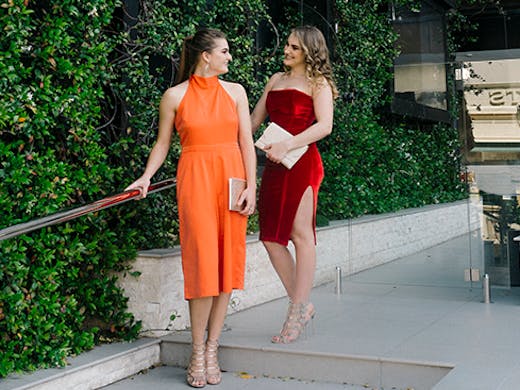 Was there ever a sweeter-sounding phrase than "passive income"? Unless, of course, it's "massive discount on designer clothes". Well, online platform LendMyTrend is a great way to make both a sweet, sweet reality.
LendMyTrend is both an online wardrobe lending, and renting service—do either, or both. Here's how it works!
Lenders
If you're chronically guilty of buying expensive clothes and not wearing them enough, we ain't here to stop you. In fact, keep up the compulsive shopping, and wave goodbye to buyer's remorse by earning cash just from what's hanging in your wardrobe. 'How?' we hear you ask? By listing them for rental on LendMyTrend. You can either take the pics and list the items yourself (similarly to as if you were selling them on eBay) or utilise LendMyTrend's concierge service LMT Collective, where they'll do the work if you're time-poor: professionally photograph, list, maintain and manage your rentals.
If your closet's overflowing, becoming a lender on the site is a safe and stress-free side hustle and a great way to profit from your clothes (and accessories, handbags, and jewellery) getting some extra wear (and don't worry, they provide a garment protection policy as well if someone gets a little too much wear out of them).
You can decide how much you want to disclose on the site—for example, if you allow people to come and try the clothes on or not. Listing on the platform is also totally free—you only pay a fee from what you earn, and there are no service fees for the first month.
Renters
If your fashion tastes run a little higher than your bank balance allows (or you just get bored of your clothes easily) renting from LendMyTrend lets you be one of those people who constantly looks hella stylish and never wears the same outfit to an event twice. Like borrowing your clothes from your sister or friends without the politics, LendMyTrend lets you unlock high-end pieces from other people's wardrobes at a fraction of the cost.
While they have some amazing formal wear on the site, LendMyTrend isn't just for black tie events—they've got clothing and accessories for occasions as simple as weekend brunch with the family or a special date night. With garments for both guys and gals, unlike some clothing rental sites there's a wide range of sizes and styles, including ethnic and maternity wear, plus a robust security policy, so you aren't just sending money to a stranger and hoping for the best!
LendMyTrend is based in Brisbane, but with the addition of postage you can essentially rent or lend a garment to or from anywhere in Australia.
Image credit: Tash Sorensen
---