Leonards Bar & Bistro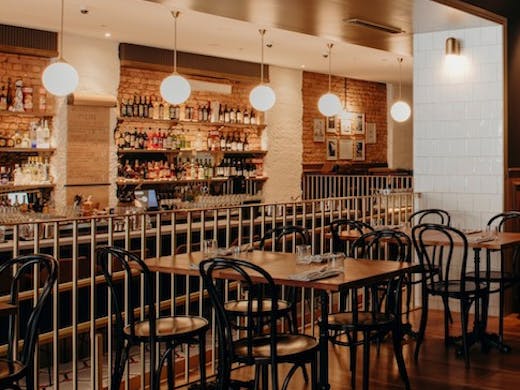 Inspired by the chic, modern bistros you'll find in bustling international cities like New York and Paris, Leonards is relaxed enough to hit up for a mid-week lunch but equally as perfect for a glamorous date night.
Inside you'll find an old-world burgundy and gold vibe, with plenty of exposed brick walls, New York subway-looking tiling, hanging globe lights and peachy pink bench seating paired with bentwood chairs, as well as a hidden underground private dining room with its own bar for special occasions.
On chef Jimmy Richardson's menu you'll find classic dishes heroing local produce that speak to his experience in venues including Gerard's Bistro and Sydney's Cafe Paci and The Bridge Room: Spencer Gulf kingfish with lemon butter, yoghurt and sesame, roasted game farm spatchcock in smoked
harissa, yoghurt and lime, and smoked pineapple with coconut, kefir lime leaf and rum butterscotch.
As for what you'll be drinking from acclaimed bartender Marco Nunes' list, we love the Shorties—miniature bottled versions of their signature cocktails (which means you can try more!). There's also an array of incredible alcohol-free and low ABV cocktails for those who want to skip the alcohol but not the flavour, as well an expertly curated selection of wines.
---