Lune Croissanterie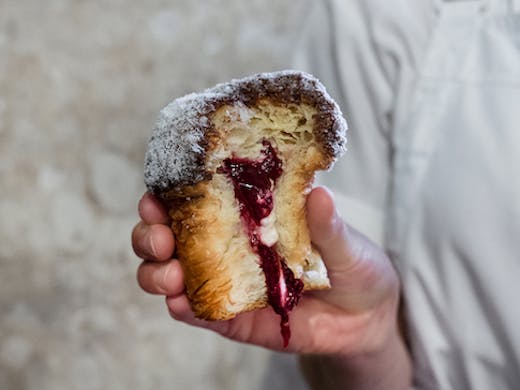 You might think you have to traverse continents to find the world's best croissants, but actually you'll find Lune Croissanterie serving up just that (well, according to the New York Times, anyway) in South Brisbane.
If you've not heard of Lune before, just ask any Melbournian—these pastries are worth lining up for. The perfectly flaky dough is prepped in a temperature-controlled glass-walled room, so you can watch the pastry chefs in action.
As well as melt-in-your mouth plain croissants, Lune also bakes up decadent twice-baked filled and topped croissants, along with danishes, cruffins and other pastries. Their regular menu of eight classic pastries is supplemented by six monthly specials (both sweet and savoury), so you're going to want to go back again and again.
Their August specials might require a few visits, with a chocolate pear Danish, mushroom and blue cheese tart, cinnamon bun escargot, pecan pie croissant, coconut rough pain au chocolat and Snickers cruffin filled with salted caramel and peanut creme patisserie all on the menu.
Image credit: Lune Croissanterie
---