Mac From Way Back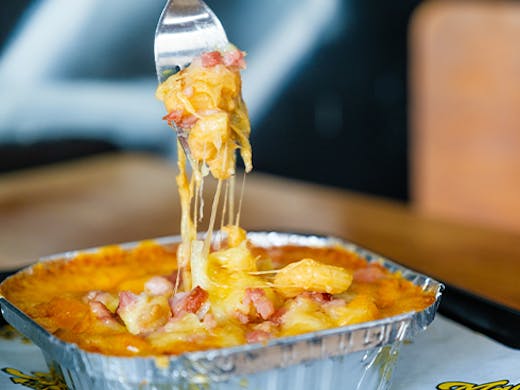 Opening at the end of September—stay tuned!
If you were a fan of the Mac From Way Back food truck, you'll be happy to know you no longer have to chase them around town—now you can just pop in to their permanent graffiti-covered eatery any day of the week. Complete with a bigger and better menu than ever before, you'll find all your MFWB faves plus a heap of even more cheesy additions here.
There's the classic mac 'n' cheese bowls, which come with or without the addition of a piece of Nashville hot fried chicken on top, and the smashed burgers that garnered them a posse of food truck followers, featuring a smashed beef patty, plenty of cheese, onions, pickles, mayo and mustard. There's also a fried chicken burger so stacked you'll be hard pressed to wrap your hands around it—or you can go for the loaded fries version, which basically swaps out the bun for a pile of golden thick cut fries. Add on sides of deep-fried mozzarella sticks, mac 'n' cheese loaded fries, grilled saganaki or Dutch curry fries if you dare.
We haven't even gotten to the best part yet—joining the line-up of heart attack-inducing eats is Chicago-style deep dish pizza (yes, that means even MORE cheese), and for dessert, chocolate coated cheesecake slices on a stick. Or you can go all out with their dessert pizza slices loaded with cookies and slices of cake. Yes, actual slices. You have been warned.
Image credit: Sophie Spencer
---