Maya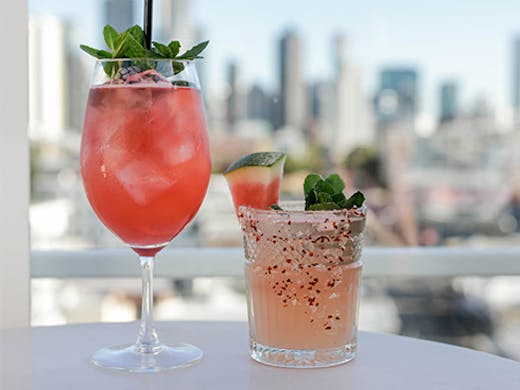 Inspired by Mexico's Riviera Maya, Maya has transformed the rooftop space that was once Eleven into a striking, destination eatery featuring a white and blue palette dotted with oversize stone and ceramic pots, as well as the obligatory desert cacti and greenery galore. In keeping with the decor, the dining menu here is all about polished Mexican street food, designed to be shared and devoured with a margarita in hand.
Whether you're in for a long lunch or a sunset dinner, take your pick of fresh, flavour-filled eats like crispy prawns flame-grilled in tequila, garlic and chili oil, kingfish ceviche, battered jalapenos stuffed with frijoles and tacos with fillings like battered snapper with guacamole and pickled cabbage slaw.
Want something a little heftier? Order a few of the platos, with feeds like twice cooked pork belly with spiced corn puree and pickled radish or the spiced chicken with achiote rub, roasted baby peppers and warm tortillas to wrap it in. Of course, it wouldn't be a rooftop bar without plenty to sip on, and you won't be disappointed here, with five kinds of margaritas on the cocktail list along with savoury and sweet sangria jugs, plenty of Australian wines, and a very lengthy list of tequila and mezcal.
Image credit: Ranyhyn Laine
---