Miss Kay's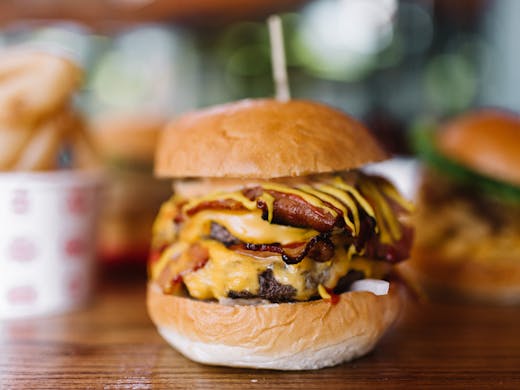 The Verdict
Northside, you lucky bastards. Miss Kay's have picked you to open up their newest store! Calling Mitchelton home, the new location features all of the deliciousness you know and love from their CBD store, minus the trip to the CBD. Plus, some delightful new additions including a brand spankin' new breakfast menu and a beer garden!
If you're yet to experience the burgers at Miss Kay's, allow us to give you a little teaser. Picture this: a poutine burger, topped with halloumi, gravy and pickles, with a side of crispy fried wings and dirty fries. If you're already drooling, we hate to break it to you, but there's a lot more where that came from. Mac and cheese burgers, tempura cauliflower vego burgers and a whole heap of other menu offerings that will have you coming back for more. Soz, summer bod, you lose this round.
If breakfast is the name of your game, Miss Kay's have got quite the menu in store for you. Prepare your body for fried chicken and waffles, a classic iteration of eggs benny, and smoothies galore. Oh, and there's flap jacks and the big brekkie burger. Or, if that isn't enough for you, try the M.K attack: chipoloates, bacon, fried chicken, eggs, mushroom and toast…Did someone say new fave brekky spot?!
For more information, check out Miss Kay's website.
Image credit: Yaseera Moosa
---