Mr Bunz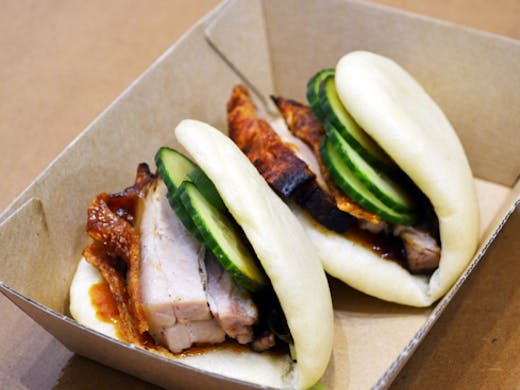 The Verdict
If you like buns as much as Sir Mix-a-Lot, then you need to acquaint yourself with new hole-in-the-wall eatery, Mr Bunz. Tucked away on Boundary Street, this small, unassuming stall offers simple, fresh, authentic bao.
Brought to you by three ex-fine dining chefs, Kev Docherty, Yuda Yogawa and Werly Tanaka (from the likes of e'cco bistro, Urbane, and Moda) the menu at Mr Bunz is humble and simple, instead choosing to showcase three different fillings, paired with perfectly springy bao.
Currently on offer are crackling roasted pork belly with hoisin, cucumber and spring onion, crispy spiced fried chicken with spicy mayo, pickled jalapenos and cucumber, and crispy-skin peking duck with hoisin, cucumber and spring onion. At $5—$6.5 each, you can easily try one of each.
Image credit: Mr Bunz via Facebook
---
You May Also Like
Bars & Pubs
West End, QLD
Pescetarians, this one's for you: the crew behind South Brisbane's famed…
Restaurants
Brisbane City, QLD
Secreted away inside Brisbane city's new Hotel Indigo is Izakaya Publico, a…