Mr Chester Wine Bar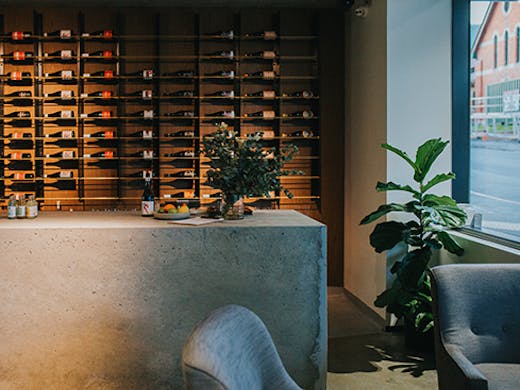 In yet more proof that we Brisbanites are classy AF these days, hot Brisbane bar, Mr Chester Wine Bar has been added to to our Friday night rotation on the regular.
Housed just under the imposing Alpha Mosaic Hotel on Ann St in Fortitude Valley, Mr Chester Wine Bar is a welcome, and grown up (they're open late and will keep their kitchen open late too—bloody geniuses!), addition to the Brisbane bar scene that has seen a revival of decent wine bars over the past six months.
Unsurprisingly, then, the team at Mr Chester are seriously into their wine; their menu is full of incredible drops of New World Boutique wines (fun fact for wine dummies: this, is any wine produced outside the traditional wine regions in Europe and the Middle East) that are deliciously paired with a serious looking food menu.
On the menu, this will be ever-changing—and ALWAYS paired with wine that will blow your tiny minds—, utilising the best local produce and focusing on delivering dishes that are perfect for sharing with your fave people (and yes, there'll be cheese!).
If you're after hard liquor to accompany your meal, Mr Chester have one gin, and one whisky behind the bar. But, I mean, it would be a serious waste to not pop a bottle of red while you're here...
If you haven't yet hit up Mr Chester, get ready to cancel your plans and to set up camp in this ridiculously good-looking, soon-to-be-your-local-haunt Brisbane wine bar.
Image credit: Hayley Williamson
---
You May Also Like
Restaurants
Fortitude Valley, QLD
After a few years of winning over Brisbane tastebuds with their array of saucy,…
Restaurants
Fortitude Valley, QLD
Southern fried chicken lover for whom a certain fast food giant just doesn't cut…