New Farm Confectionery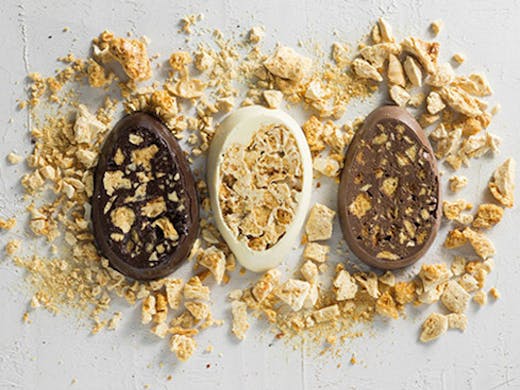 The Verdict
Attention chocolate lovers! Small-batch artisan confectionery shop, New Farm Confectionery, is the place of your grown-up lolly shop dreams—and they've got some big things in the works for 2018.
You may be familiar with New Farm Confectionery's gorgeous Parisian-inspired shopfront, but what you may not know is that they'll soon be hot-footing it to a brand new location on Waterloo Street in Newstead. They'll be welcoming you from early March 2018 to a temporary incarnation of the new location, before doing up the space and re-launching post-Easter with a grand opening to show it all off. You'll be able to watch the artisans at work in their production area—and why not enjoy all the sweets (plus a few new offerings) on their new outside deck area while you're at it?
When it comes to their range, if you've thought of it, New Farm Confectionery has created it. Browse their shelves for delicious brittles, caramel EVERYTHING (including a drool-worthy salted caramel range), gourmet chocolate bars, rocky road, honeycombs—the list goes on! They even have niche items like sherbets and fancy marshmallows (the flavours range from classic vanilla, to chocolate dip and fruity delights like passionfruit and mango).
With everything being crafted in-store, there's a super wide range of flavours and even gluten-free, dairy-free and vegan oprions. Aww, our hearts.
Let's get down to the nitty gritty AKA the chocolatey goods. The presentation alone is incredibly elegant, everything is as natural as possible; all products being hand-made means the chocolate is silky smooth with none of those artificial nasties that leave you with a sugar hangover.
And, of course, you know that they will have you totally sorted when Easter rolls around (spoiler alert: there will be caramel-filled bunnies and loaded choccie eggs!). We're just saying…
Hungry yet?
Image credit: Grace Elizabeth Images
---