Nom Nom Bao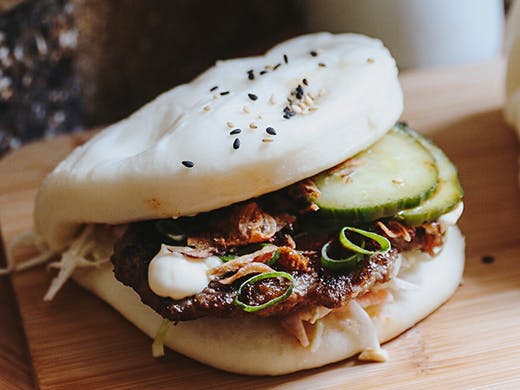 When you realise that Nom Nom Bao is an imperative clause, it's pretty easy to figure out what to do here. This Warner Street café-come-bar has mastered the transition from day to night with their affordable and flavoursome menu of bao.
The sister venue of Nom Nom Korean in Bakery Lane, Nom Nom Bao is chiefly dedicated to the cloud-textured sandwiches, with fried teriyaki chicken, pork belly with hoisin, galabi beef with kimchi, miso-cured cod, or tofu bao on their menu. Besides bao, Nom Nom Bao also do a bunch of lunch specials throughout the week that see stuff like fried rice, curry, sizzling pan, burgers and wings flying off the pass for less than a Kmart quilt cover.
Pouring espresso and bubble tea throughout the day, at nighttime Nom Nom Bao do a roaring trade of beers with their baos, boasting a smart array of tap brews from Green Beacon, as well as a cracking collection of wines and cocktails.
Image credit: Grace Elizabeth Images for The Urban List
---
You May Also Like
Things To Do
Brisbane City, QLD
Luke Nguyen's stylish 100-seat restaurant nestled within the Treasury is a… Read More +
Things To Do
Brisbane City, QLD
Brisbane's in for a treat with Black Hide by Gambaro at Treasury Brisbane. This… Read More +