Nostimo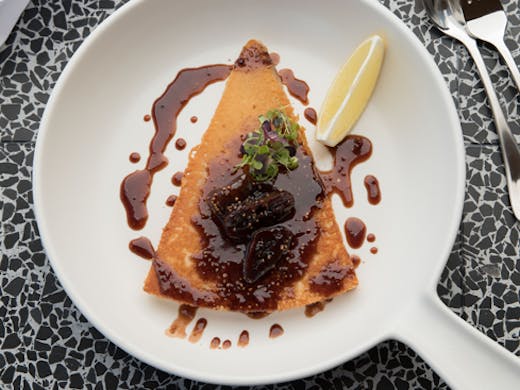 The Verdict
Authentic Greek meals with a modern twist from an internationally acclaimed Sydney-based Greek chef. It almost sounds too good to be true, but chef Tsirekas is celebrating traditional Greek flavours in the completely new restaurant, Nostimo. And yes, you can bet your bottom dollar there will be fried cheese.
The new and authentic Greek Restaurant, Nostimo, located in the heart of West End (hello, foodies) is a stunning modern interpretation of traditional Greek dining. With the terrace overlooking the Brisbane city skyline and white rendered walls, cascading worry beads, thatched ceilings and terrazzo finishes, it has that sun-soaked Greek Island look and feel (you'll feel as though you're experiencing that European summer that's all over your Instagram feed right now).
During the week Nostimo is the perfect place for a quick lunch; the menu is full of Greek deliciousness so choosing is no easy task. Their express lunch banquet is yours for the feasting Monday to Saturday and is the perfect work week treat.
So, what's their fare like? Nostimo's signature dish is basically the Greek goddess of food. Think skewers of barbecued swordfish marinated in olive oil, with fresh ginger, lemon zest and shallots served on a bed of traditional fassolada. It has us longing for those hot island days...
Drinks-wise, they've got it all. From authentic Greek white, red and sparkling wines, plenty of beers on tap (even more in the fridge) and a fabulous list of classic cocktails, Nostimo has something for every thirsty body. With Pimm's on tap at only $8 a glass you'll settle into their gorgeous cocktail longe faster than you can say 'Opa!'.
If you're a sweet tooth or just someone who loves a good dessert, Nostimo also (of course) has you covered. The ekmek kataifi and bougasta of Thessaloniki (don't worry we had no idea how to pronounce these properly, either) are indescribable. It feels like a Greek festival in your mouth...
So if you're ready for a Greek getaway with great food and a drinks menu like no other (just minus the hefty airfare), call your friends, lovers, grandma or even just get yourself going to Nostimo. We guarantee you'll be back!
Image credit: provided
---