Oliver James Coffee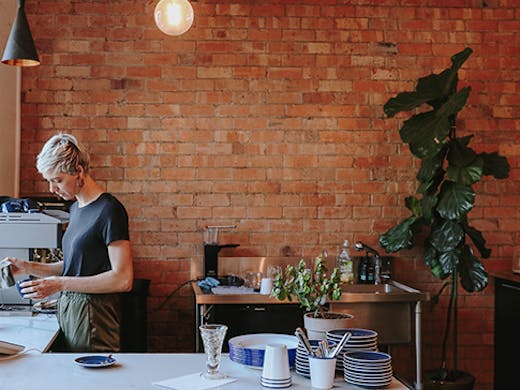 Tucked away on Austin St—and saddled in nicely next door to gorgeous furniture store Woodsters Constructions—is one of Newstead's loveliest cafés, Oliver James Coffee. A specialist coffee shop (drip coffee lovers; these guys should be TOP of your Brisbane café list), Oliver James has been quite literally buzzing since quietly opening its doors in 2017.
Not only do they serve up some of the best coffee in Brisbane (hello, Single O!), owners Oliver and Daisy—with the help of their resident floof, George the golden retriever—have created a space that is just as focused on the design aesthetics as the coffee. And, can we just say they've totally bloody nailed it.
Oliver Burscough (who just so happens to be the crafty man behind Woodsters Constructions) and his partner Daisy set out to showcase the breadth and scope of Woodsters commercial works, and in doing so have created a Brisbane café with some serious heart.
Add to all this their neat little menu of Jocelyn's provisions pastries, HRVST juices and even a cappuccino topped with real chocolate flakes (seriously, we can't even), and we're smitten.
Do yourself a favour and stop in and say hi to the team down at Oliver James, give George a cuddle and prepare for never wanting to leave.
Image credit: Grace Elizabeth Images for The Urban List
---