Ping Pong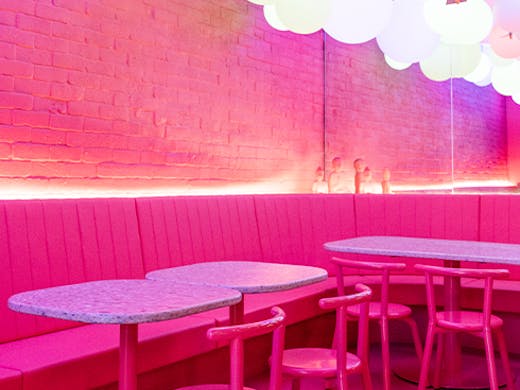 Newstead's Thai restaurant Ping Pong is utterly, unabashedly fun. If you don't immediately sense that from the pink picnic tables outside, you will from the pink floor, pink walls, pink bar, pink stools, pink bench seating and pink Buddah statues inside. Yes, it's all pink. At least until you look up to the ceiling, where multi-coloured globe lights reminiscent of ping pong balls float above the entire venue.
Once you're seated (at recycled plastic tables, which we love) and you've finally stopped 'gramming absolutely everything, you can lay your eyes on the menu, which is also pink, obviously. But if you're still too busy ogling those lights to peruse the choices, here's what you should order: Start with the caramelised pork betel leaves and crispy corn fritters with chilli jam to wrap up in iceberg lettuce. Then, move on to the slow-cooked lamb neck rendang curry, the holy basil crispy prawns and charcoal chicken with lemongrass and peppercorn. Add on sides of roti bread, turmeric coconut rice and green papaya salad and you'll be looking about as round as those light globes by the time you leave.
To pair with it all, there's a full cocktail menu to come, not to mention boozy slushies in a new flavour every week. But if we had you at 'all-pink' restaurant, book a table for when they open on Friday 7 August.
Image credit: Sophie Spencer
---
You May Also Like
Restaurants
Brisbane City , QLD
Taking over the space once occupied by OTTO before its migration across the river to…
Restaurants
Brisbane City, QLD
Secreted away inside Brisbane city's new Hotel Indigo is Izakaya Publico, a…