Prego Pizzeria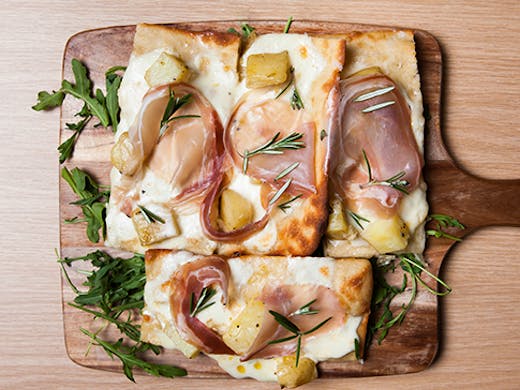 There's no such things as too many pizza joints, and these guys happen to agree with us. From the carb-obsessed minds that brought us Gino's and Il Verde comes a new Brisbane pizzeria, Prego.
Freshly opened on Racecourse Road in Hamilton, Prego is firing up the wood-fired ovens on the daily making fresh pizzas to order. But these aren't any old pizzas, heck no—that would be far too predictable.
Doing like the Romans do, Prego Pizzeria is making rectangular pizzas (pause for audible gasps...). You may think this gimmicky, but this four-sided shape has been gracing the streets of Rome for many a century, and now Brisbane, it's our turn.
Prego takes its cues from Italy (natch), creating a very specific dough that makes their pizzas that little bit special. Pizza chef Stefano knows what makes the perfect pizza base—he studied to be a Pizzaiolo in none other that Rome's Associazione Pizzerie Italiane!—and ensures a light crispy base. Every. Damn. Time.
Expect all your fave toppings plus some delectable salads, antipasti and a neat wine list. Fantastico!
Image credit: Prego Pizzeria
---