Ramen Danbo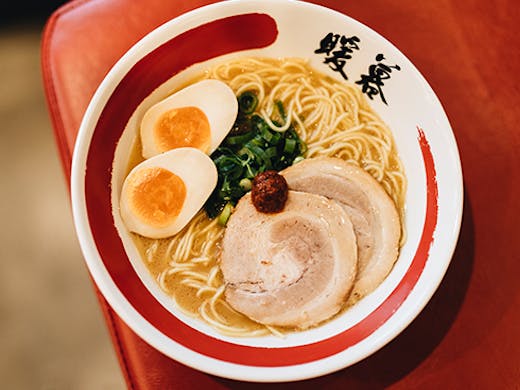 Ramen Danbo has come a long way from their origins in Chikushino, on one of Japan's southern islands. After opening their first store in 2000, news of their supreme noodles spread to the rest of the island, then the entire country, and now Ramen Danbo has gone global. Their new CBD store is their third in Brisbane, with two others in South Brisbane and Sunnybank, and we're lucky to get them.
The main star of their menu is their original ramen, a signature tonkotsu pork broth with all the fixings. Expect no reinvention going on in Danbo's bowls, their pledge to bring spectacularly authentic ramen means you only get traditional combos. There's a miso-based broth and an incredibly convincing vegan option, but that's as left-field as they go.
The other four bowls feature some slight variations but nothing strays too far from the classic. And naturally, Danbo ensures the highest quality in every drop by making everything on site at each location, so you're guaranteed freshness in every slurp. Grab it to go or find a seat in the intimate new space where you can scoff down a steaming bowl in seconds.
Image credit: Grace Elizabeth Smith
---
You May Also Like
Restaurants
Brisbane City , QLD
Taking over the space once occupied by OTTO before its migration across the river to…
Food & Drink
Brisbane City, QLD
Just when you thought 2022 had delivered its last incredible foodie opening to…