Rita's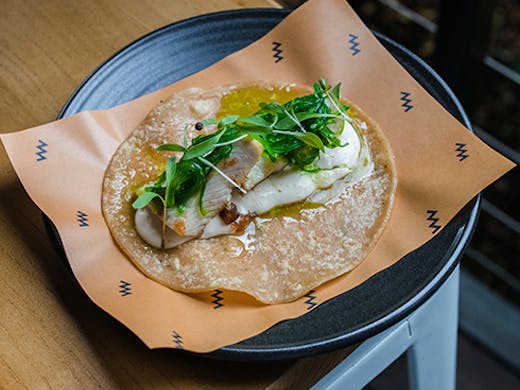 One from the team behind Siffredi's, Rita's is a taco and tequila bar that is anything but traditional. Just like Siffredi's is all about decidedly un-Italian spaghetti, Rita's is definitely not a Mexican joint—so don't expect anything familiar here.
Unlike Siffredi's, Rita's is first and foremost a bar—one very well stocked with tequila and mezcal. The lengthy margarita list featuring every flavour you can think of—lychee, mango, chilli, watermelon and more—will no doubt draw in the crowds, but there is also a more sophisticated but unpretentious cocktail offering, including classic cocktails for those not so into tequila. The real stars though, are the craft tequilas being poured, which includes Australian tequilas like Tromba and Valando, as well as a smaller mezcal list that rotates with regular new additions. Sample them neat if you dare.
Now onto the food. Yes, there's corn chips and dip to snack on, but that's about the only item that will be familiar—instead you can order up tacos topped with crispy buffalo bug, iceberg lettuce and pickled red onion; braised roo tail, sriracha mayo, salsa and pickled apple; or mushroom with cheddar, Vegemite cream. Alongside the tacos are a handful of skewers, including marinated chicken skewers with aji verde sauce and grilled scallops with leche de tigre and caramelised cashew, as well as snacks like oysters and raw tuna tostadas. As with Siffredi's though, the menu will change regularly depending on seasonal produce and the whims of the chef, so don't get too attached to any of the options.
Read more about Rita's here.
Image credit: Ranyhyn Laine
---