River Tree Health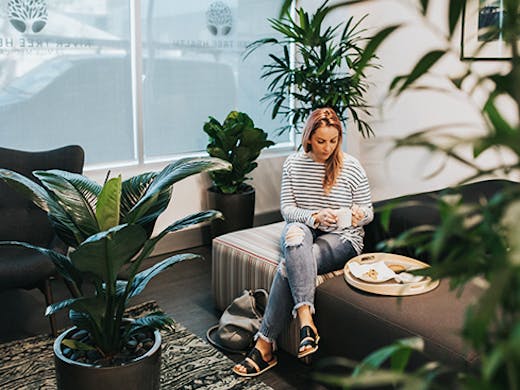 Ok, so we're all guilty of ignoring niggling, ongoing health issues. Life's just too hectic sometimes—and if it hasn't knocked us flat, it can wait, right? But at the end of the day, we know that our health is the most important thing we have—and that shouldn't just mean waiting until we're actually unwell before addressing anything that's making us feel anything less than our best self!
Enter River Tree Health: a brand new integrative medicine clinic in West End that focuses on creating lasting wellness through personalised treatments that cover a whole spectrum of factors.
As soon as you walk in the door, River Tree Health is a totally different experience to a normal medical clinic. More like a luxe day spa than a doctor's surgery, you're greeted at the door (there's no reception desk) and given a choice of two waiting areas. "Café Calm" is light and bright, with comfy, modern furniture, tablets with free wifi, and a delish selection of gut-friendly kombucha and other chilled drinks, pretty herbal teas, coffee and healthy snacks available. "The Whisper Room" is an even more relaxing alternative, with dim lighting and a forest of lush plants and soft couches for chilling out on. So far, so great!
Although they offer a GP service (who also treats from an integrative medicine perspective), the focus at River Tree Health isn't just about getting rid of symptoms when you're sick. They'll help sort chronic issues and long-term health concerns by getting right down to the nitty gritty, AKA the root-cause: assessing a whole bunch of different, systemic factors, like the effects of gut health and inflammation on your entire body and mind. They'll then create a treatment plan that could include regular pharmacy medicine, and/or compounds, probiotics, herbal combinations, minerals and other nutrients, as well as psychological, nutritional and other therapies.
You can choose from one of their integrated medicine programmes depending on your main long-term health concerns: Weight Plateau Breakthrough; Executive Boost; Immune System Reboot; Ditching Anti-depressants; Gut Health Assessment & Remedy; Chronic Fatigue Fix; Addressing ADHD and Autism; or simply I Often Just Don't Feel Good—which, let's be real, the majority of us could put up our hands for at any given time.
West End locals should count themselves lucky: as well as all their ridiculously good local cafes, they can now boast a practise that is at the forefront of scientific research and medical treatment, but is still rare in Australia, let alone Brisbane. People are travelling to River Tree Health from all over the state, country, and even New Zealand in search of their best health, and if it means feeling as fabulous as you deserve to, we reckon it's totally worth the trip!
Image credit: Hayley Williamson
---
You May Also Like
Health & Beauty
South Brisbane, QLD
Looking to turn up the heat and sweat out those nasty party toxins? Well, Pilgrim Hot…
Fitness
West End, QLD
A new kind of workout has arrived in Brisbane, one that will get you sweating through…