Rose Room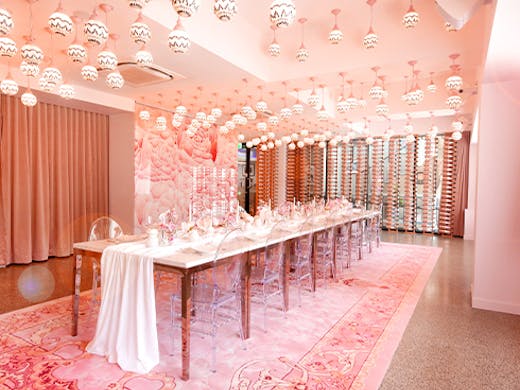 Sister venue to Dirty Sultan, a glamorous Turkish-inspired rooftop bar known for its Turkish delight cocktails, Rose Room has taken over the space at street level below, and transformed it into an Instagrammer's paradise. With rose gold champagne bottles lining the entryway, rose murals adorning the walls, pink curtains hanging from the windows that open to the street outside and pink, Turkish-style lamps hanging from the ceiling, the venue is a serious looker, just like its sibling upstairs.
Once you've picked your jaw up off the floor and are ready to focus on what's really important, your choice of brunch, you can scope out the menu—and before you ask, yes, there are pink breakfast dishes too. If you're really committed to the theme, pink outfit and all, there's a Turkish delight smoothie bowl with your name on it, with a raspberry, banana and rose water smoothie blend topped with Turkish delights, granola, blueberries, yoghurt and edible flowers. Or you could go for the baklava berry pancake stack, a pile of pistachio pancakes topped with white chocolate, rosewater pearls, berries and baklava syrup. While you're at it, get a Turkish delight thickshake on the side.
You can read more about Rose Room here.
Image credit: Supplied
---
You May Also Like
Restaurants
Brisbane City , QLD
Taking over the space once occupied by OTTO before its migration across the river to…
Restaurants
Brisbane City, QLD
Secreted away inside Brisbane city's new Hotel Indigo is Izakaya Publico, a…