Saké Restaurant & Bar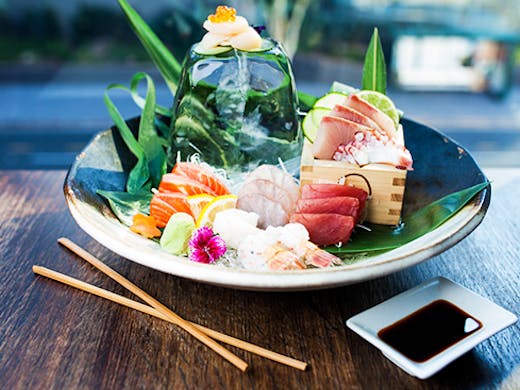 The verdict
Saké Restaurant & Bar is now closed.
A Brisbane institution, Saké Restaurant & Bar is the ultimate Japanese dining experience in the CBD. Enjoying an unrivalled riverfront location (those views are seriously impressive!) and a luxe space akin to traditional Japanese dining spaces, Saké is an impressive spot for lunch or dinner—minus those exxy flights to Japan!
The menu is sleek and sophisticated, with a touch of progressive flair thanks to Group Executive Chef Shaun Presland's keen eye. Saké's iconic bento boxes are a lunch time treat, featuring popcorn shrimp,spicy maki rolls and green tea ice cream (one of the most addictive things on the menu), with the option for set menus including the chef's omakase/chef's choice.
Other classics such as their fresh sushi rolls, nigiri and sashimi plates are at iconic status in Brisbane while the chicken karage and pan seared gyoza are always crowd faves. Our picks, though, have to go to the teriyaki lamp chop and the soy braised pork belly; decadent, indulgent and absolute must-trys!
It's worth mention also that Saké's drinks menu features some choice drops; ranging from some of the best local and international wines, award-winning Japanese whiskies (naturally) and cocktails to woo even the staunchest traditionalists.
If you want to splash out, private dining rooms are available to book—you won't be disappointed. Very special and not to be missed.
Find out about Sake and more epic Eagle Street venues here.
Image credit: Ariana Gilrie
---
You May Also Like
Bars & Pubs
Brisbane City, QLD
Joining the CBD's stunning Middle Eastern restaurant, Babylon Brisbane, is…
Food & Drink
Brisbane City, QLD
Just when you thought 2022 had delivered its last incredible foodie opening to…