Salt Coffee Roasters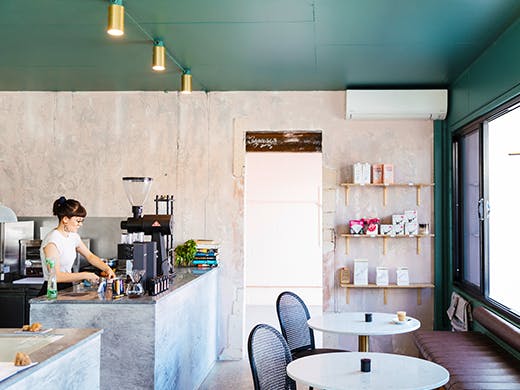 Salt Coffee Roasters on Commercial Road in the heart of Newstead is offereing an elegant alternative to your morning coffee dash.
Home an in-house roastery and adjacent elegant espresso bar, Salt's impeccale space is one that makes you set up shop and spend the morning. The interior is testament to the vision of owner Zac Lazerac, featuring emerald green cabinetry, rustic pink walls, polished concrete floors and a long fluted leather wall seat with marble tables. Picturing it yet?
It's not just the decor of Salt, Lazerac's commitment to the perfect coffee has made this Newstead newbie a hot-spot for locals and commuters, with the outside tables pumping from opening right through to close of business. Featuring a succinct list of classic caffeine hits, it's their cold drips and pourovers that really showcase the complexity and delicate nature of Salt's house-roasted coffee beans. Lazerac know's he's on to a good thing, even selling small batches of his beans for customers to take home, just get in early as they sell out fast.
To top things off Salt serves up a smart menu of brunch staples including avo on toast, house made crumpets, breands and condiments, alongside Danny's Bread pastries and Bella & Torte sweets on the daily.
Did we mention they're open until 4pm weekdays? Zac and the team at Salt understand our needs...
Image credit: Grace Elizabeth Images for Urban List
---