Soul Pantry Kitchen & Bar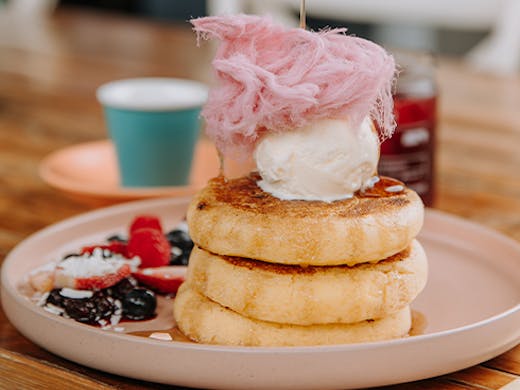 Stafford's Soul Pantry nursery and concept store has long been a favourite for weekend botanical browsing, especially with their cosy corner cafe to relax in afterwards. While the cafe was once a bit of an afterthought, a vibrant makeover has completely transformed the space into a venue you'll want to cross the river for.
Hungry after wandering the aisles of the plant shop just outside? Not for long—the new all-day breakfast menu here has plenty to tempt you. There's a classic smashed avo of course, accompanied by beetroot hummus, heirloom tomatoes, feta and dukkah, as well as a stack of fluffy pancakes topped with mixed berry compote, vanilla ice cream, maple syrup and fairy floss. If you don't mind sharing, the signature breakfast is the Big Soul Breaky Board—a share board piled high with sourdough, eggs, halloumi, mushrooms, bacon, tomato, avo, relish, ham off the bone AND a croissant.
Or, if you're after lunch, afternoon feeds include burgers, buddha bowls and the main event—an epic lobster roll stuffed with fresh lobster, lettuce, chives, capers, pickles and lemon mayo and served with tortilla crisps. Bonus, from Friday to Sunday, Soul Pantry is now open for boozy afternoon sessions filled with watermelon margaritas, making full use of their new (and well-stocked) bar.
Read more about Soul Pantry Kitchen & Bar here.
Image credit: Lewis Lotherington
---