Sprout Artisan Bakery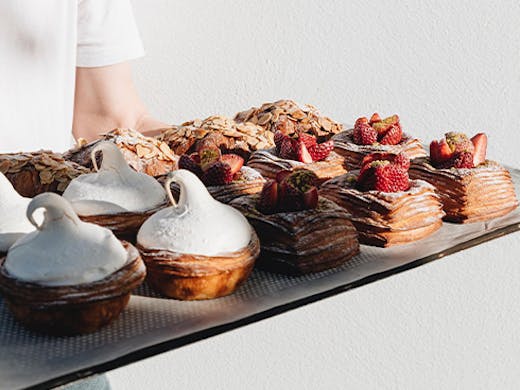 Get ready to carb-load, because Sprout Artisan Bakery has just opened the doors on their very first bricks and mortar venue. Now, the artisan bakery, whose delicious products are usually supplied to cafes across Brisbane or sold at local markets, have made it just that bit easier for you to get your weekly pastry fix, with a hole-in-the-wall spot in James Street.
With weekend line-ups out the door already and all the fresh bread, pastries and treats you could ever dream of, this cosy little joint is a one-stop shop for all your sweet-tooth needs. Pop into the new James Street digs to see what all the hype is about for yourself and you could be indulging in their signature sourdough, delectable range of croissants (our favourite is the twice baked chocolate), or a few flaky tarts, scrolls and danishes. The best part? All those tasty treats are hand-made using the highest quality ingredients, making each bite just that bit more tempting.
Sweet or savoury, Sprouts Bakery has you covered, and with the new shop opening just in time for winter, this hidden gem is the place for your next foodie adventure. So go on, treat yourself.
Image credit: Grace Elizabeth Smith
---
You May Also Like
Restaurants
Brisbane City , QLD
Taking over the space once occupied by OTTO before its migration across the river to…