Sunny Side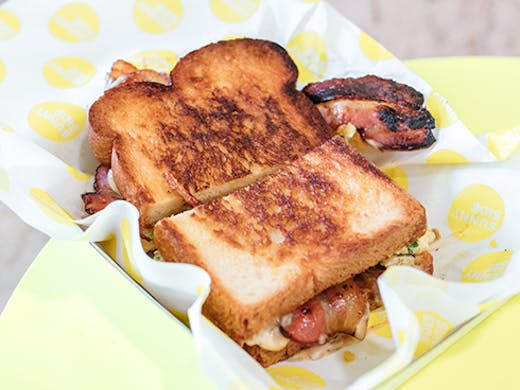 It's a big call we know, but Sunny Side may just be dishing up the best breakfast sando in all of Brisbane. This bright and cheery sandwich spot just landed in Windsor with a vibrant, fun-loving fit out courtesy of the ever creative folks at Derlot, combining neon yellow metal stools and tables with cork tiling linging the walls and floors. There's tables and benches aplenty if you want to eat in, but takeaway is also an option, with the location handy for those making a quick pit stop on the way to work.
Now back to that breakfast sando—this is no ordinary slab of scrambled eggs and bacon between bread. A few extra ingredients like their secret 'egg magic' seasoning, herbs, spices, kewpie mayo, caramelised onions, maple bacon, American cheese and soft white shokupan bread (a Japanese-style milk bread) elevate this sanger to glorious levels. Do yourself a flavour and get one for breakfast (or even lunch) ASAP.
The saucy egg number is just one of the sandwiches on the concise menu, which takes classic combos and elevates them to new heights. There's also a Reuben-like beef and pickles, a chicken schnitty sandwich on a soft roll, a boujee egg salad sando and a classic salad sanger, plus fries and hash browns to add on as sides. Special flavours will also rotate through each week, giving the team a chance to get creative—this week it's an eggplant parma sando, next week who knows?
As for drinks, Sunny Side is keeping it simple—it is a humble sandwich bar after all. You can pair your choice of handheld meal with a coffee or a freshly juiced orange juice, plus a selection of sparkling San Pellegrino drinks.
Image credit: Ranyhyn Laine
---