The Borrowed Nursery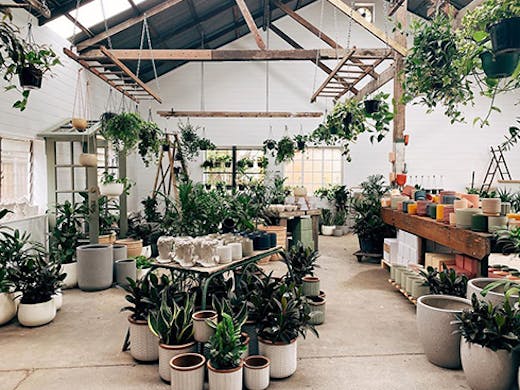 Being that we are huge fans of The Borrowed Nursery's Gold Coast store, we were pretty stoked to hear that they were opening a new location in Brisbane, and even more excited when we discovered it was going to be located in a rustic, industrial warehouse just as Instagrammable as their GC spot. Swapping the white and peach colour palette for a forest green shed, the new space has just opened in Windsor, the first tennant to hit the 'burbs boutique Colwill Place development.
Head through the massive barn doors and you'll find an airy, unpolished warehouse with exposed wooden rafters filled to the brim with all the greenery you could ever want, and then some. You may want to lose some bedroom furniture so you've got extra space for fiddle-leaf figs, Bird Of Paradise palms, Devil's Ivy, Dracaeans, rubber plants, succulents, hanging ferns and so much more. The Borrowed Nursery also stocks a huge range of stylish pots, dried flowers and ceramic homewares, so don't expect to walk out empty handed.
Image credit: The Borrowed Nursery
---
You May Also Like