The Prawnster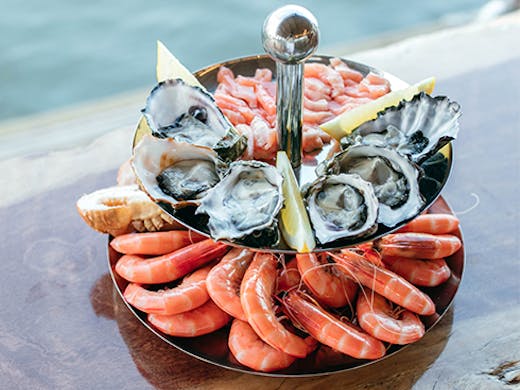 The Prawnster is 50-foot vintage prawn trawler that has found a new lease on life as a floating restaurant, with a small kitchen and prep area in the bow, and the stern converted into an undercover seating area, with benches lining both the starboard and port side, and one large timber table down the middle.
And what kind of trawler turned restaurant would she be if she served up anything but the best seafood to be found in the surrounding seas? All you'll find on the menu here is the freshest of the fresh Mooloolaba prawns, Moreton Bay bugs, Coffin Bay oysters and Tasmanian salmon sashimi, which you can order as part of a mixed platter, or just those vibrant prawns all on their own. Everything is served alongside nothing but tangy lemon wedges and a handful of sauces—when the seafood is this fresh, it needs nothing else.
The team is still waiting on its liquor license, so for now the trawler is BYO, and we highly recommend taking along a bottle of bubbly to pair with those oysters while you enjoy the sunset and the cool breeze—it's nothing short of magical.
Image credit: Ranyhyn Laine
---
You May Also Like
Food & Drink
Brisbane City, QLD
Just when you thought 2022 had delivered its last incredible foodie opening to…
Restaurants
Brisbane City , QLD
Taking over the space once occupied by OTTO before its migration across the river to…