The Tailors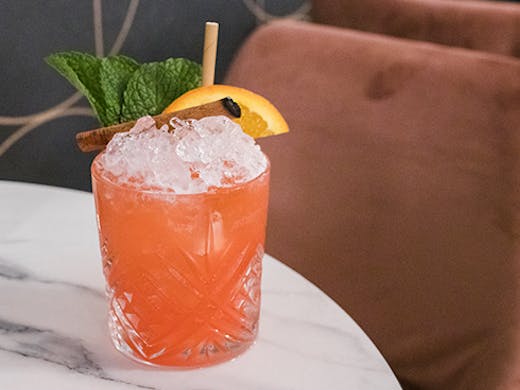 The Tailors is a South American-inspired bar specialising in creative cocktails with live music playing on Friday and Saturday nights. The twist? You'll find it hidden behind what looks like the window of a tailor shop named Rodriguez & Co, complete with a sewing machine and mannequins, with the entrance through a mirror that swings open to reveal the bar behind.
Yep, it's like something out of the speakeasy era, and the vibe inside is pretty similar—the narrow space has a slightly art deco feel, with dark blue velvet banquette seating lining one side, high tables with peach coloured stools along the other, and mirrors and old school travel posters on the walls. And wedged in behind that front window is a stage, where Cuban and Latin American musical artists play live on weekends.
Now The Tailors is a late night spot, with that secret entrance swinging open at 8pm, and the offering reflects that—this is where to come for a post-dinner cocktail and a snack rather than settle in for the night. There is a handful of bar snacks like cheese and charcuterie boards, but really it's all about the drinks, specifically the rum. The Caribbean, Central America and Australia are all represented on the lengthy list, and the bartenders will happily turn any and all of them into a creative cocktail for you.
Image credit: Ranyhyn Laine
---