The Yiros Shop Drive-Thru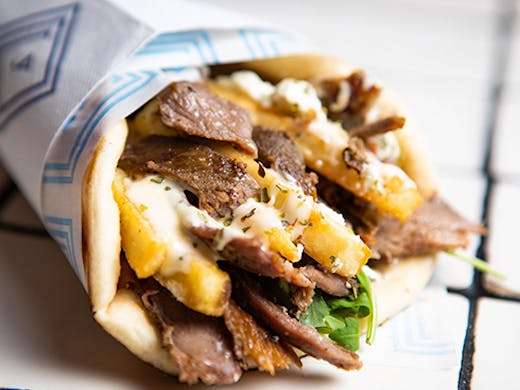 Yes, it's true. The Yiros Shop just made it easier than ever to wrap your hands around their meaty, saucy yiros wraps with a brand new drive-thru location in North Lakes. Now, you don't even have to get out of the car to get your feta fries fix—although you still better wait until you get home/back to work to eat them lest you end up with special sauce all down your front.
The new drive-thru store works just like any other—drive up to the window, place your order, pick it up from the next window and head off into the sunset. If you prefer to eat your yiros and snack packs right away, you can still dine in, with a Mediterranean-inspired dining area inside. And if you're a Yiros Shop regular, you know the menu off by heart already—those massive yiros wraps stuffed with pork, lamb or halloumi, salad and chips, snack packs loaded up with meat and sauce and of course, those feta fries.
Bonus, they're celebrating their opening on Wednesday 11 January with free yiros from 4pm—get in early so you don't miss out.
Image credit: The Yiros Shop
---
You May Also Like
Bars & Pubs
West End, QLD
Pescetarians, this one's for you: the crew behind South Brisbane's famed…
Restaurants
Brisbane City, QLD
Secreted away inside Brisbane city's new Hotel Indigo is Izakaya Publico, a…