Total Fusion Platinum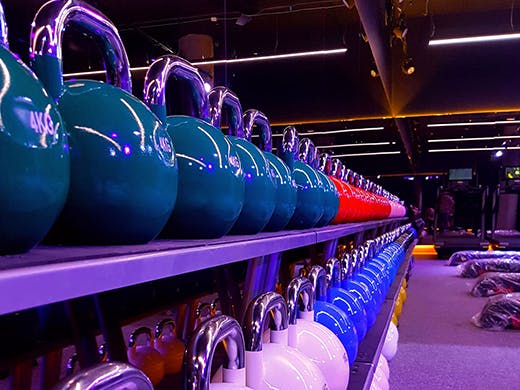 With over 40 different class types and 170 classes scheduled per week, Total Fusion Platinum in Newstead is the fitness space of your washboard abs dreams!
Total Fusion Platinum is a complete multi-sensory experience. Now, before we all get a bit, 'what the heck does that mean and why is that good?', we're here to give you the lowdown. This gorgeous gym—housed on the mezzanine level at the brand new Lucent building—has been created with some key elements in mind: to renew, refresh and strengthen your bodies, pre and post-workout.
A mix of yoga, mixed fitness (kettelbells, spin, dance class, ropes—you name it, it's here) pilates (including reformer for all those asking) plus a dedicated run club, the first of its kind in Australia, Total Fusion is a mix of all your favourite fitness classes under one slick as hell roof.
Featuring a fully heat-controlled 5-studio building, a Himilayan salt wall to purify the air, a health bar (with kombucha on tap, a bone broth and tonic stations, FYI) they're really not kidding when they say they take health seriously.
Total Fusion has a super welcoming feel to the place, with the team all at hand to ask questions and to keep you motivated (in a fun, not-annoying kind of way—promise!).
If you need to get your fitness goals back on track or are looking for that perfect gym (good-vibes included) then Total Fusion is a must.
Image credit: provided
---
You May Also Like
Fitness
Newstead, QLD
So you've got the gym routine downpat—but what about the rest of the…
Health & Beauty
South Brisbane, QLD
Looking to turn up the heat and sweat out those nasty party toxins? Well, Pilgrim Hot…