Valley Hops Brewing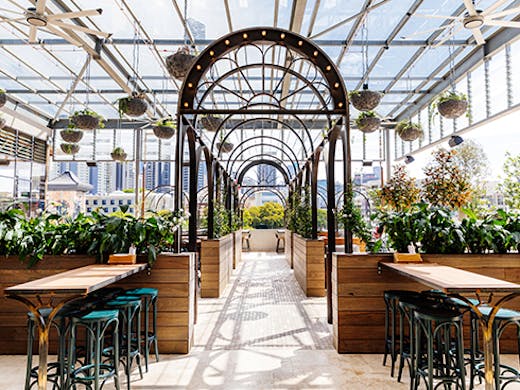 Landing on the roof of Cloudland just in time for summer, Valley Hops Brewing is far more glam than your usual neighborhood brewpub. The sun-drenched rooftop venue features stunning metalwork arbours lined with creeping vines and a mix of wooden picnic style tables, booths and high tables, all covered by a clear glass awning to keep out inclement weather. Taking pride of place amongst it all is a massive metal fire pit surrounded by stone benches for the cooler month, while visible behind a latticed glass wall are the massive steel tanks turning hops into Valley Hops Brewing's core range of a crisp lager, a tropical ale, a mango and passionfruit sour, an IPA and pale ale.
Of course, any good brewpub needs a menu of good drinking eats, and you'll find plenty of those on the rooftop too. Coming out of the kitchen are a selection of wood-fired pizzas, from familiar favourites like the diavola and margherita to the more gourmet norcina, with cream, truffle, porcini mushroom, sausage, parsley and pepper. There's also a line up of shared plates from the grill, including the likes of lamb shoulder flatbreads, spicy octopus skewers and pork ribs with sriracha, as well as antipasti boards and snacks such as salt and vinegar chicken wings and pineapple fritters to munch on.
Read more about Valley Hops Brewing here.
Image credit: Supplied
---