Vital Dental Care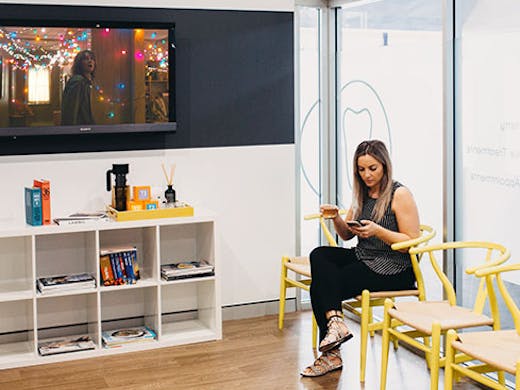 "Going to the dentist" can have scary connotations. But why? The less you go, the potentially worse your teeth *situation* can get—so, going (reasonably) often has gotta be a good thing… right? Especially when they're pretty much the opposite of everything unpleasant about dentists. Enter, Vital Dental Care in Camp Hill: the dental destination of your dreams (not your nightmares).
A brand new practice in 2017, Vital Dental Care has a fresh vibe and a fresh attitude. From the moment you walk in the door, there's no clinical, "dental" smell, just the subtle scent of aromatherapy oils, and décor featuring cute pops of yellow, balloons and flowers (you may need to remind yourself you're actually in the right place).
The waiting room is literally somewhere we'd hang out in of our own free will: cool mags like Kinfolk, Frankie and Vogue, amazing travel and fashion books, free wifi, and for the not-so-literary-inclined, you can watch Netflix! And why not help yourself to their selection of delicious T2 tea while you Netflix and chill (you know, the real kind).
If you're looking for a totally non-scary dentist, Dr Philip Chou's your man, with a fresh face but ten years of dental experience. He and all the Vital Dental Care staff are super friendly and keen to make your experience as comfy as possible. There's warm blankets for the dental chair, and when you look up–more Netflix! (They won't even judge you if you want to watch something with swearing in it).
The Vital Dental Care team can get your chompers looking minty fresh with Philips Zoom Teeth Whitening (for only $549 while their current stocks last—that's seriously cheap, so get in quick) as well as super straight with Invisalign. But the key to great teeth is just like servicing your car: get them checked regularly, and nothing should go too pear-shaped in the future. You know the, err, drill.
At Vital Dental Care, a six-monthly maintenance visit really doesn't seem like too hard a task—especially when they offer early morning, evening and Saturday appointments that you can just book online—in fact, you might even (horror of horrors) enjoy it?
If Vital Dental Care's Philips Zoom Whitening special has you pricking up your ears, here's the cherry on top: get $50 cashback from Philips on Zoom Whitening until December! Find out more here.
Image credit: Hayley Williamson
---
You May Also Like
Fitness
Morningside, QLD
After a long wait, TotalFusion is finally opening in Morningside on 1 February. If…
Fitness
Newstead, QLD
So you've got the gym routine downpat—but what about the rest of the…