Bagels are the doughnut of the bread world: a little ring of all that is good and pure. It's no secret that bagels are making a major comeback and we're here for it. A good bagel has the power to make an ordinary day great and there's something uniquely delicious about the chewy, bready, holey deliciousness that is the sacred bagel.
From classic combinations like salmon and cream cheese to next-level flavours like stuffed brisket beef, the Gold Coast certainly has no shortage of delicious bagel spots. Scroll on for five of the best bagel joints on the Gold Coast that we have a hole lotta love for.
Randy Wallhole
Southport
A list of the Gold Coast's best bagels wouldn't be complete without Randy Wallhole. This Southport icon has made a name for itself with its top-notch coffee and extensive bagel menu, so you know you're in safe hands with these experienced bagel masters. Here you'll find plain, sesame, jalapeno, rye and sunflower, cinnamon and raisin, blueberry, gluten-free and everything bagels. So yes, Randy knows his bagels. The extensive bagel menu boasts the classics and some boundary-pushing combinations like the 'Holy Moly Haloumi' with grilled haloumi, red onion, sun-dried tomatoes, spinach, avocado and basil pesto or the 'Hummus Bagel' with hummus, tomato, basil, onion, dukkah and lemon.
O Bagel
Broadbeach
When it has bagel in the name, you know it's going to be good. O Bagel is a specialty bagel house that boasts an extensive menu of sandwich bagels—fat bagels stuffed with loaded gourmet fillings—or simple bagels for when you're just after the classics. And the choice of bagels, we hear you ask? You're spoiled for choice with plain, sesame, poppy seed, spinach and cheese, blueberry and the everything bagel. If you're after a morning pick-me-up, chow down on the 'G'Morning' with maple bacon, easy over egg, a hash brown, American cheddar, parmesan aioli and smoke tomato relish or another crowd favourite is the 'Classy Lox' with 48-hour house-cured salmon, soft herb cream cheese, baby capers, tomato and red onion. Hands down, O Bagel is one of the best bagel spots on the Gold Coast.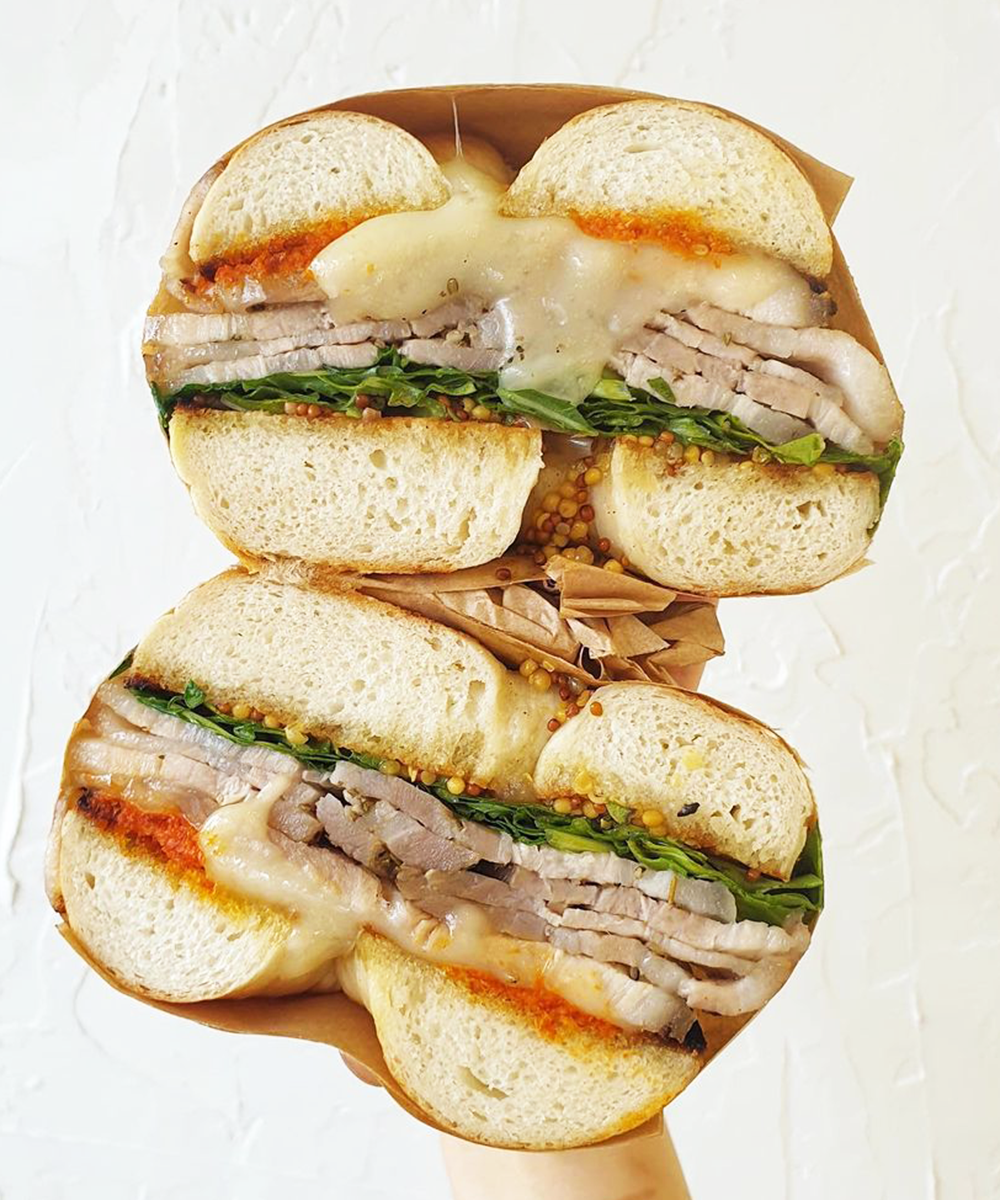 Tarte Bakery & Cafe
Burleigh Heads
Tarte Bakery & Cafe in Burleigh should already be your go-to for all things baked and delicious, but let's just add bagels to that ever-growing list. Tarte has recently expanded to open up a sweet-as-can-be takeaway deli nook, slinging up New York-style bagels and sandwiches, stuffed to max with finger-lickingly good combos and served with housemade potato crisps. A delightful array of stuffed savoury selections are available here—we're suckers for the Bullseye Bang with fried eggs, avocado, bacon, rocket and house chilli sambal or keep it classic with the salmon bagel with smoked salmon, pickle qukes, bronze fennel, crispy capers, salted onion and cream cheese. Tarte is easily one of our favourite bagel spots on the Gold Coast.
Hole Bagel Co.
Various Locations
This family-run business originated from a love affair in Brick Lane, East London over twenty years ago…with a bagel. It was here that owners Megan and Lawrence sampled their first ever bagel and were instantly addicted. Who could blame them? They believe a bagel is so much more than just a tasty treat, and that's why love and labour are put into each of their hand-rolled, slow-proved, boiled and baked bagels. Hole Bagel Co. has all of your bagel needs covered, regularly popping up at various markets and supplying cafes all over the Coast. To find out where to get your hands on one, head over to their website.
Daark Espresso
Chirn Park
An institution among professional brunchers, Daark Espresso can do no wrong. Slinging up some of the best coffee on the Gold Coast, Daark Espresso also whips up a damn good bagel. A crave-worthy combo on the menu comes in the form of the BLT bagel with bacon, tomato, spinach and lime aioli. If you're after something simpler, order one of Daark's 'Bagel Boys' bagels that come in flavours of cinnamon, rye and sunflower, blueberry or plain and are served with butter and berry compote or cream cheese. We love these holey morsels of goodness.
Looking for more carb-y goodness to satisfy your cravings? Wrap your chompers around the Gold Coast's best burgers.
Image Credit: O Bagel & Tarte Bakery & Cafe