To beetroot or not to beetroot, that is the question. Whether you like 'em loaded, tripled, smoked, pulled or plant-based, the Gold Coast has a burger to kill your cravings.
In no particular order, here's our round up of 15 of the sauciest, tastiest, juiciest, stacked burgers you can find on the Gold Coast in 2022. Get ready to sink your chompers into these babies.
Ze Pickle
Burleigh Heads
Sometimes you want your outrageous burger with a side of cool bar vibes and excellent cocktails. That's exactly what you'll find at Burleigh hotspot Ze Pickle, the OG location for this insane burger bar that can also now be found in Brisbane and Sydney. Here, we can't just pick one favourite, so here's our hit list—The 3am (beef, maple-smoked bacon, Kanye's fried cheese sticks, guacamole and Ze Pickle sauce), Ya Mum (Angus beef patty, ze fries, IPA beer cheese sauce, maple-smoked bacon, American cheese and truffle butter), and the whopping Triple Loco (three Angus beef patties, triple American cheese, triple bacon, Ze Pickle sauce, smoked jalapenos, fried onion straws and slaw served between two grilled cheese sandwiches). Yes, a burger served between grilled cheese sandwiches. Heaven is real.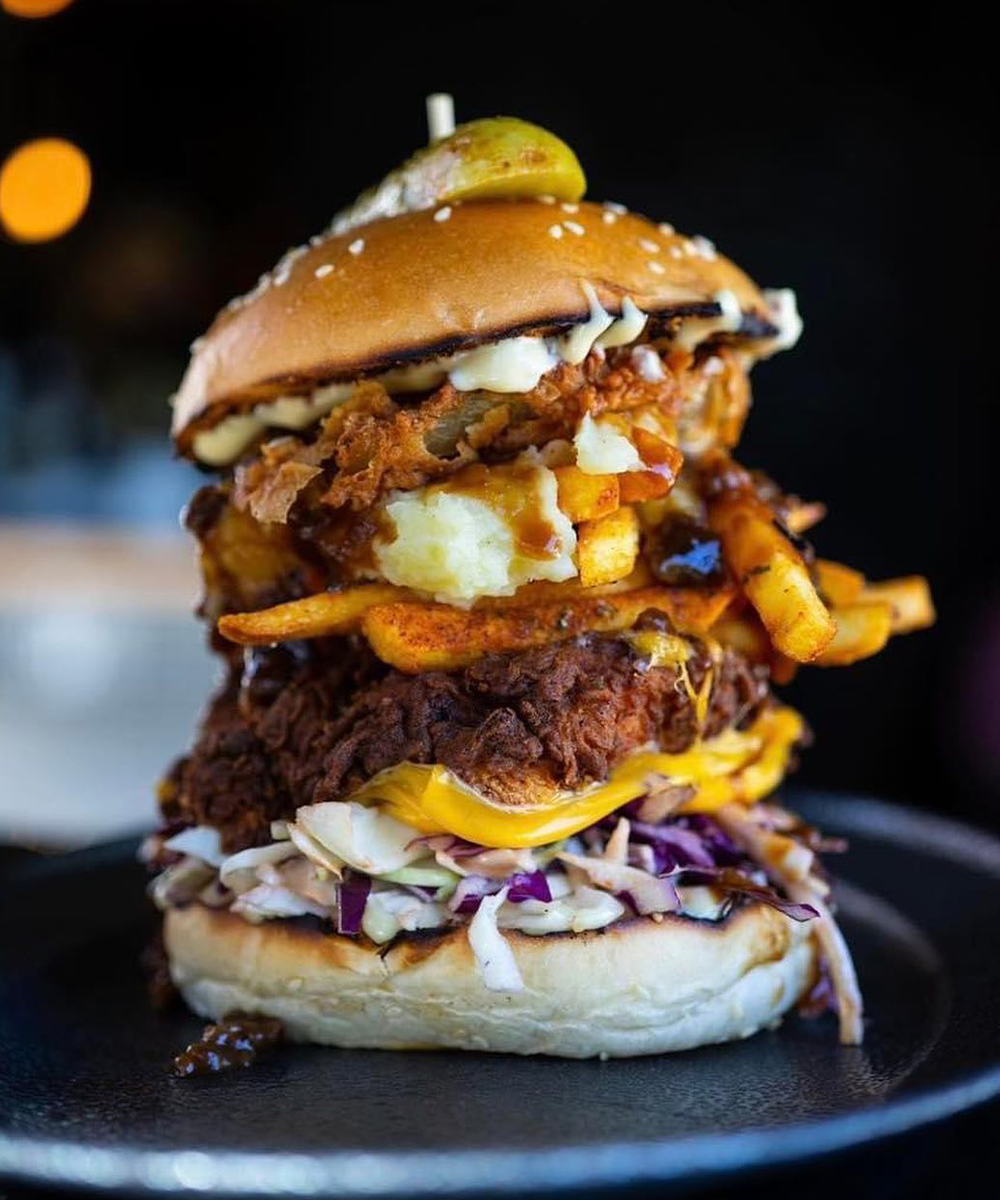 Eddie's Grub House
Coolangatta
Still haven't checked out Eddie's in Cooly? Now's your chance to get down and familiar with this cool-as-hell whisky dive bar. Serving up epic live music and an extensive tipple selection, these guys dish out some of the best burgers on the Gold Coast. Our top pick? The BBQ Chicken Slawter is an absolute ripper. With two lots of Southern fried chicken tenders, bacon, Jack Daniel's BBQ sauce, cheese, house-made slaw and onions, you're going to love it. More of a simple burger eater? We're calling it, Eddie's Grub House makes some of the best basic cheeseburgers on the Gold Coast.
The Loose Moose
Broadbeach
Burgers on buns and in bowls—now that's caught your interest. Moody vibes and good times aren't all that The Loose Moose offers its Broadbeach patrons. With a seriously impressive lineup of burgers, you'll be returning time and time again just to eat your way through the menu. We recommend the Big Blue for something different—topped with Byron beef, onion, tomato, sautéed mushrooms, and a generous serve of gorgonzola and smoked jalapeno mayo, this burger is an epic flavour hit.
Longboards Laidback Eatery & Bar
Surfers Paradise
Regularly featured on the Gold Coast's best burgers lists, Longboards Laidback Eatery & Bar is serious about burgers and slings up some of the wildest burgers on the Coast. Case in point, the Phat Bastard Challenge is a monster of a dish. Think: 600 grams of grilled Wagyu with crispy bacon, melted cheese, pulled pork, beer-battered onion rings and a side of fries. Not a great idea to slip into Longboard's swimming pool after this bad boy. It's near impossible to choose just one favourite here, but we can't go past the New Yorker, with grilled wagyu, lettuce, tomato, crispy fried onion strings, Colby Jack cheese, pickles, American mustard and sweet BBQ sauce. Longboards boasts plenty of tasty options for vegetarians and vegans, too.
Two Yolks
Burleigh Heads
Two Yolks in Burleigh Heads is a true eggs-plosion of the best things in life: burgers, beers, good friends and good times. From the mastermind behind Burleigh icon, Finn Poke Two Yolks is headed by prestigious Los Angeles chef, Charles Olalia and is the kind of bar that makes you feel like you've just stepped off the streets of LA into an American diner (with a Gold Coast twist, obviously). Their unique smashed patty technique ensures maximum caramelisation for that ultra-beef experience. The Burly Burleigh is basically the ultimate Aussie burger, with double-smashed patties, double American cheese, an organic egg, Bangalow free-range bacon, roasted beetroot, grilled pineapple, lettuce, tomatoes, house pickles and house BBQ sauce, all for under $20. At that price you can add a side of guac to be just that little bit extra.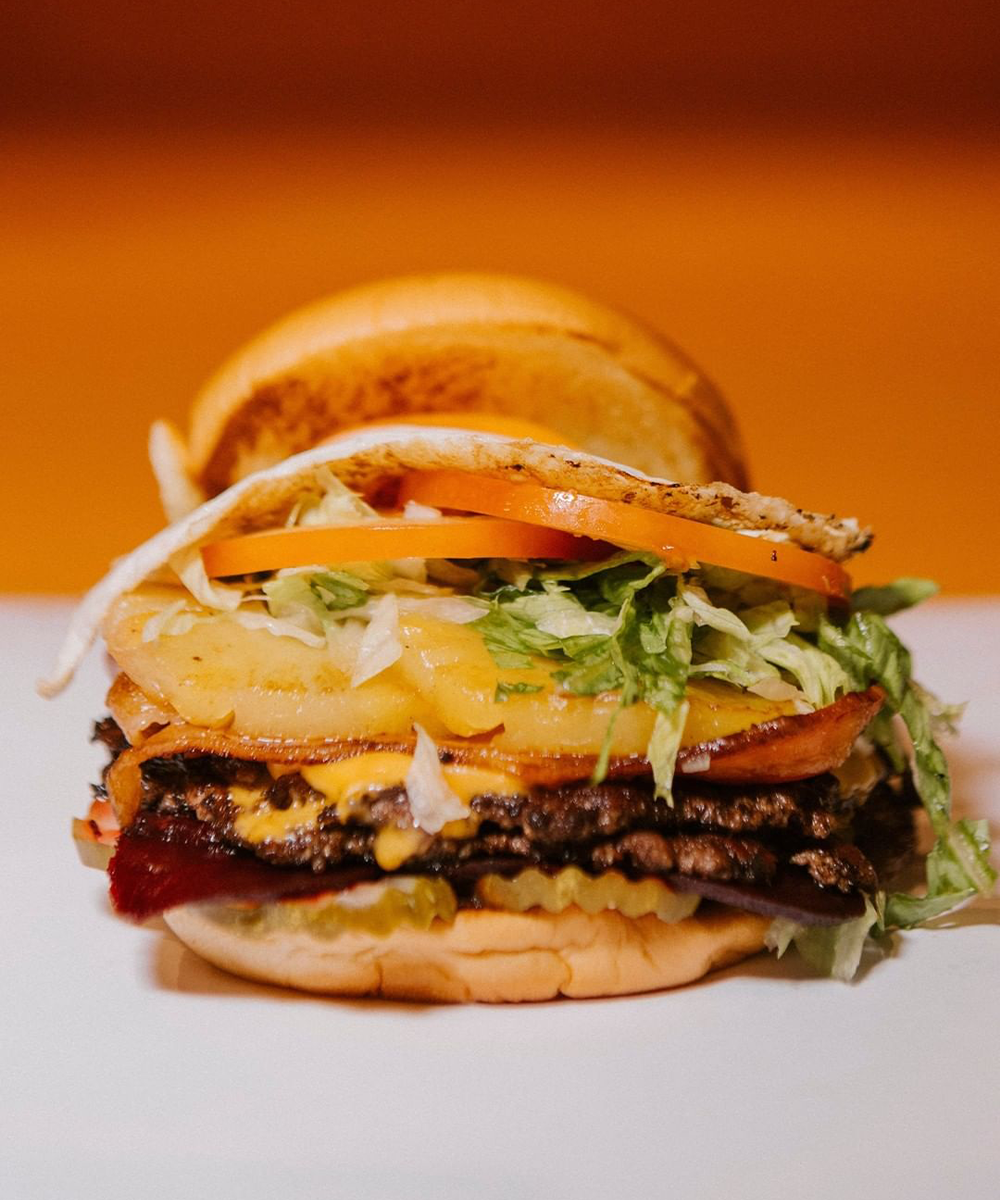 Palm Springs
Burleigh Heads
Okay, so we're officially renaming Burleigh Heads to Burger Heads. Palm Springs is a bright, pastel-drenched Southern Californian-style eatery that fits right in with Burleigh's laidback vibes. While the Mexican-fusion Cali Breakfast Burrito might call our names, we find it pretty tough to look past the Buttermilk Fried Chicken Waffle Burger, with buttermilk fried chicken, Palm Springs' special Mexican slaw, maple syrup and chipotle mayo on churro waffles. Is it sweet? Is it savoury? Is it breakfast or dessert? Who cares, really—it's absolutely divine.
Burgster
Palm Beach
Sometimes you're ravished with hunger. A hunger that only burgers can satisfy. Down the southern end, Burgster in Palm Beach has got you covered. These guys take your classic faves and give them a tasty makeover. While we drool over pretty much every item on their menu, we can't go past their Hot Ugly Burger—buttermilk chicken, cheese, pickles, lettuce, onion, spicy mayo and hot dust. And for the snack sharers, the guacamole with crispy chicken skins and the fried button mushrooms with blue cheese mayo are *chef's kiss*. Did we mention they do $1 natural oysters on Fridays (3pm until sold out)?
Easy Street Diner
Mermaid Beach
A feast for the eyes, it doesn't get any more American than Easy Street Diner. Flipping burgers like New Yorkers do, the Easy Street team in Mermaid Beach have their dishes 100% perfected and 100% tasty. Just the way we like them. Head straight for the Cheezie Boi, with buttermilk chicken tenders, halloumi, smoked bacon, bacon cheese sauce and baconnaise. We order ours with extra bacon, just because we can. Wash it down with a Budweiser or Root Beer Float. We love that there are plenty of vegan and vegetarian options for our plant-based pals.
Crafty's Sports Bar
Biggera Waters
Fuel up after a morning's retail therapy at Harbourtown with the selection of tasty fried goodness on the Crafty's Sports Bar menu. While we love the huge selection of unique bar snacks on offer, it's the Crafty's Famous Chicken Burger that really takes the cake. It's a simple concept but executed beautifully, with the juiciest, crispiest fried buttermilk chicken, bacon, American cheddar, lettuce, tomato and hot mayonnaise. Lip-smackingly good. And if you're there for Sunday lunch, be sure to grab yourself the special Slow-Roasted Porchetta and Egg roll, with crispy porchetta, fried egg, chilli jam, slaw and aioli on a brioche bun. Sunday lunch has never tasted so good.
Milky Lane
Surfers Paradise
Gold Coast foodies were stoked when the famous Aussie burger chain, Milky Lane decided to open a fresh and funky venue right in the heart of Surfers Paradise. Milky Lane burgers are all pretty epic, but the one that stands out the most to us is the Hail Caesar, a parmesan, herb and panko crumbed chicken schnitzel on a parmesan-covered bun with a herb and parmesan crumbed deep-fried mozzarella patty, fried egg and Caesar salad with cheesy garlic croutons and crispy bacon pieces. Oh yeah. That's the stuff. A relentless string of crazy food creations has made Milky Lane a viral social media sensation. Think: mac'n'cheese doughnuts, crispy lasagna nuggets and ice cream waffle tacos—which have graced the menu for a limited time release. Combine that with a swag of outlandish desserts, cocktails and milkshakes because when it comes to these guys, there is nothing they can't pimp the absolute shiz out of.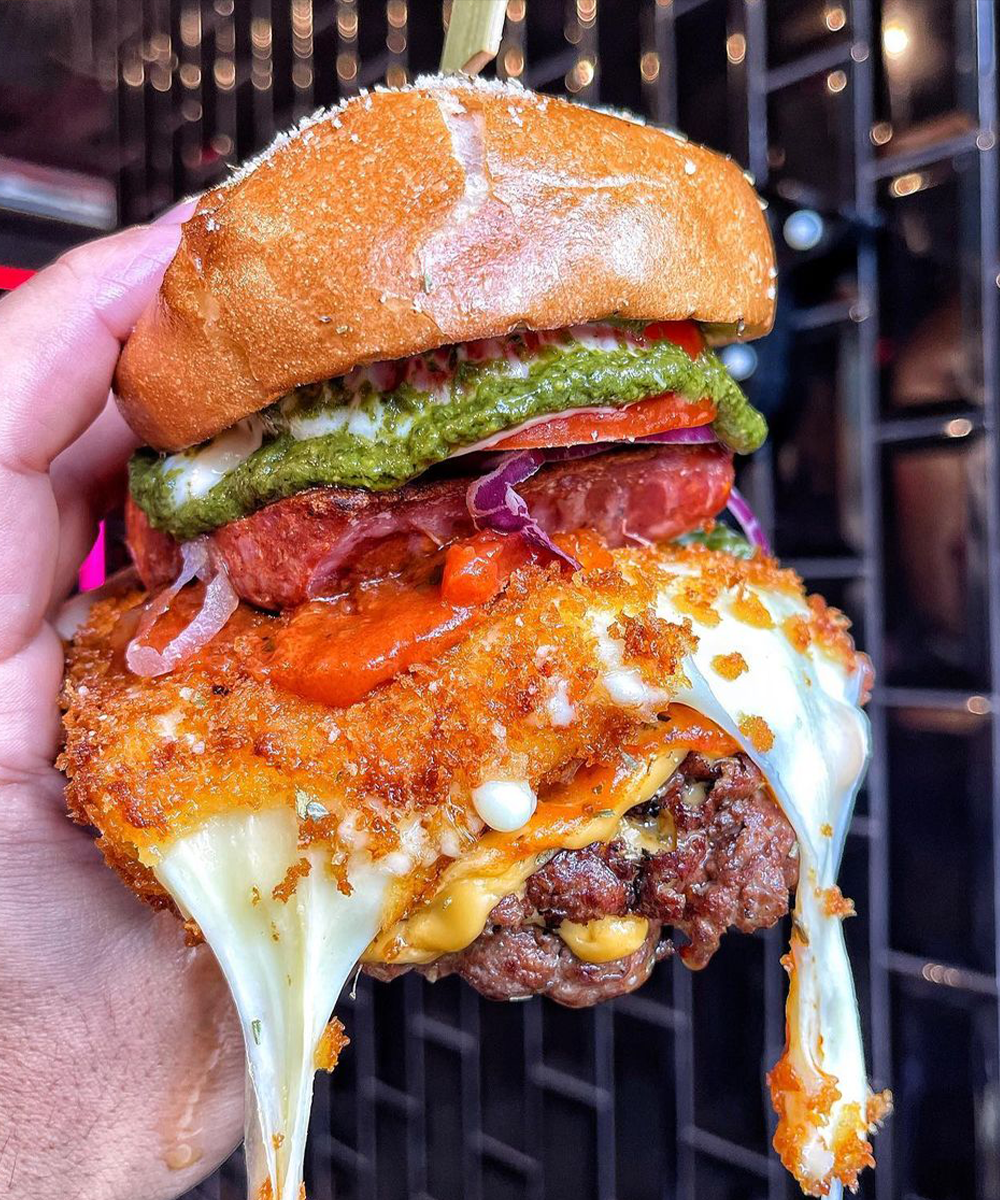 Greenhouse Canteen & Bar
Miami
Meat-free doesn't have to mean flavour free, as amply demonstrated by Greenhouse Canteen & Bar, the plant-based Miami eatery which is changing foodie perceptions with its mantra: 'anything you can do, we can do vegan'. Alongside a range of unique, 100% plant-based treats sits the Mushroom Cheeseburger, featuring a hefty lentil and tofu patty served in between crispy tempura mushroom buns and topped with pickled onion, vegan brie, seeded mustard, salad, crispy kale chips, aioli and a side of shoestring fries. It's a taste and textural sensation and one of the best burgers we've devoured on the Gold Coast.
Pattysmiths
Labrador, Merrimac, Miami, Palm Beach & Upper Coomera
Pattysmiths' lovingly handcrafted burgers can be found at several locations across the Gold Coast, and thank goodness for that. With melt-in-the-mouth wagyu patties cooked to that perfect brown crust on the outside, Pattysmiths certainly lives up to its name. The Mac & Cheese Royale will satisfy the heftiest craving with its beef patty, mac & cheese katsu, American cheddar, house special sauce, ketchup, mustard, lettuce and tomato, while our plant-based friends will adore The Mushroom Patty with panko crumbed mushroom patty, soft glazed vegan bun, your choice of vegan cheddar or melted mozzarella, pickles, ketchup, plant-based aioli, lettuce and tomato.
Betty's Burgers & Concrete Co.
Surfers Paradise, Broadbeach, Coomera & Robina
We don't know who Betty is, but we love her and we love her burgers. Opening up new stores all across Australia and thankfully in four locations on the Gold Coast, we adore that this American-style diner chain is Aussie-owned. We think the recipe creators for Betty's Burgers must have put in some serious hard yards scouring the U.S. for tasty burger creations. With soft-as-a-pillow milky buns and a crispy fried mushroom patty filled with Gruyere cheese, all topped with lettuce, tomato and Betty's Special Sauce, make sure you don't skip past the 'Shroom Burger. Hands down, Betty's is making some of the best burgers on the Gold Coast.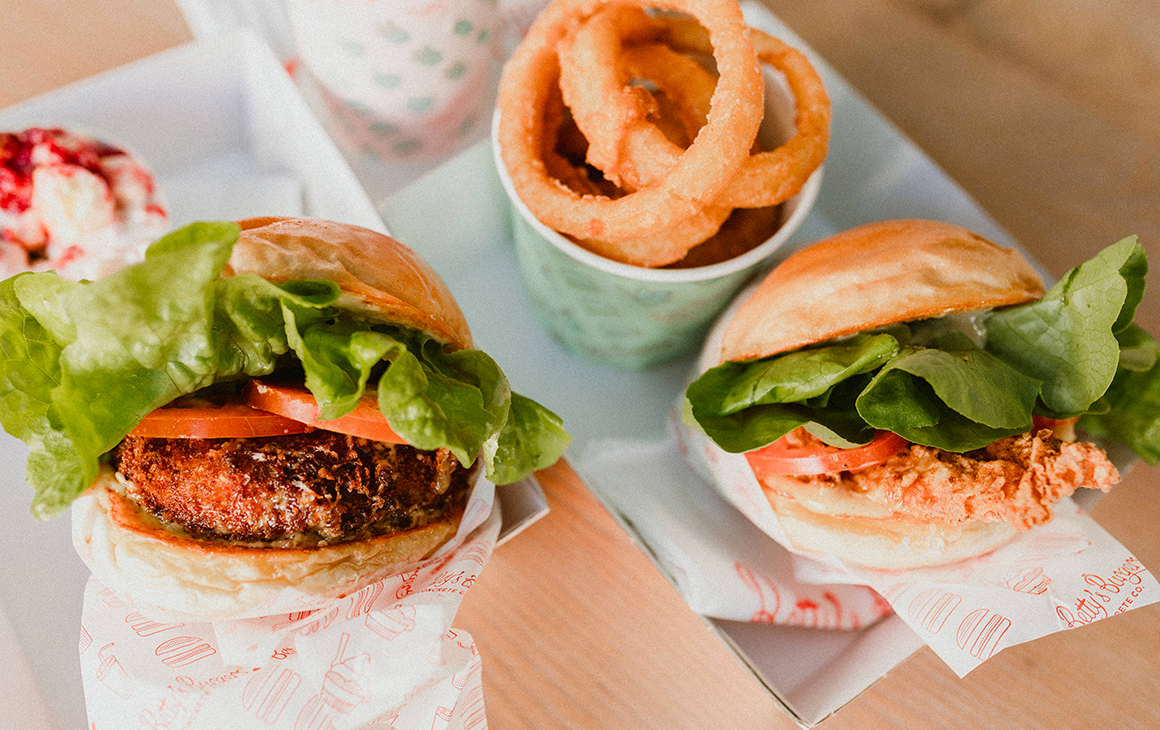 Notorious E.A.T. Food Truck
Various Locations
Notorious E.A.T. is so much more than just a Gold Coast burger truck. Inspired by the local diner and burger scene in the USA, chefs Jem and Dan spend time at HQ trialling burgers to bring their loyal fans some seriously epic creations. Fan favourites include the Eazy E (hand-pressed beef patty, rasher bacon, cheese, caramelised onion, house BBQ sauce with two crispy hash browns) and the Piggie Smallz (melt-in-your-mouth pulled pork, lettuce, house-made apple slaw and house BBQ sauce). Keep an eye on their Instagram to see which food festivals and events across Gold Coast and Brisbane they'll pop up at next, or request their epic catering for your next event.
Looking for another hit list to dominate? Work your way through the best dumplings on the Gold Coast.
Image Credit: Ze Pickle, Two Yolks, Milky Lane & Betty's Burgers