Our impressive Gold Coast beaches get a pretty good wrap, as they well deserve. But they often overshadow our gorgeous hinterland sprinkled with dazzling waterfalls and sensational swimming holes.
With the return of warmer weather, we reckon chasing waterfalls is exactly what you should do this weekend. And the best Gold Coast waterfalls you can swim under are only a car ride singalong away. Let's go chasing waterfalls this summer.
Twin Falls
Springbrook National Park
Springbrook National Park is your welcomed escaped from the Coast's glitz and glam, and it's right on our back doorstep. So, if you're heading out for a hinterland adventure in our neighbouring rainforest region, visiting a splash-worthy watering hole is an absolute must-do. Wander past rugged rock walls covered in lush palms, shimmy behind gushing waterfalls and make your way down to this well deserved swimming spot for a refreshing dip. Twin Falls is renowned for its nearby canyon lookout and walkways lined with thousand-year-old trees, so it's well worth a stop while you're in the Springbrook area.
Cougal Cascades
Currumbin Valley
Tucked away in the Currumbin Valley, Cougal Cascades is hands down one of the best places to escape to on a hot day. Cougal Cascades will mesmerise the heck out of you with its short rock face rushing with fresh water and plunging deep into an emerald pool of heaven. It's an easy 500 metre meander from the carpark and a somewhat sketchy hike down onto the rock face (walking shoes are helpful). Dazzle your mates by whisking them away to this slice of paradise this very weekend; our favourite spot among the best Gold Coast waterfalls you can swim under.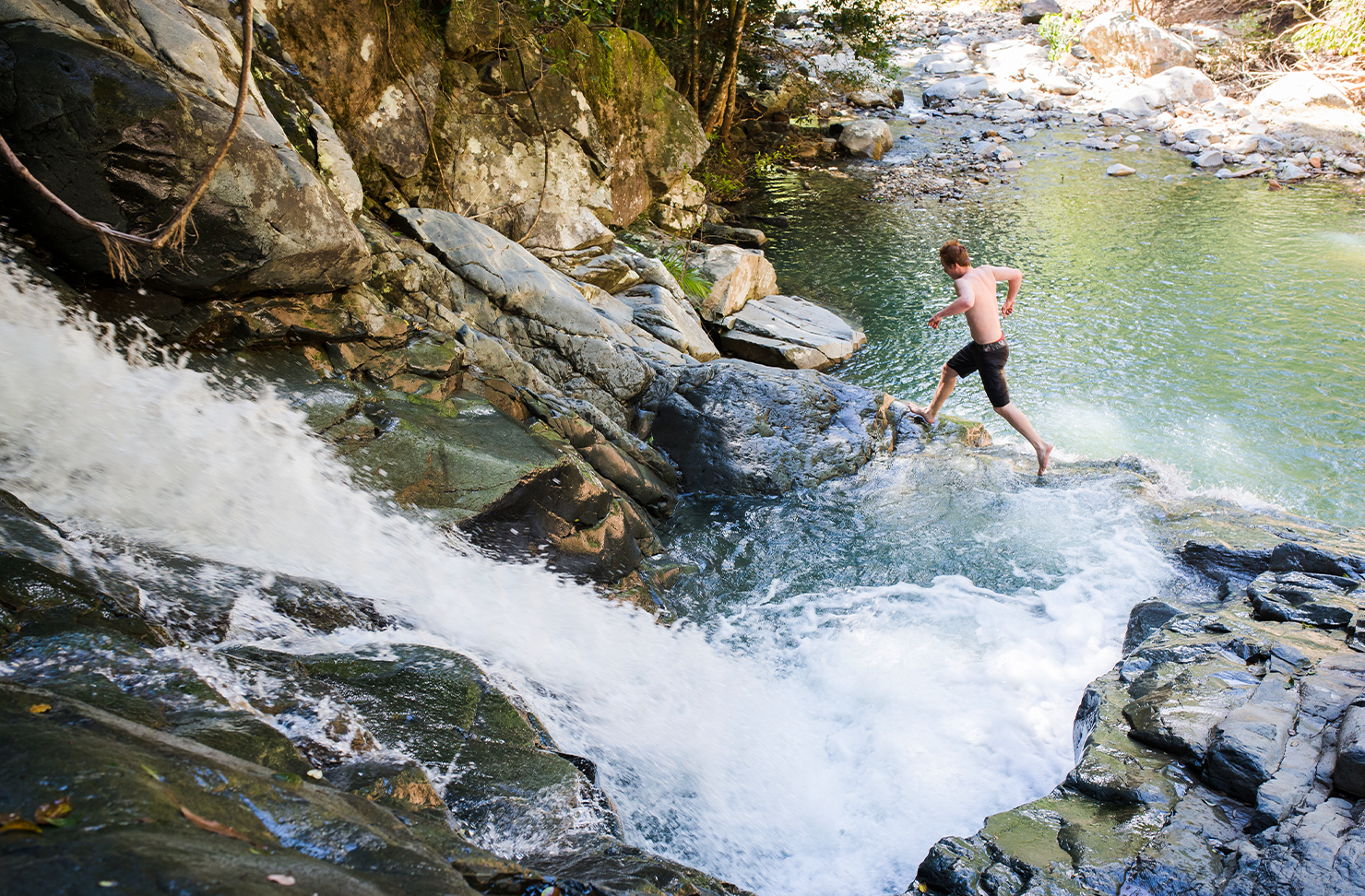 Elabana Falls
Lamington National Park
Our super close, super underrated neighbour O'Reilly's has some pretty impressive spots. But perhaps the most impressive of them all is Elabana Falls, hidden away in Lamington National Park. Hike 3.5 km through the lush rainforest region to reach this picturesque spot and roll around under spilling waterfalls. Keen to explore a little further? Then take the gutsier route home with the Box Forest Circuit's 10.9 km track or the giant 17.4 km Toolona Creek circuit. A fully stocked snack pack is 100% necessary.
Killen Falls
Tintenbar, NSW
A skip across the border in Tintenbar, Killen Falls really is killin' it and even has a natural cave for you to check out. This impressive waterfall is perfect for swimming in with its huge natural pool and wild vegetation waving away at you while you frolic. Killen Falls is very popular so get in early to claim your spot behind the ten-metre waterfall, where you can stretch out and relax with fresh water mist your own personal sprinkler.
Purling Brook Falls And Warringa Pool
Springbrook National Park
If your visiting mates keep rolling their eyes at Gold Coast's highrise-scattered landscape, show them this epic tree-topped skyline. Purling Brook Falls is well worth a whole day expedition, visiting 100-metre tall waterfalls, glittering swimming holes and a fragrant eucalyptus forest. While you can't (technically) swim under Purling Brook Falls itself, follow the sub-tropical path all the way through to breathtaking lookouts and then hike the extra loop to Warringa Pool where you can spend all day submerged in fresh water pools. Heaven.
Unicorn Falls
Uki, Northern NSW
Situated just outside of Uki in northern NSW, Unicorn Falls and its waterholes are a secret you want to know about. Explore micro falls and creeks trickling through the rugged landscape. This spot is barely touched, so keep an eye out for an abundance of wildlife. Situated just 15 minutes from the town's centre, follow Rowland Creek Road and chuck a left down South Chowan Road before arriving at Mount Jerusalem National Park's seriously dreamy waterfall to swim in.
Cronan Creek Cascades
Mount Barney
Let's face it, we simply do not go on enough road trips. Crank your cruising mix, featuring a whole lot of ACDC, and hit the road for your visit to Cronan Creek Cascades. A steady two hours from the Coast, this swimmable waterfall is situated right in the heart of Mt Barney National Park. Rock hop your way through to a free-flowing creek, discover secret walkways and dunk into bloody stunning jade pools. Not for the faint hearted, make a full day of this summertime cool down.
Made your way around the best Gold Coast waterfalls that you can swim under? How about these stunning road trips next.
Image credit: Brooke Darling for Urban List