I've toured a few things in my time. And by things, I mean wineries. And by toured, I mean made my husband take hundreds of 'casually walking through the vines' photos until he wondered if there was a divorce clause citing irreconcilable Instagram's. So when I heard about doing a tour at Cape Byron Distillery I thought, you know what? Too long have I been a slave to the wine man, tasting his Pinot, swirling his Sav...NO MORE!
Enter Cape Byron Distillery which sits on the Brook family farm, a stunning 96 acre property perched just minutes behind Byron Bay. You can book a distillery tour to jaunt around the property and get the inside knowledge on how and where the award-winning Brookie's Gin is made and I promise you there won't be an aloof sommelier insight.
You'll be greeted by one of the distilleries certified "Spiritual Advisor's" (aka: dream job) whose role is to get you familiar with the stunning surrounds of the distillery and open your palette and senses to the native botanicals sourced on site that go into their award winning dry gin. Ours was Damien. You will really like Damien mainly because he makes you a G&T with native finger lime and aniseed myrtle, but also because he, like the rest of the team, are super friendly, relaxed and warm. In short, they want you to love the distillery as much as they do.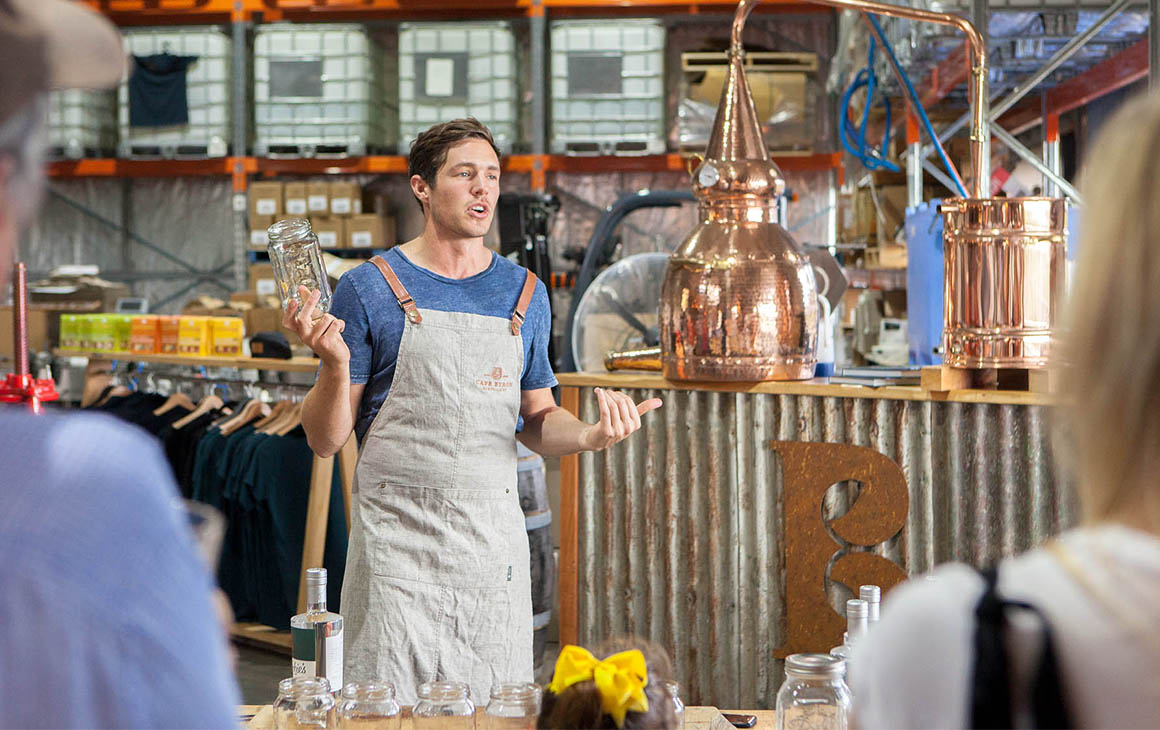 Step out onto the panoramic deck, drinks in hand and Damien will divulge a little history of the Cape Byron Distillery, starting with the property owners the Brook family. They bought the land as a derelict dairy farm and have spent years transforming it into the lush tropical rainforest and macadamia farm it is today. Once a part of an ancient volcanic corridor or as it's known today 'The Big Scrub', the land is once again fertile and lush with the family having planted over 35,000 trees.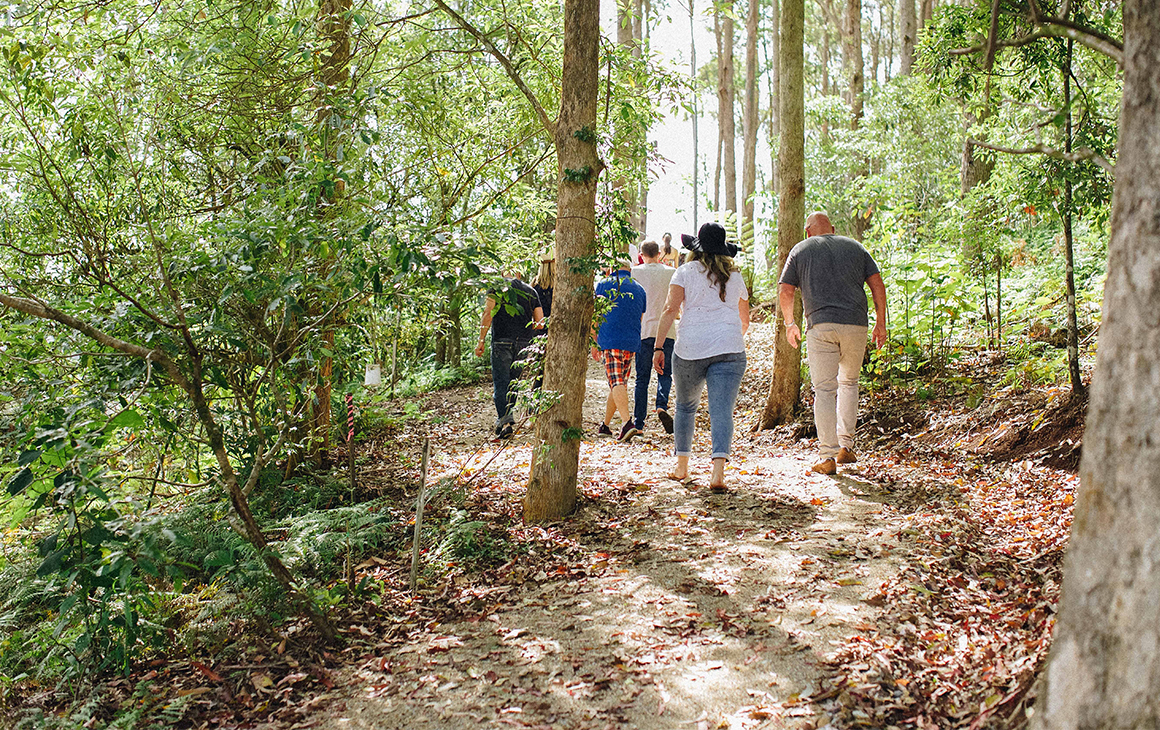 This part of the tour is aimed at discovering the onsite botanicals that are infused into the 'dry' and 'slow' gin varieties and Damien will guide you through the grassy knolls, winding streams and in amongst tropical trees, all along the way giving you taste testers to highlight the gins subtle flavours. Picking at a little cinnamon myrtle here and chewing on a little white aspen berry there. You will walk past native stingless bee hives or spy wasp eggs especially brought in to naturally control nut borer's that feast on macadamias, its clever, natural farming. You'll start to get the sense that the Cape Byron Distillery may just be environment first; gin a handy second.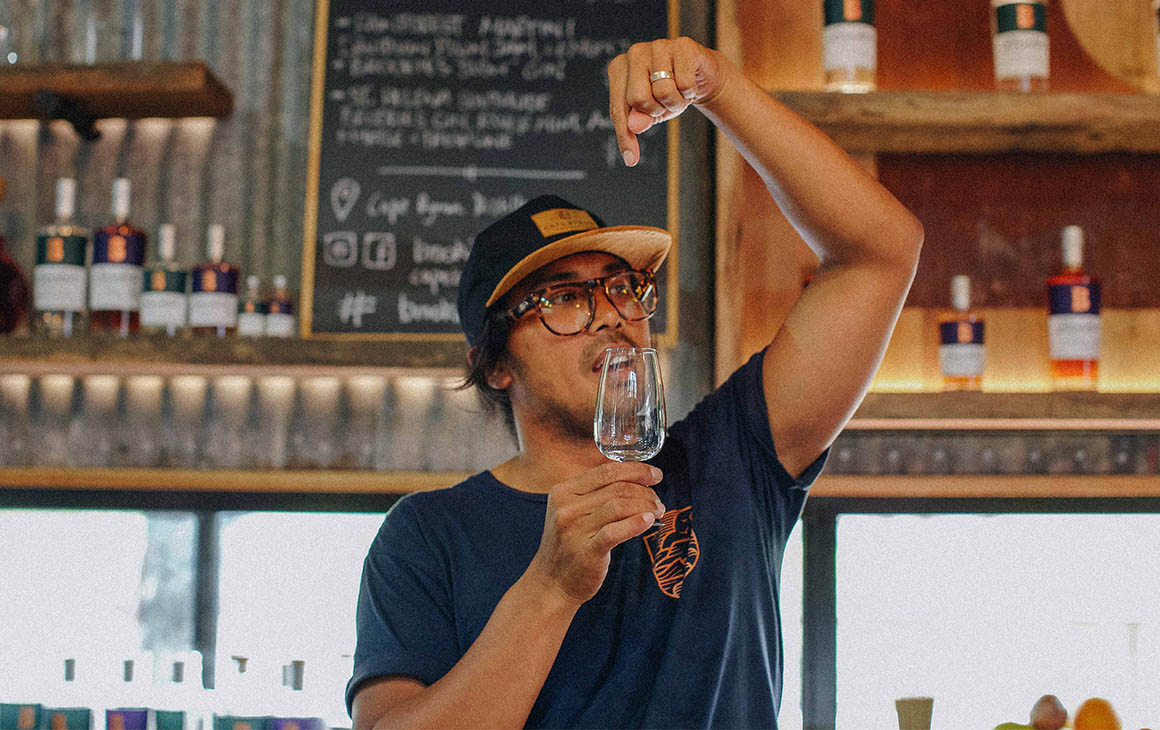 Back at the distillery door, Damien will hand you over to Simon—another 'Spiritual Advisor'—whose job it is to introduce their custom copper pot still named 'George' and show you how all those fresh forestry flavours are made into gin. Passing around jars of dried juniper berries, cinnamon bark & chamomile flowers you will be entranced by tales of gin's history and how the spirit has undergone a renaissance period now becoming popular in bars Australia-wide. Simon will introduce you to the Brookie's Slow Gin (a close cousin to the dry) and you'll sample its sweet, blushing goodness then see up close how the Davidson's plum that you may have shaken free from a tree just minutes earlier on the tour, has been steeped in this modern take on a traditional Sloe Gin.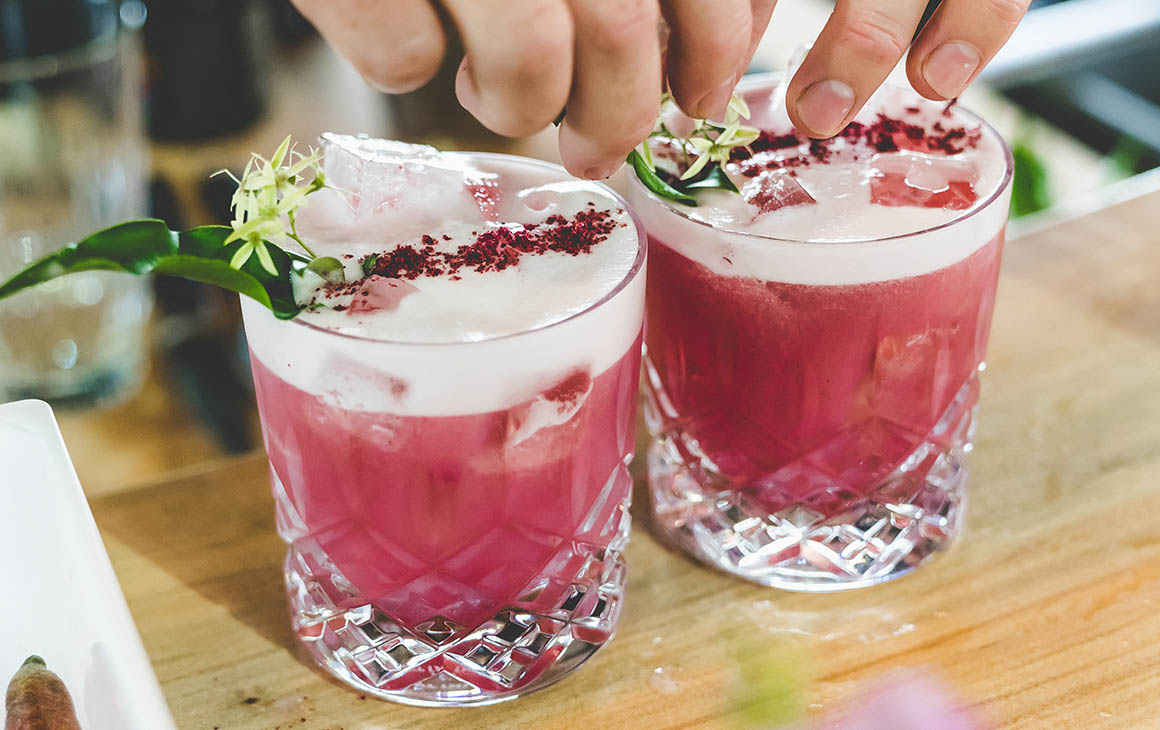 You're also welcomed to take a seat at the bar where (with all your new-found knowledge) are primed to order a cocktail or two all of which are completely achievable to make at home even for the novice of budding bar tenders. This is what Cape Byron Distillery tours are all about, opening up the world of gin for all. They are not here for the select few who can afford rare vintages or aged granges, these guys are saying 'Hey! This is where we live, this is from the land we have worked, this is the fruit of our labour and an offering from nature itself, this gin is for everyone!' It would be rude not to order a Rainforest Martini or take a bottle of gin home…you know…for the environment.
So if you're keen to learn how natures gifts can be turned into gin, sourced respectfully from the land and then turned into your evening tipple come do a tour with the team at Cape Byron Distillery they offer tours every Friday, Saturday and Sunday at selected times and bookings are essential. And click here to find out more about 'The Big Scrub' landcare organisation.
Want more nature inspo? Check out these magical Gold Coast waterfalls you can actually swim under and these incredible bush walks.
Image Credit: supplied by Cape Byron Distillery and Auguste The Label