So you've been enlisted to organise the office Christmas party—eek. The pressure is on and chances are you're scratching your head for ideas.
To ensure the team are throwing you high fives long after the night is over (and you're on the boss' nice list), we've rounded up 17 of the best Gold Coast Christmas party venues and out-of-the-box activities for your upcoming silly season shindig.
Activities
Lumber Punks Axe Throwing
Miami
Has 2022 been one helluva stressful year for you and your workmates? Don't worry, we are all in the same boat and need some stress relief urgently. Lumber Punks in Miami is the ultimate stress relief, where you can dust off your faithful plaid shirt and hurl axes like the madmen (and women) that you are. Start your day here, or end it; either way, it's a bloody fun option for your next Gold Coast Christmas party. Did we mention there's a jukebox and novelty vikings hats?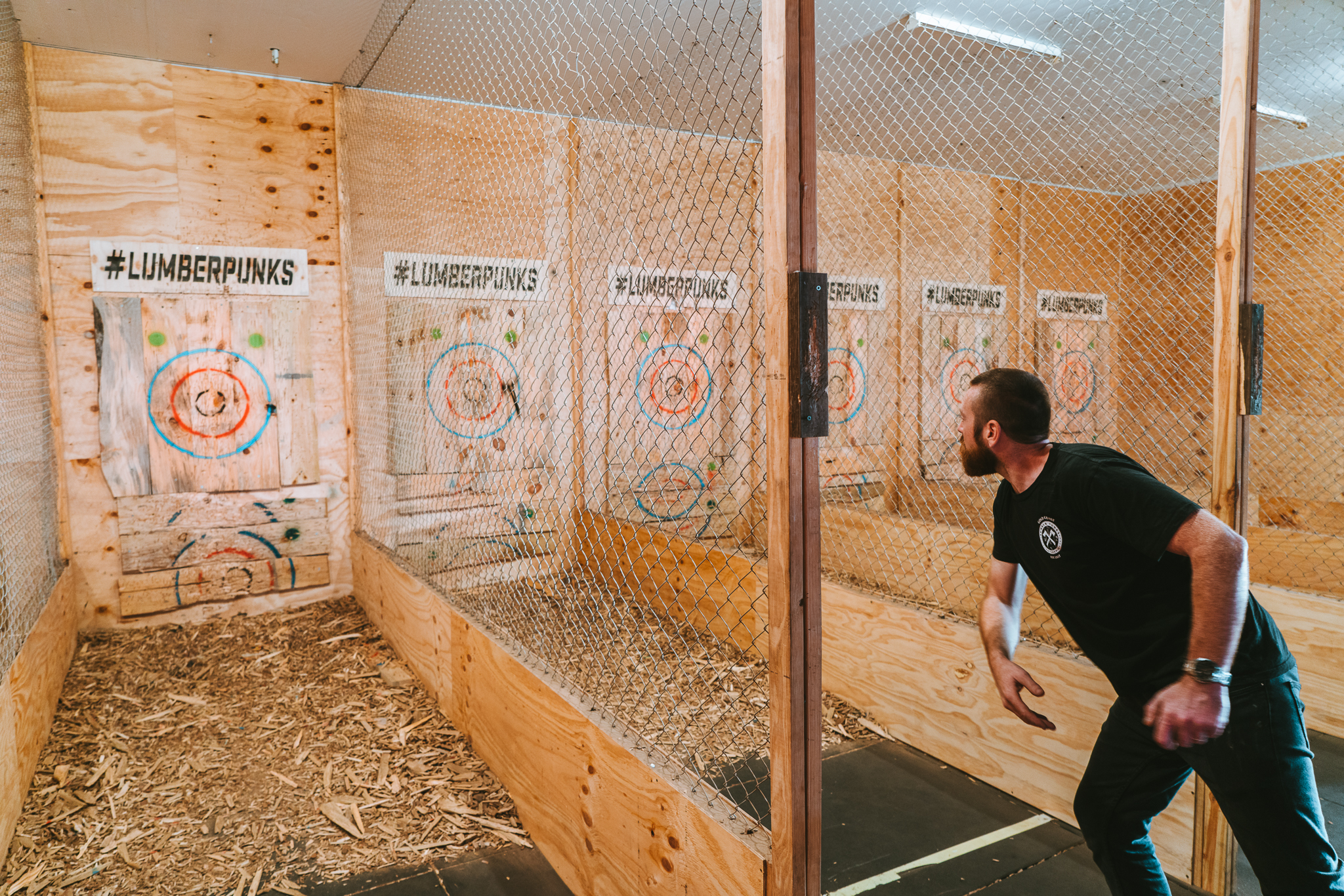 Topgolf
Oxenford
If your energetic team loves a bout of friendly competition or you're in search of an icebreaker to warm the crowd, consider a Gold Coast Christmas party at Movie World's iconic golfing spot, Topgolf. This multi-level entertainment destination is a high-tech golf driving range with a rooftop bar, beer, cocktails, eats and plenty of laughs guaranteed. Bonus: if you work on the north end of town, Topgolf is conveniently located in Oxenford so it's a cheap Uber ride home after a few celebratory bevvies. They've got plenty of corporate and party event packages, so you're sure to find a great package to suit your Christmas party needs.
Holey Moley
Surfers Paradise
Holey Moley is the cult-like chip-n-putt that's taken the country by storm, for good reason. This 18-hole crazy AF mini golf course can be found in Surfers Paradise's Circle on Cavill precinct, along with a disco bowling alley, karaoke, The Caddyshack cocktail bar and two escape rooms. An easy to organise Christmas party venue on the Gold Coast (just wrangle your work mates and they'll do the rest), expect plenty of laughs with a labyrinth of holes showcasing a variety of wild and whacky themes. There's a reason Holey Moley is known as the creator of Australia's best mini golf courses, par none. Check out their 2022 Christmas party packages here.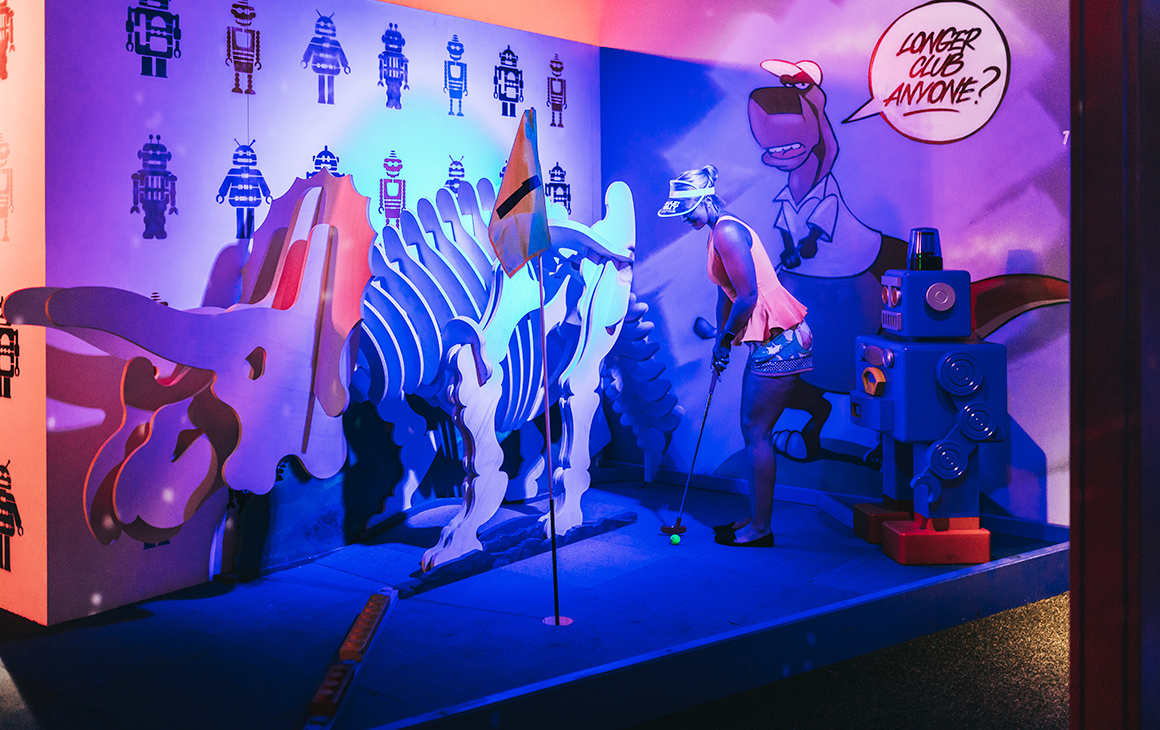 Venues
Burleigh Pavilion
Burleigh Heads
Did you really think we were going to make a list of the coolest Gold Coast Christmas party venues and not include the Burleigh Pavilion? Impossible. The Pav is the prime spot for silly season celebrations and is pimped out with sweeping ocean front vistas, refined eatery The Tropic, pumping DJs, slurp-worthy cocktails and uninterrupted sunset views—the ingredients of a killer party. Burleigh Pavilion offers unique event spaces, no matter if you're looking for a casual lowkey celebration or pull-out-all-the-stops Christmas party. Check out their functions package for a memorable party that will keep you in everyone's good books for a long time.
Miss Moneypenny's
Broadbeach
Broadbeach's favourite fine dining restaurant doesn't just look good, it packs a punch in the event space too. Take your pick between the private Rimini Room with capacity for 120 people, the Outdoor Deck which accommodates 80 guests, the Upper Pool Deck with space for 400 guests or max out your budget and rent the whole venue. There's no doubt Miss Moneypenny's offers the perfect locale for your upcoming Christmas party and with a fantastic central location, there's plenty of post-party options to hit up.
Cali Beach Club
Surfers Paradise
When Cali first opened last year, we all knew Cali Beach Club was going to be popular, but boy, the Gold Coast has certainly fallen in love with this sun-kissed spot. The mega entertainment destination towers four stories above street level in the heart of Surfers Paradise, is spread over an expansive 5000 square metres of prime rooftop space, boasts a spectacular outlook over Surfers Paradise beach and unparalleled views of the city skyline. If you've got more than 100 work pals who are all about basking in the sun and dancing long into the night, you need to check out Cali Beach Club's Christmas party packages.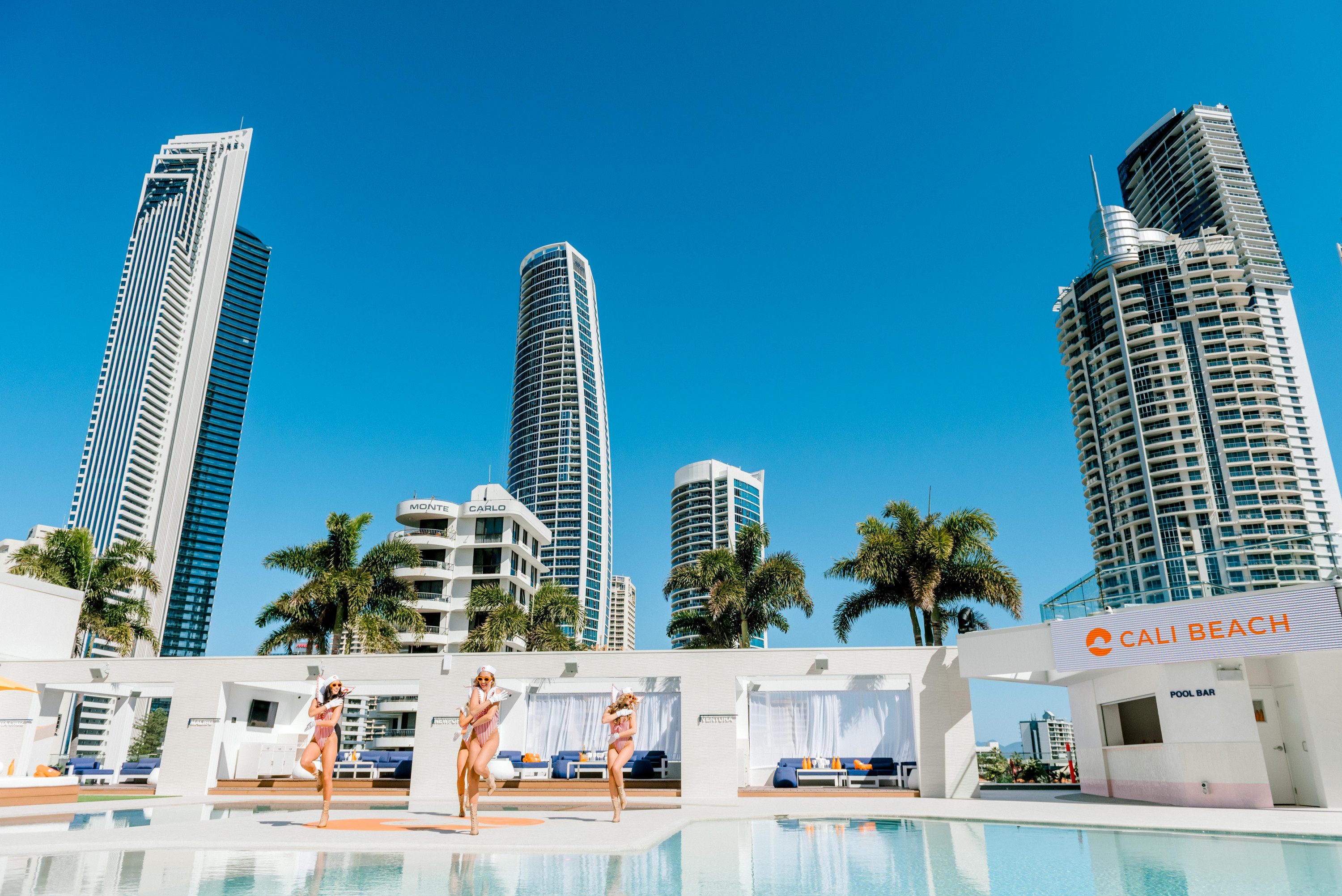 The Island
Surfers Paradise
Whether it's an intimate gathering of ten, or an extravagant, somewhat larger affair, it's hard to find a cooler venue for a relaxed yet refined party than The Island. With plenty of options to choose from, take your pick from their massive outdoor deck at The Island Rooftop (hello, summer breezes!), a posi on the poolside deck in leafy surrounds, a view of the big city lights from the Penthouse rooftop bar or perhaps a reserved space in Goldie's bar and restaurant on the ground floor. With retro vibes and friendly service from start to finish, you'll be guaranteed a top night. The Island specialises in corporate events, private events, residential events, conferences and weddings, so you know you're in safe hands.
The Yot Club
Southport
Summer wouldn't be complete without a watery adventure or two, so why not make this year's office Christmas party on the Gold Coast one to remember. The YOT Club is without a doubt the ultimate celebration venue—it's essentially a giant floating oasis that takes luxury to the next level. The YOT Blue is 80 feet of pure super yacht luxury and fits up to 58 guests, while the YOT 75 is the pinnacle of yacht entertainment and is licensed for 68 guests across two glammed-up levels. If you only want to book out a part of The YOT Club, there are also plenty of VIP booths you can book and other function packages. If you're looking to seriously impress (and can max out the CEO's credit card), The YOT Club is a Christmas party venue like no other.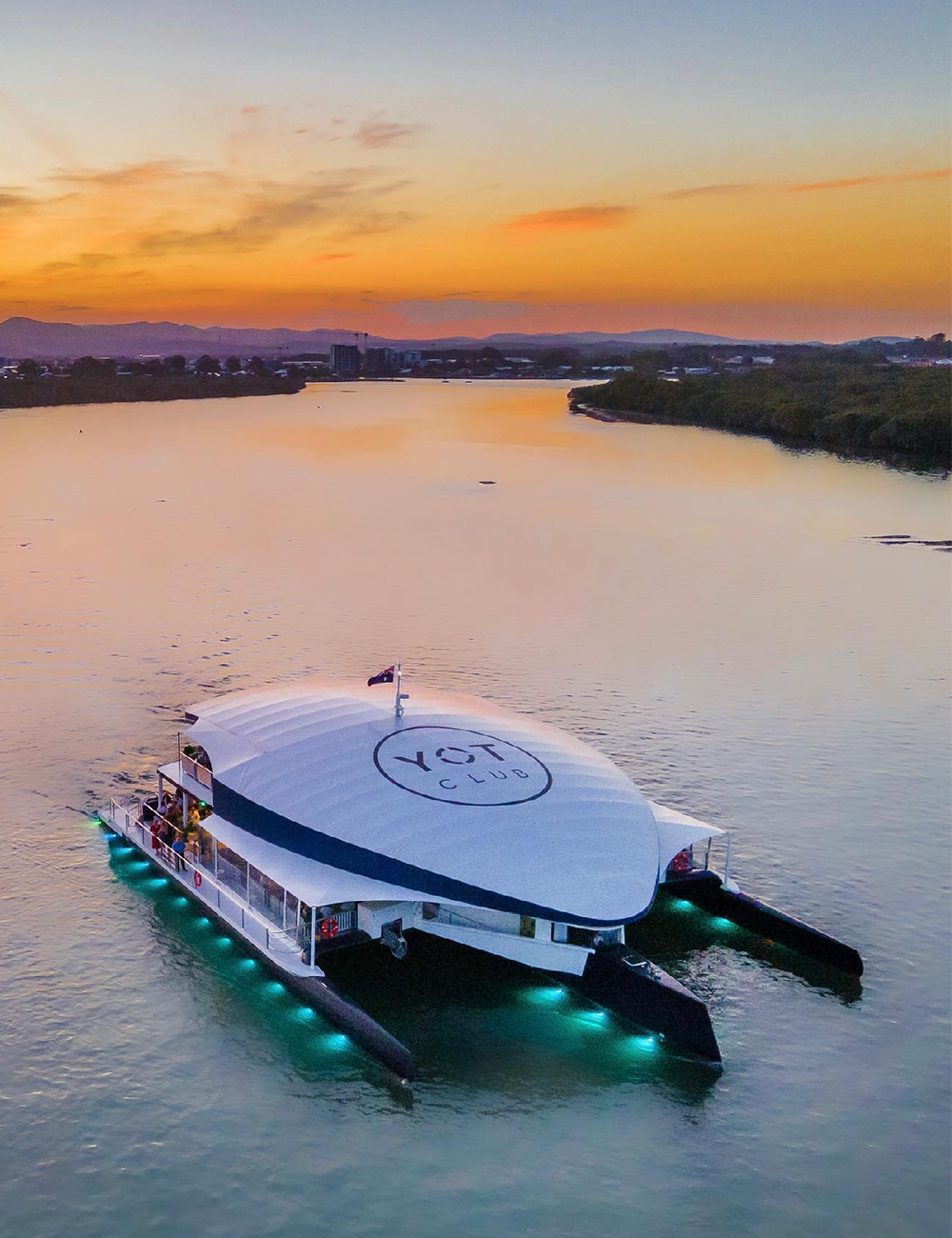 Kiff & Culture Tours
Various
If staying at one venue all night sounds dull, and you've got 60 or less people to plan for, Kiff & Culture's Food & Drink Tours are one hell of a good time. They'll pick up your whole team in a bus (size depending on your group) and drive you around for the afternoon, stopping off to eat and drink at some of the Gold Coast's top culinary institutions. We're talking sipping botanical-infused gins at Granddad Jack's Distillery, Moreton Bay bug rolls at Rick Shores and a couple of frosties at Precinc Brewing. Not for you? You can also curate a bespoke Christmas party experience with customised offerings to suit your tastes.
The Pink Flamingo Spiegelclub
Broadbeach
A self-confessed 'adult's only plush playground,' The Pink Flamingo Spiegelclub is home to a sexy stage show that's a captivating blend of cabaret, burlesque and acrobatics. Located in the heart of Broadbeach, this lavishly pink Art Deco theatre is complete with booth seating, multiple bars, animated staff and customisable entertainment. The venue has four different venue offerings, with capacities ranging all the way from 23 people 600 people. You can book out an area of The Pink Flamingo and settle in for a dazzling show with all the trimmings—undoubtedly one of the Gold Coast's stand out Christmas party venues.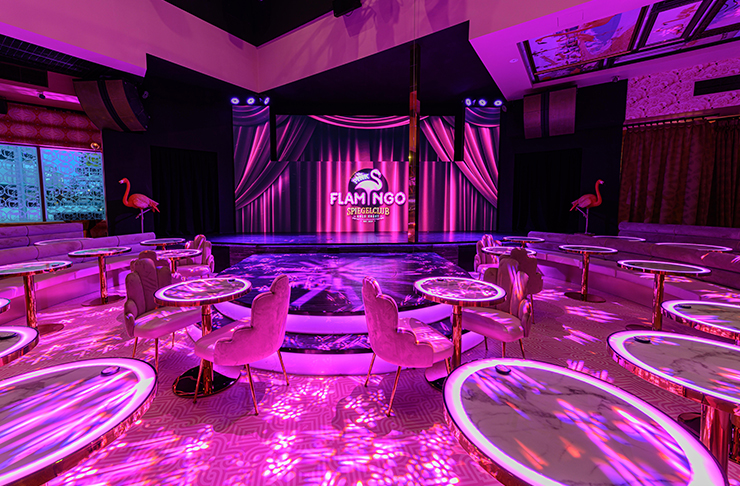 Granddad Jack's Craft Distillery
Miami
Granddad Jack's is the Coast's only dedicated whiskey and gin distillery—and she's a beauty. With up-cycled materials throughout giving a raw and gritty rustic feel, a raised roof, distillery production on full show at the rear and a private bar for you and your colleagues, this is one intriguing venue that's certain to see the RSVPs come flooding in. You can book in for a make your own gin night, where you and your colleagues will be guided through the process of distilling and will be treated with dinner, drinks and a tour. If you're on the hunt for one of the most unique Christmas party venues on the Gold Coast, well, you've found it.
Miami Marketta
Miami
Home to two unique spaces which simply ooze character and spice, Miami Marketta has your next office Christmas party on the Gold Coast covered. With a selection of musical acts and food vendors on their books, fully stocked cocktail, craft beer and wine bars, Marketta's experienced event planners are raring to go and wanna help with your next big silly season blow out. You can book out the Gin Parlour, which has capacity for 70 to 120 guests, or for a more intimate affair book Mona Lisa's Lair which is a beautiful champagne bar with capacity for 30 to 60 guests. You'll be the fave team member of 2022 for organising this Christmas party.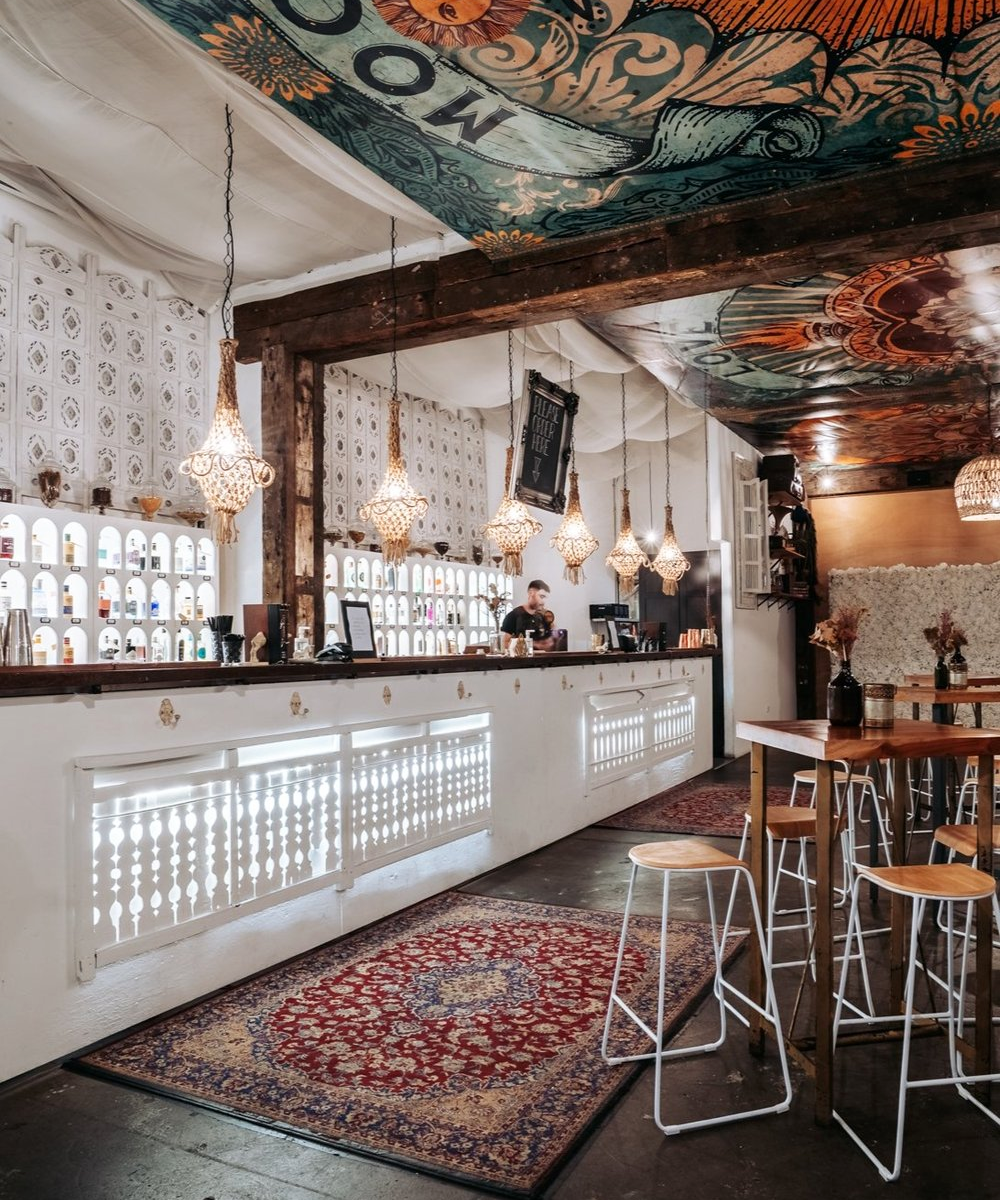 Dust Temple
Currumbin
This long-time favourite in the Currumbin industrial estate has creative horizons stretched as far as the eye can see. Life drawing classes, tune-filled evenings, poetry slams, performances and art exhibitions are all at home at Dust Temple. This captivating warehouse draws you in and is the ultimate backdrop to your next Christmas party. An event host veteran, Dust Temple has multiple zones, bars and packages to suit your needs. If you're hunting for one of the most memorable Gold Coast venue spaces for your next Christmas party, stop the search.
BonBon Bar
Mermaid Beach
When cocktails are a high priority on your Christmas party agenda, you can't pass up an intimate night at Mermaid Beach's hole-in-the-wall swillery—BonBon Bar. Packed to the rafters with drool-worthy tacos and 100 tequilas and mezcals, this dimly-lit space is ideal for a private hire with a private bar, room to dane and tables to relax at. Your boozy Gold Coast office Christmas party will be seriously pumping at BonBon.
The Collective
Palm Beach
If you're all about celebrating 2022 in the sunshine with a drink in hand, take the team to The Collective this year—hands down one of the Gold Coast's best Christmas party venues. With five kitchens slinging a variety of global nibbles, the hardest choice you'll have to make is which venue space to host your Christmas party. Take your pick from The Rooftop, The Courtyard, The Atrium, The Garden or pull out all the stops and rent out the full venue. All you need to do is bring the crowd. You'll find a taste of their events packages here.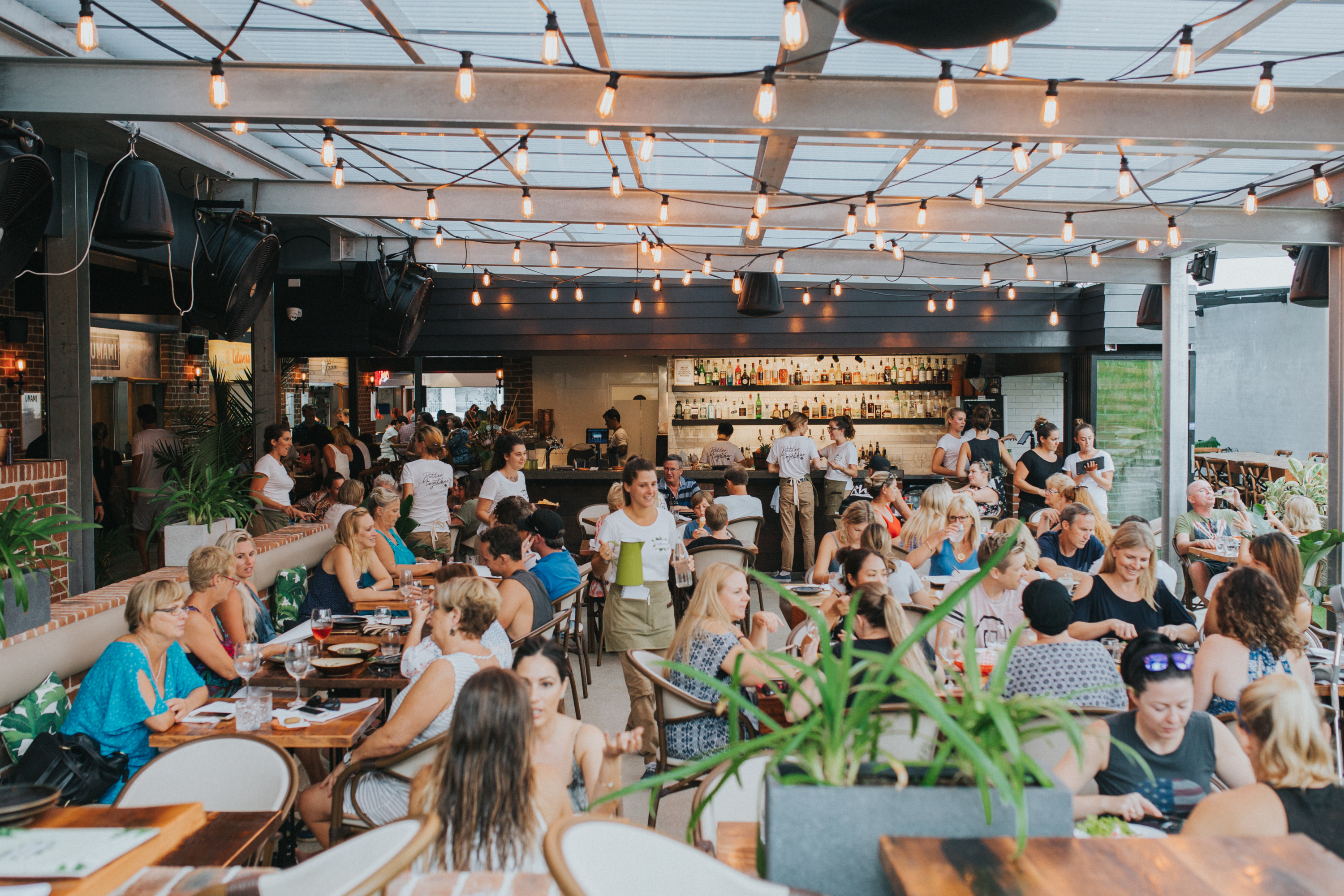 Balter Brewery
Currumbin
Looking for a ridiculously cool venue for your Christmas party on the Gold Coast? This recently renovated Currumbin drinking hole exudes charm and buckets full of charisma. Balter HQ features high ceilings and exposed brick backdrops, a stunning new beer garden, pumping tunes and delicious food truck noms, making this one of the best event spaces on the Gold Coast. If your work pals are fans of a few frosties this is the best spot to hit up, so send the Balter team an email and turn your next Christmas party into a long boozy afternoon that no one is likely to forget. Or is that remember?
Coolangatta Sands Hotel
Coolangatta
One of the most iconic venues on the Southern Gold Coast, of course we had to include The Coolangatta Sands Hotel in our roundup of the coolest Christmas party venues. Choose between the retro-inspired chic Lounge Bar, with capacity for 180 people, and the fairy light-laden Alley Bar, which has capacity for 100 people. Christmas is all wrapped up at Coolangatta Sands, so check out their latest packages here.
Looking for somewhere to rendezvous for post-party drinks? Sip your way through our list of the Gold Coast's best bars.
Image Credit: Hayley Williamson, Kaitlin Maree, Nathan Prostamo, Miami Marketta & The Yot Club