So you've been enlisted to organise the office Christmas party—gulp! The pressure is on and chances are you're scratching your head for ideas.
To ensure the team are throwing you high fives long after the night is over, we've rounded up the best Gold Coast Christmas party venues (and activities) for your next Silly Season shindig.
Activities
Lumber Punks Axe Throwing
Miami
Has 2018 been one helluva stressful year for you and your workmates? We hear ya! Lumber Punks in Miami is the ultimate stress relief, where you can dust off your faithful plaid shirt and hurl axes like the madmen (and women) that you are. Start your day here, or end it; either way, it's a bloody fun option for your next Gold Coast Christmas party. Did we mention there's a jukebox and novelty vikings hats? Hola!
Boat Charter
Main Beach
Summer wouldn't be complete without a watery adventure or two, so why not make this year's office Christmas party on the Gold Coast one to remember. Pack the bag with sunscreen and the Esky with cold Balter, then hit the Broadwater with one of several charter boat companies. There are plenty to choose from depending on your budget, from a lazy catamaran cruise with Sailing in Paradise, a cheerful motor and BBQ on Wavebreak Island with Gold Coast Party Pontoons and BBQ Boats, or max out the CEO's credit card with a luxury afternoon on Crystal Blue's super yacht. #prayforsunshine
Topgolf
Oxenford
If your energetic team loves a bout of friendly competition or you're in search of an icebreaker to warm the crowd, consider a Gold Coast Christmas party at Movie World's newest addition, Topgolf. This multi-level entertainment destination is a high tech golf driving range with a rooftop bar, beer, cocktails, eats and LOLs guaranteed.
Holey Moley
Surfers Paradise
Holey Moley is the cult-like chip-n-putt that's taken the country by storm. This 18-hole crazy AF mini golf course can be found in Surfers Paradise's Circle on Cavill precinct, along with a disco bowling alley, karaoke, The Caddyshack cocktail bar and two escape rooms. An easy to organise Christmas party venue on the Gold Coast (just wrangle your work mates and they'll do the rest), expect all the LOLs with a labyrinth of holes featuring everything from an ass with Trump's face on his, well, ahem, ass, to a hound dog with The King himself upon his throne. There's a reason Holey Moley is known as the creator of Australia's best mini golf courses, par none. Check out their 2018 Christmas party packages here.
Venues
Burleigh Pavilion
Burleigh Heads
This Gold Coast Christmas party venue is so new it is not even open yet, but it's one you'll want to mark in your diary for your office soiree this year. Why, you ask? Burleigh Pavilion will be pimped out with ocean front vistas, fab eatery The Tropic, DJs, cocktails and views of the sunset—the ingredients of a killer party. Being developed by the gang at Manly Wharf in Sydney (yes, exciting huh?), so you know this new bar will be hip city. Burleigh Pavilion is set to open early December, so we suggest you shoot them an enquiry via the website and be prepared to jump in quick when options are released. You'll be the coolest team member in town if you can pull this one off.
The Island
Surfers Paradise
Whether it's an intimate gathering of 10, or an extravagant, somewhat larger affair, it's hard to find a cooler venue for a relaxed yet sassy party than The Island. With plenty of options to choose from, take your pick from their massive outdoor deck at The Island Rooftop (hello, summer breezes!), a posi on the poolside deck in leafy surrounds, a view of the big city lights from the Penthouse rooftop bar or perhaps a reserved space in Goldie's bar and restaurant on the ground floor. With retro vibes and friendly service from start to finish, you'll be guaranteed a top night.
Granddad Jack's Craft Distillery
Miami
A recent addition to the local scene, Granddad Jack's is the Coast's first dedicated whiskey and gin distillery—and she's a beauty! With up-cycled materials throughout giving a raw and gritty rustic feel, a raised roof, distillery production on full show at the rear and a private bar for you and your colleagues, this is one intriguing venue that's certain to see the RSVPs come flooding in. Plus, this vibing venue is a veritable blank canvas for catering, music and styling, if you wanna go all out. If you're on the hunt for one of the hottest new office Christmas party venues on the Gold Coast, well, you've found it. Peruse their event package offerings here.
Miami Marketta
Miami
Home to two unique spaces which simply ooze character and spice, Miami Marketta has your next office Christmas party on the Gold Coast covered. You and up to 70 guests can enjoy the vastness of Marketta and all of its magical fabness! With a selection of musical acts and food vendors on their books, fully stocked cocktail, craft beer and wine bars, Marketta's experienced event planners are raring to go and wanna help with your next big silly season blow out. Did we mention there's a swanky new gin bar? You'll be the fave team member of 2018 for organising this one.
BonBon Bar
Mermaid Beach
When cocktails are a high priority on your Christmas party agenda, you can't pass up an intimate night at Mermaid Beach's hole in the wall swillery—BonBon Bar. Packed to the rafters with drool-worthy tacos and 100 tequilas and mezcals, this dimly lit space is ideal for a private hire, so check out their offerings here. Your boozy Gold Coast office Christmas party will be seriously pumping at BonBon. Cue the shot count down!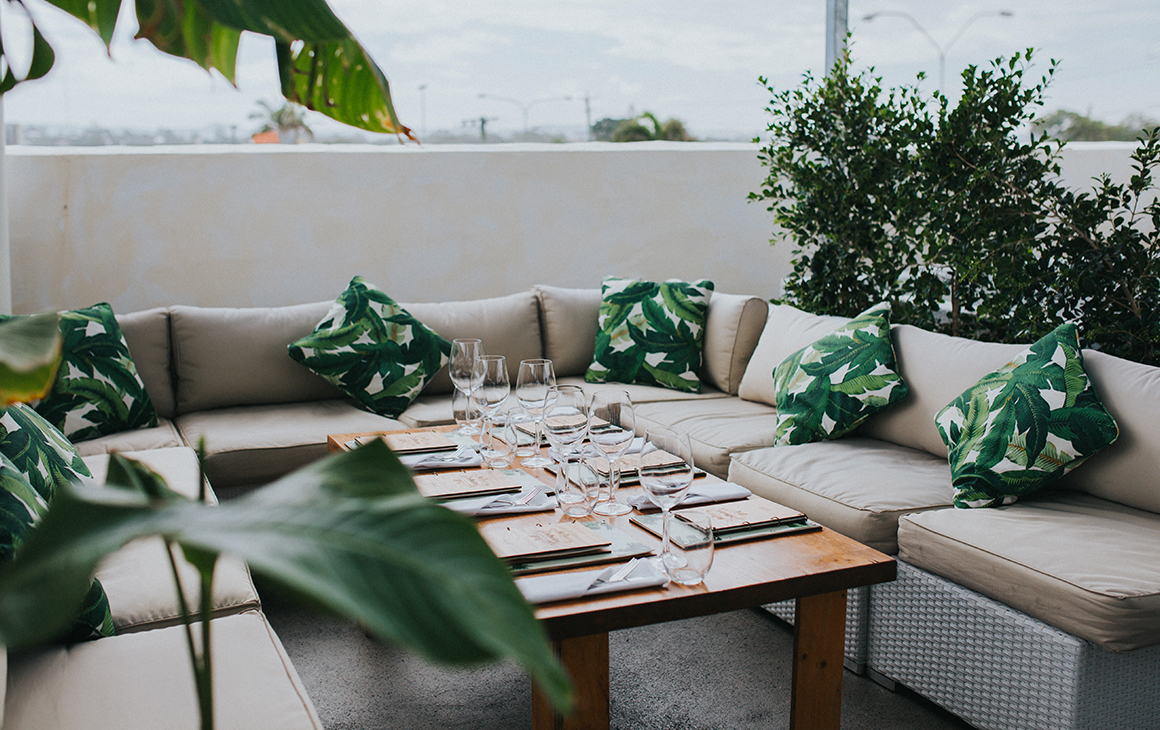 The Collective Rooftop
Palm Beach
If you've got a ballin' budget burning a hole in your pocket, take the team to The Collective Rooftop this year—hands down one of the Gold Coast's best Christmas party venues. With five kitchens slinging nibbles and a private rooftop bar with capacity for 150 standing or 95 seated, this energetic team knows how to throw a good party. All you need to do is bring the crowd. You'll find a taste of their events packages here.
Balter Brewery
Currumbin
Looking for a ridiculously cool venue for your Christmas party on the Gold Coast? This Currumbin drinking hole exudes charm and buckets full of charisma. Balter HQ features high ceilings and exposed brick backdrops, an outdoor alleyway, pumping tunes and delicious food truck noms, making this one of the best event spaces on the Gold Coast. Flowing beer is included in your package, naturally, so give the guys at Balter a call and turn your next Christmas soirée into a long boozy afternoon that no one is likely to forget. Or is that remember?
Alley Bar Coolangatta Sands Hotel
Coolangatta
So well hidden most locals don't even know it exists, surprise your workmates with a fun street party vibe at Coolangatta Sand's The Alley Bar. Picture sky-high murals, a cool open air space and fairy lights twinkling overhead; combined with a top notch pub-style catering menu and your own private bar. Christmas is all wrapped up at Coolangatta Sands, so check out their latest packages here.
Looking for somewhere to rendezvous for post-party drinks? Hit up our list of the Gold Coast's best bars. Cheers!
Image Credit: Hayley Williamson & Nathan Prostamo for The Urban List