Picture this: the weekend has rolled around, you've got time on your hands, you want to get out and explore the bountiful activities the Gold Coast has to offer, but you don't know where to start. Yep, this is a pretty common situation and when we live in such a beautiful corner of paradise, it's a crime if you're not getting out and embracing our gorgeous coastal lifestyle.
Well, we've got just the answer to your dilemma. Meet: Kiff & Culture. This epic new travel company is blending the best of local food and drink experiences with culture and outdoor fun to deliver awesome experiences that are sure to spice up your weekends. During these funky day tours, you'll be guided around the Gold Coast, Brisbane, Byron Bay, Tweed Coast and Tamborine Mountain regions, where the Kiff & Culture team has partnered with local faves like The Farm Byron Bay, Stone + Wood and Husk Distillery to showcase the best of our backyard.
This unique travel company isn't anything like your traditional bus tour—the tours are relaxed and flexible, the guides are young locals who feel like friends, banger tunes reign supreme and every detail is taken care of so you can kick back and enjoy the ride. The small-group tours focus on homegrown brands with a passion for sustainability and supporting small businesses. Tick, tick and tick.
So what exactly can you expect when you jump in the colourfully graffitied Kiff & Culture van? Buckle up, you're in for a ride. You'll struggle to choose between their main Culture Classics tours which showcase Byron Bay, Brisbane, Tamborine Mountain or the Tweed Hinterland. No matter what location you explore, you'll feast on gourmet food, great wine and soak up the good vibes in lush, natural surroundings.
Yeah sure, you know the Goldy and surrounds, but we bet you've never experienced it like this. Indulge with winery tastings at Witches Falls and soak up the scenic sunset views on Tamborine Mountain or pick up a sweet bunch of sunflowers at Farm & Co. and sip on the famous ink gin at Husk Distillery during a long luncheon in the Tweed Valley. Explore the Byron Bay lighthouse, feast at the picturesque Three Blue Ducks and quench your thirst at Cape Byron Distillery. These are jam-packed tours and you can bet you're getting max bang for your buck.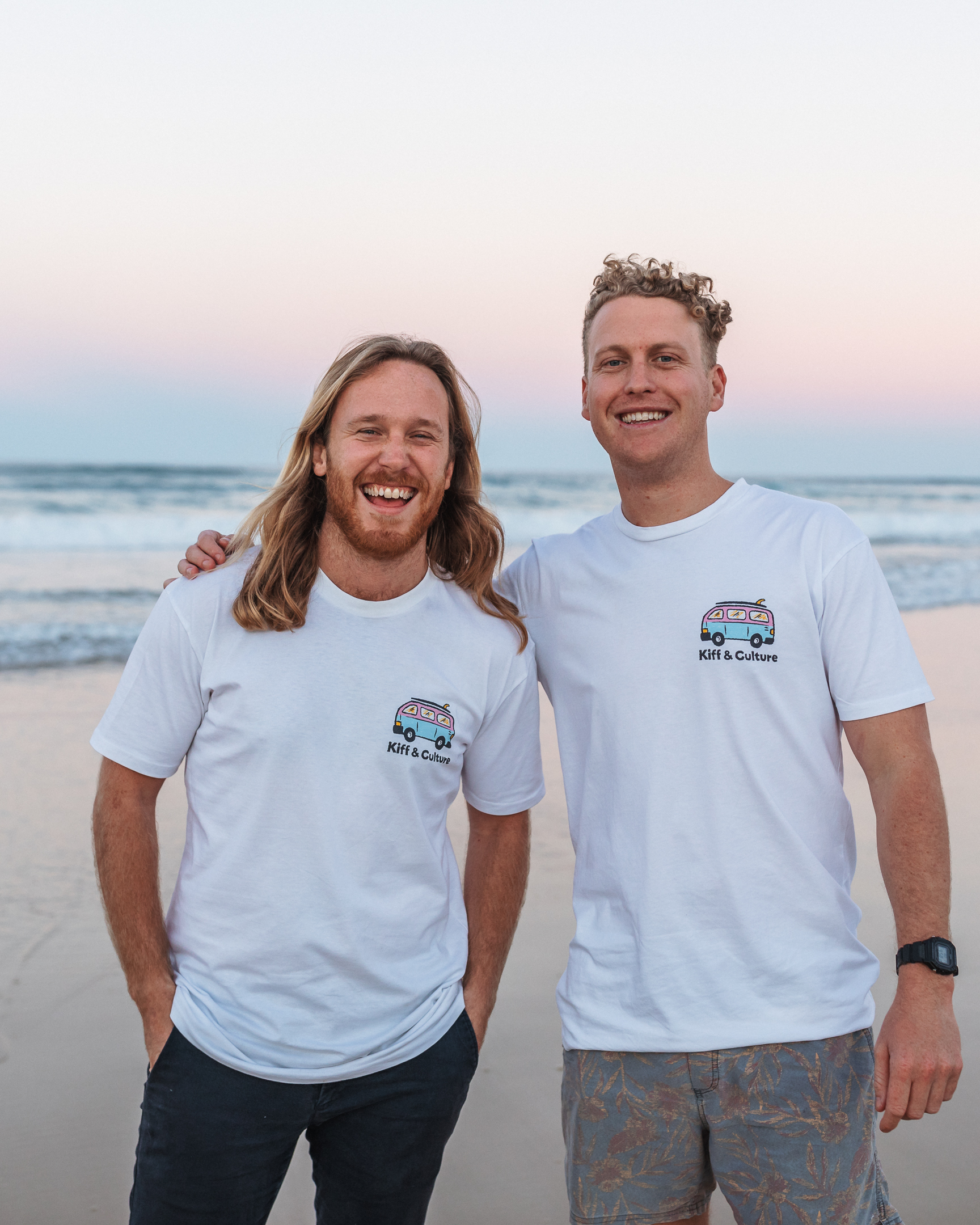 Kiff & Culture is the brainchild of old school friends Drew Campbell and Alex Baker and their passion for sustainability, culture and sharing cool experiences resonates in every part of the brand. Hailing from South Africa, Drew founded Cape Town-based Kiff Kombi Tours in 2016, which has been rated in the Top 30 Best Tour companies in South Africa and nominated for World's Best Sustainable Tour Operator at the Global Youth Travel Awards in 2018 as well as Cape Town's Best Sightseeing Tour in 2019. If those hefty accolades don't show that the boys know what they're doing, we don't know what will.
Drew says Kiff & Culture was born out of a passion for showing people local spots that are off the beaten track, sharing local knowledge and showcasing local businesses.
"Our small-group tours focus on homegrown brands with a passion for sustainability because we reckon a great day out doesn't need to come at the expense of the planet," says Drew.
For something with a bit of extra oomph, the geniuses behind Kiff & Culture have got you covered with private tours, custom-designed for birthdays, hens & bucks or even corporate day celebrations. What better way to get closer with your pals—or co-workers—than with the ultimate day of fun, food and drink? Challenge your mates during a group surf lesson, then quench your thirst at Precinct Brewing or spend a charming day at The Three Blue Ducks in Byron and let yourself be spoiled with a gin tasting at Cape Byron Distillery. Warning: don't challenge your boss to a surfing competition.
This funky travel company offers unique, sustainable and enriching experiences which replicate the adventurous, fun and carefree spirit that the Gold Coast embodies—and we love it. Round up the squad, get ready to spice up your weekend and strap in for an awesome Kiff & Culture ride.
THE DETAILS
What: Kiff & Culture
When: Tours operate Tuesday to Sunday, times vary
Where: Tours operating from Brisbane and Gold Coast
For more information, click here.
If you're spending some time in Byron Bay (and if you're not, you should), you'll need a big meal after a day of adventuring. Check out Byron's new and vibrant 'unauthentic' Indian restaurant.
Image credit: supplied