You know that feeling when you think you've been everywhere on the Gold Coast and tried every cafe and every cup of joe by every possible barista? Yep, you're officially in a cafe funk.
We've all been there. But today, we're here to help you out before it happens again. Because frankly, with so many gems on the Gold Coast there's no reason you can't hit up a different cafe for every day of the month.
So, without further ado, here are three cool new cafes you probably haven't been to—yet.
First Fruits Speciality Coffee Cafe & Roastery
Labrador
These guys are already legends among the northern coffee-lovin' crowd, with their pocket-sized Ashmore barista bar having gained a loyal following over the last two years. Recently taking the next step to expand their empire (you should hear the plans they have on the drawing board!), First Fruits Speciality Coffee has a buzzing new cafe in Labrador that not only allows more space for a kitchen and full breakfast menu, but also their well-patronised barista, cupping and latte art workshops, plus scope to expand their in-house roastery. Hand sourcing coffee graded within the world's top 2% quality, including from Ethiopia, Kenya, Panama, Colombia and more; caffeine literally runs in their blood here and you can't help but be immersed in their affectionate passion for the humble bean.
Noms now on offer range from maple bacon and banana pancakes, to balsamic stuffed mushrooms and loaded housemade bagels, so you've got more reason to linger and soak up the roasting aromas wafting from their prized San Remo Opera. If you appreciate an uber knowledgeable barista or would splurge $20 to indulge in a cup of Panama Geisha, and you're yet to hunt these guys down, you're missing out on some of the best coffee on the Gold Coast. Period.
Daymaker Espresso
Miami
Daymaker Espresso is a welcoming new cafe that's popped open along Miami's high traffic Pacific Avenue. With added grunge factor courtesy of its past life as a workshop, local lads Dylan and Andrew have spent the last few months stripping back the space, uncovering ample workable goodness in the bones of this vintage corner block. With the design inspired by the materials they uncovered during the renovations, they've been crafty with recycled old Australian wood, exposed globes and rafters, strategically placed greenery, cement surfaces and industrial fixtures that complete the raw, industrial ambiance.
Boasting 20 years hospo experience between them, if you already recognise Dylan, Daymakers' barista gun, he's honed his craft with some of the Coast's premier coffee hotspots. From Blackboard to Elk Espresso, Paddock and Barefoot; all of which are throwing these boys their utmost support in their first solo venture. Damn we love the support within the local hospitality industry! They're now open daily from 5:30am to introduce us to their smooth caffeinated brews (with speciality Alix beans sourced from Melbourne), with Sol Cleanse juices and baked treats also on sale. Taking an innovative approach to their menu, they're starting with a vegan-friendly base, with various proteins available to add on, so as to be inclusive for carnivores and vegos alike. You're going to love this one.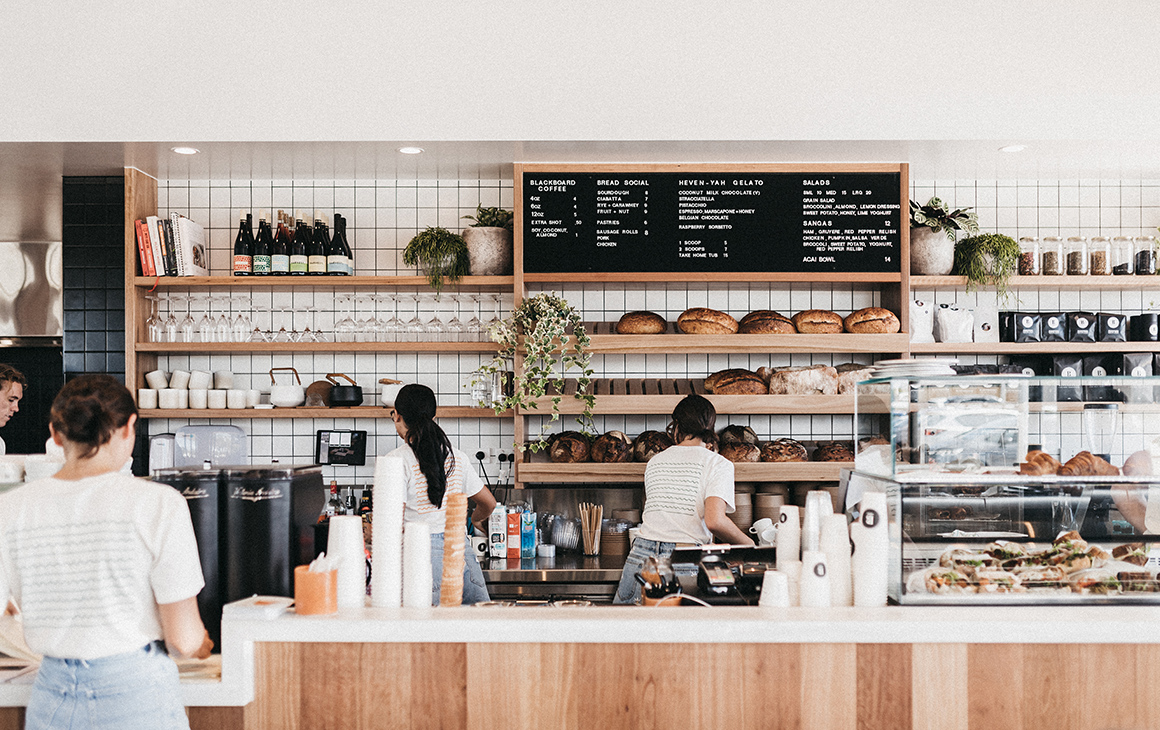 Tucker
Casuarina
The Commons is a vibing new gathering place in the beachside village of Casuarina and its resident cafe Tucker, by the team behind Blackboard Coffee Roasters, is totally worth jumping in the car for this weekend. Breakfast dates and caffeinated liquid goods all delivered with relaxed yet attentive service in a sun-drenched and texture-filled setting, Tucker has your all-day weekend brunching nosh covered. Think: healthy potato rosti benedict, Green Eggs served with poachies and seasonal greens, daily salads and more. Or, for lunch, Balter beer-battered Mahi Mahi and chips or rigatoni pasta with pan-fried local king and oyster mushrooms are early faves.
The best news? They're licensed from 10am so no one will bat an eye if you order a Blackboard espresso martini, Bloody Mary or Ink G&T with your plum and fig buttermilk hotcakes, 'cause it's five o'clock somewhere, riiight? Add to that, amaze-balls daily dessert creations from the ladies at Heven-Yah Gelato, freshly baked loaves from The Bread Social, regional farm-sourced produce, Marloe Marloe ceramic tablewear and those much-loved Blackboard brews, and you've got the recipe for cafe success, if ever we smelt it.
On a mission to work your way around the best cafes on the Gold Coast? How many of these local gems have you hit?
Image credit: Hayley Williamson for The Urban List