There might be nothing more controversial than what makes the perfect burger. Whether you're an old-school 'with the lot' purist, a simple cheeseburger lover or perhaps a more refined avocado and haloumi connoisseur, everyone has an opinion on what makes the best burger around. Despite our—significant—differences, we can all agree that the humble egg makes any burger better.
Well, watch out Gold Coast, 'cause the humble egg has had a makeover. Forget boring poached eggs, we now want them sandwiched between layers of juicy, meaty goodness, melty cheese and saucy goodness. And that's exactly what newbie Two Yolks is slinging up.
Two Yolks is the hottest new kid on the Burleigh Heads block bringing eggs-traordinary breakfast burgers to the masses. From the mastermind behind Burleigh icon, Finn Poke and Sydney's Daily Greens, Two Yolks is headed by prestigious Los Angeles chef, Charles Olalia and is the kind of bar that makes you feel like you've just stepped off the streets of LA into an American diner (with a Gold Coast twist, obviously).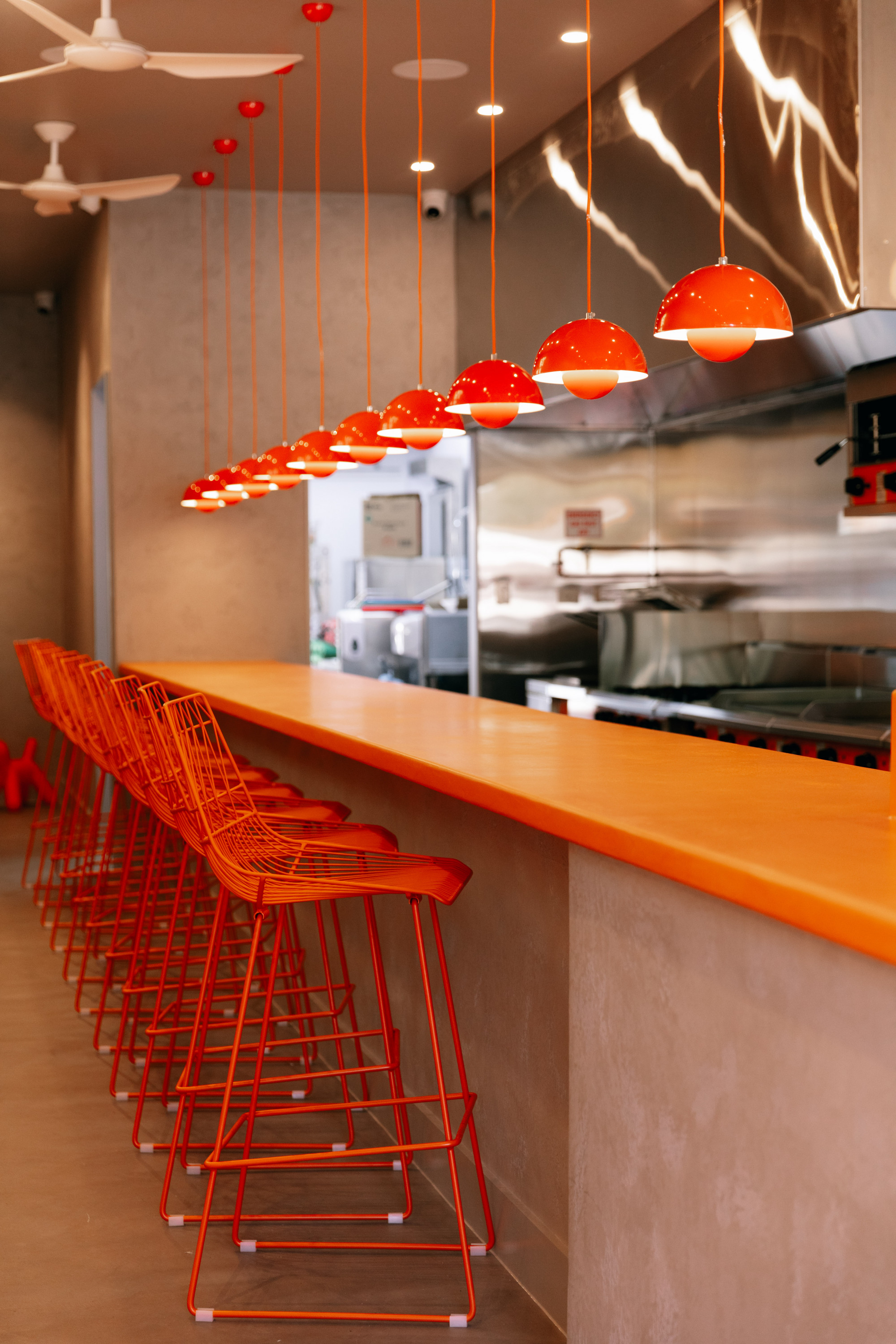 There's nothing we love more than an Instagrammable eatery and Two Yolks is ticking all the boxes. The bright-orange interior is filled with funky touches—from the chrome hanging lights to the Venetian plastered walls and orange wire stools, all aspects reflect the fun style of easy eats they're serving up. Snag a seat on the ten-metre orange countertop, which offers you a prime spot to catch a peek of some BTS burger action, or cozy up in the oh-so-cool private booths hidden out the back.
Now, let's get down to business—the burgers, of course. If you fancy your eggs in the morning, the brekky burgers will satisfy your cravings with flavours like the classic sausage, egg and cheese or the Two Yolks Grande Burrito, which is a finger-licking fusion of scrambled eggs, Tater Tots, guacamole, bacon, haloumi and chipotle aioli, all wrapped up in a soft tortilla.
For lunch, you can chow down on eight American-style smashed burgers, which keep it simple: easy, cheesy, and made with love. The Burleigh Heggs Burger is loaded with a double smashed patty, double cheese, an oozy egg, Two Yolks special sauce and all your favourite burger classics. On the non-meaty side, the Veganator is hands down one of the best burgers we've had: a tantalising combination of a vegan meat patty, vegan cheese, house pickles, caramelised onions, lettuce, tomatoes and special sauce.
Add fries loaded with fried eggs, bacon, cheese and chipotle aioli which you wholeheartedly deserve. Complete the holy trinity of burgering and wash your burger and chips down with a house pressed juice, a SOCO handcrafted coffee or a tin from one of our local breweries.
The team behind Two Yolks have gone the extra mile and sourced some of the best ingredients around to make your burger experience even more soul-satisfying. From local Bangalow bacon to their housemade sausage and grass-fed Tasmanian beef which is ground in-house, everything is made with a bit of extra love and trust us, you can taste the difference.
It's time to celebrate an eggs-plosion of the best things in life—burgers, eggs, good friends and good times—and pull up a stool at Two Yolks. We're not yolking around.
THE DETAILS
What: Two Yolks
Where: 13 Connor Street, Burleigh Heads
When: Open daily from 7am to 9pm
For more information, click here.
Feeling inspired by all this talk of brekky deliciousness? Hit up our list of the best new Gold Coast cafes you need to hit up ASAP.
Image credit: supplied