Mr Potato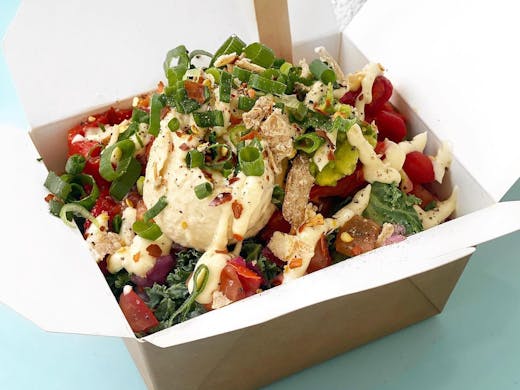 If you love deep-fried potato just as much as we do, you'll want to swing by Mr Potato on our next trip down the coast. The venue offers a modern spin on your traditional baked potato, prepared with only the freshest ingredients from their famous pre-loaded menu.
Ordering at Mr Potato follows a basic, five-step process: first, pick your base. Choose from a specially selected, low carb white potato, or a nutrient-loaded sweet variety for your daily dose of beta-carotene. You can even mix and match if you can't choose between the two. After that, it's time to pick your size—snack, regular or original. We recommend the regular unless you're planning on feasting for two.
From there, you'll want to scope out their different butter selections. This step has the potential to make or break your meal, so make sure you give it the attention it deserves. You can't go wrong with the garlic and chilli butter, but if you can't handle the heat, opt for the regular version to play it safe.
Step four is all about ingredients. Select your protein (plant-based or not, it's totally up to you), cheese, and toppings, choosing from all the classics, and some more interesting additions as you see fit. There's no passing up Mr Potato's creamy garlic mushrooms, with plenty of halloumi for an added bite of flavour.
Now down to the final step: sauce! Here's your chance to load up on the sour cream, chilli flakes, and salsa to customise your spud to your heart's content. Was it down with a cold kombucha, and be sure to thank us later for the hot tip.
---