The food and coffee scene in Bentleigh just keeps getting better. The southeast suburb has just landed its very own pastry and sourdough bakery which rival some of the best in the city. Artisanal Bakehouse which sits on Centre Road in Bentleigh is run by French-duo Aymeric Vincent and David Caillaud, who collectively have amassed over 20 years experience in kitchens as pastry chefs and bakers, including in Paris' three Michelin star restaurant Guy Savoy, and Canne's Carlton.
Both pastry chefs trained in France, David in Nice, and Aymeric in Normandy as well as Paris and worked extensively before moving to Melbourne. Talking to Aymeric on his studies and passion for artisanal baked goods, he discussed how his training shaped the business; "there was a big focus on the basics, how to make the dough, how to make the cakes, and perfect the texture," said Aymeric.
This focus on perfecting simplicity is something that the pair have incorporated into the Bentleigh bakery, with a range of staple pastries and bread including a classic croissant, an out of this world cinnamon roll, as well as crunchy, perfectly baked baguettes, and sourdough bread—all made with organic flour.
Walking into the white-walled store, you're met with a long wooden counter complete with coffee machine on the left and a display cabinet on the right. Whilst speaking with David and Aymeric, a table full of almond croissants are being prepared in the background.
"You won't find anything crazy. We're focused on making the simple things perfectly" says Aymeric, referencing their refined line-up of choices.
The French pair use their own individual skills as a chef and a pastry chef to collaborate on each creation, including their pies with an immaculate golden pastry which David fills with a rich vegetable ratatouille, or slow-cooked beef with house-made ketchup.
Along with these staple baked goods, there are still specialities that come straight from the minds of the duo. For example, their standout creation the apple turnover, which is dense and buttery but light to the bite, as well as weekly specials—this week was a Tropezienne, (a brioche soaked in syrup and filled with orange custard) a famed interpretation of the iconic Saint-Tropez dessert.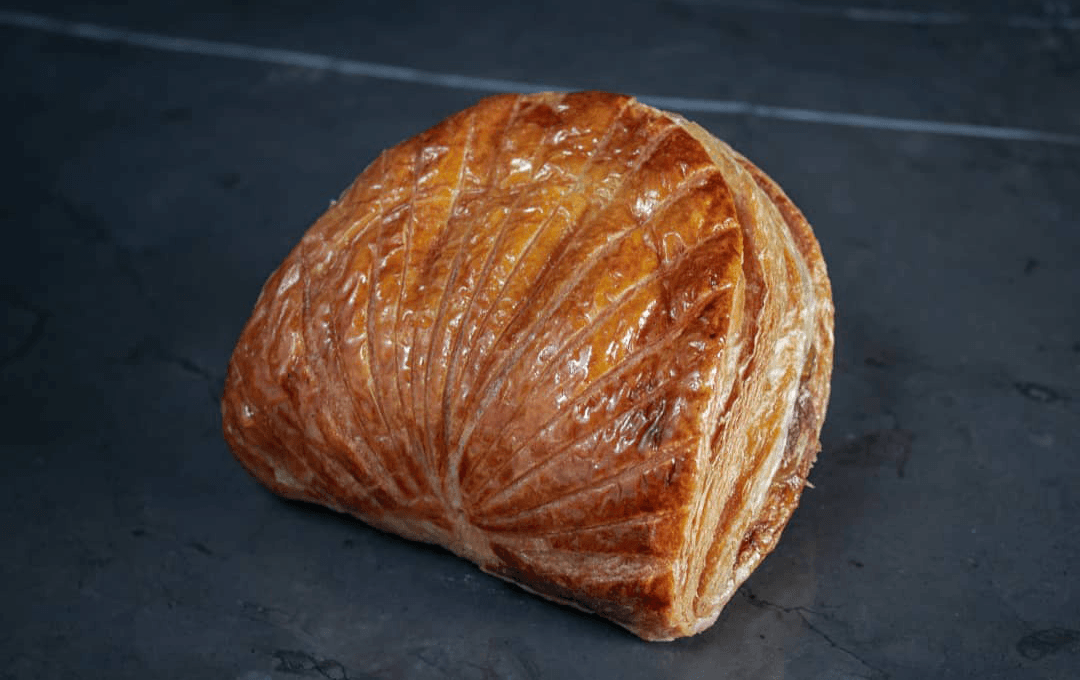 This quiet little stretch of Bentleigh is now home to one absolute gem of a bakery, and while Artisanal Bakehouse is currently take away only, once lockdown has eased you expect to be able to sit right out front and sample the goods.
Want to see all of Melbourne's best croissants, check them out here.
Image credit: supplied