There's nothing more quintessential than a croissant, sure there are fancier-looking things in the display cabinet but you can beat something so perfectly simple. Melbourne has countless pastry outlets churning out golden-kissed baked goods each day, but hunting down the very best is another thing entirely.
We're looking for that infallible crunchy outside that gives way with a bite or tear to reveal a buttery inside that just makes your knees weak.
Here's where to find the best croissants in Melbourne for 2023:
Artisanal Bakehouse
BENTLEIGH
Artisanal Bakehouse is a newcomer to Melbourne's croissant game, but owners David and Aymeric are no strangers to pastry. The pair are both French-born and, before moving to Melbourne, they developed their craft as pastry chefs in Michelin-star restaurants. Their Centre Road Bentleigh bakehouse is now teeming with locals each morning, so expect queues for some of the best croissants in Melbourne. Their authentic range of pastries includes their famed perfectly crisp plain croissant, as well as chocolate and almond variations—and a truly out-of-this-world cinnamon roll.
Lune
FITZROY, CBD, ARMADALE
You wouldn't have a 'best croissants Melbourne' list without this one. If you haven't been to Lune Croissanterie, you're missing out. Their croissants have been hailed as some of the finest croissants in Melbourne (actually, the finest in the world according to The New York Times). Their traditional plain croissant is prepared over three days and is full of fresh, buttery goodness. If you want something a little more decadent, their twice-baked almond croissant is another crowd-pleaser. Get in early, because there are usually long lines spilling out of all Lune Croissanterie's Fitzroy, CBD and even the newly-opened Armadale store.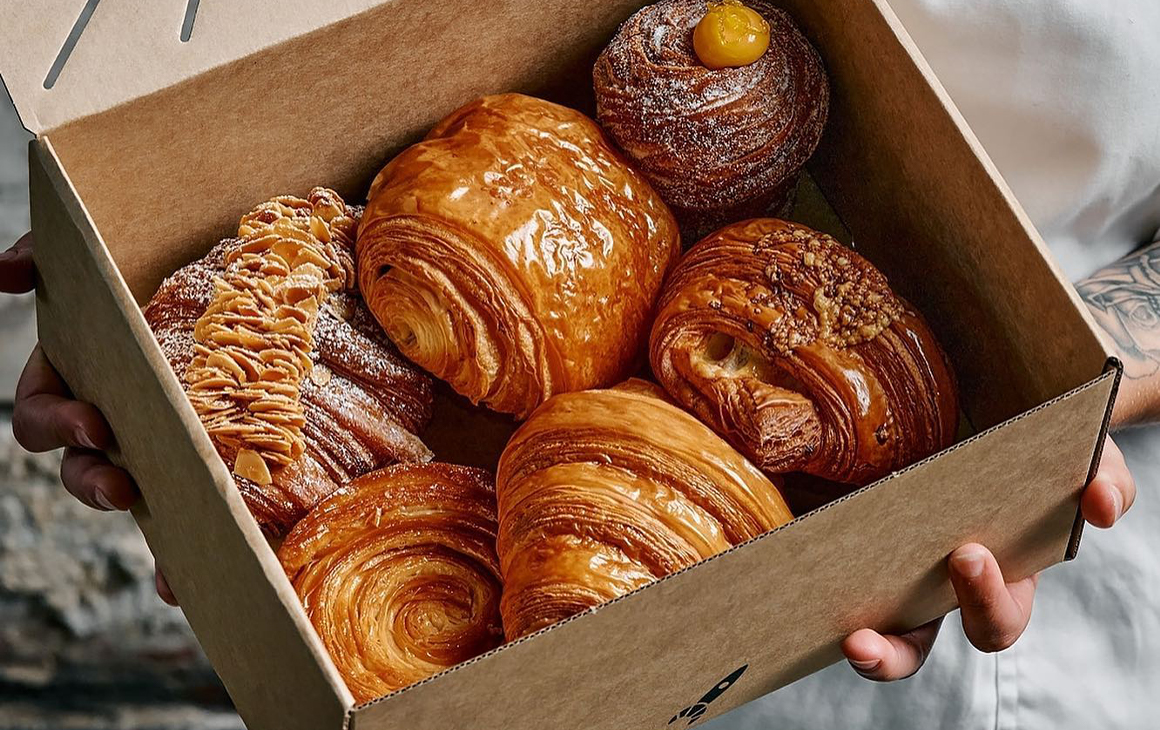 Wild Life Bakery
BRUNSWICK EAST
Let your warehouse conversion dreams come true at Wild Life Bakery in Brunswick. With everything you'd expect from a Brunswick venue, the exposed brick walls and high ceilings are almost as impressive as the baked goods. While these guys are known for their epic sourdough, their beautifully flakey croissants deserve just as much attention. Stop by for a coffee and a croissant before work, and while you're there, stock up on some of their super crispy sourdough.
Baker Bleu
VARIOUS LOCATIONS
What more can you say about Baker Bleu, they're stocked in some of the city's top fine diners, they're relentless in their pursuit of perfection and they've crafted a name for themselves well outside of Australia. Made with impeccable precision the Baker Bleu croissants are made with stoneground flour, giving them a much more bold and textural flavour.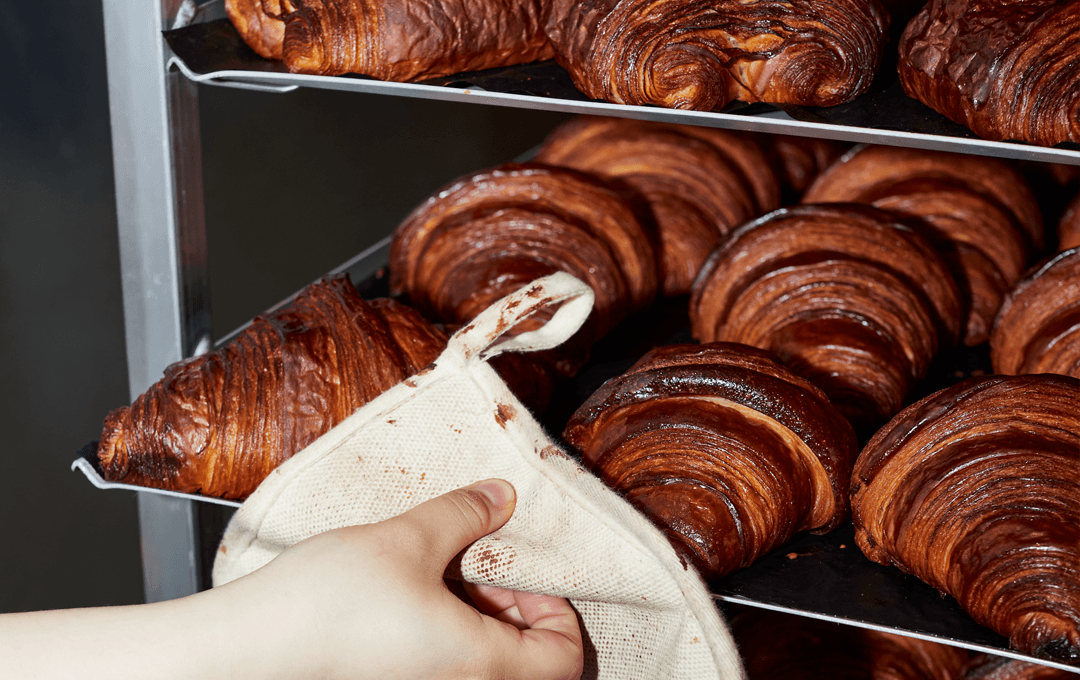 Agathe Patisserie
CBD & SOUTH MELBOURNE
Agathe Patisserie serves up some of the best French desserts in Melbourne. Their pecan vanilla mille-feuille melts in your mouth and their raspberry tart is both decadent and refreshing. And being an authentic French Patisserie, there are always fresh croissants available. Make sure to try their colourful croissants - we're not exaggerating, their pandan croissant is bright green, and it's delicious.
Bakemono
CBD
Tucked away on Drewery Lane you'll find the gorgeous Bakemono bakery. This local gem is inspired by the bakeries of Japan and Korea, and they've got a diverse range of French and Japanese baked goods to show for it. Obviously, we're here to talk about the best croissants in Melbourne, so let's draw attention to their epic offering: an almond croissant with a Yuzu twist. That's the kind of pastry we'd get out of bed for any day.
Bread Club
NORTH MELBOURNE & ALBERT PARK
For fresh bread straight out of the oven with some exclusive tunes, pop in to your local Bread Club every morning from 7am. We're talking crusty loaves that steam as you rip into them, all soundtracked by exclusive music from Melbourne DJs (which you can also check out on their soundcloud). These guys have also got sustainability in mind, using sustainable flours and local, seasonal ingredients—so you can tuck into your croissant relatively guilt-free.
Babka
FITZROY
Babka is the best bakery in Melbourne for all the die-hard sweet tooths out there. With an Eastern European influence, you'll find all kinds of sweet treats, pastries and cakes on the menu, plus some of the best sandwiches in Fitzroy—and we're not just saying that. There's usually a queue for this local institution (for good reason), so make sure you're prepared to wait in line for their seriously good croissants.
Montforte Viennoiserie
CARLTON
The Canning Street favourite, located just off Nicholson this quaint little wooden kiosk contains some bloody good pastries. The self-titled pasticceria can be easily identified by its croissant emblem sign hanging above. Montforte Viennoiserie's signature style of dusting their leatherwood honey croissant with a pinch of salt flakes has become a stalwart identifier and now each morning there are crowds swelling out front.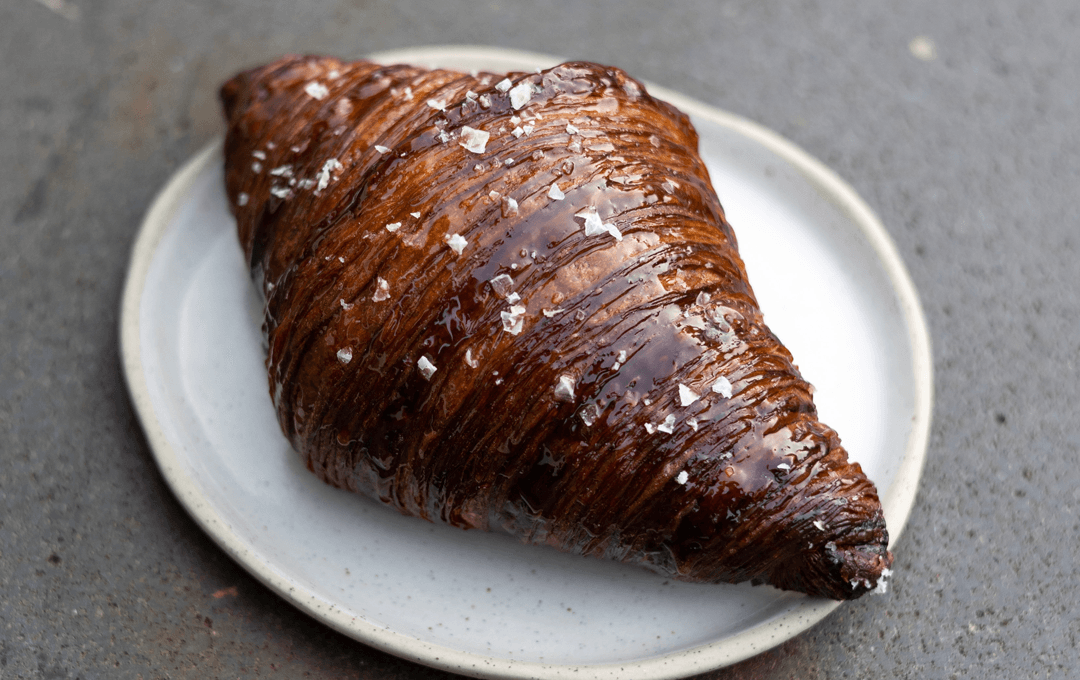 All Are Welcome
NORTHCOTE & THORNBURY
Gracing High Street more than once, All Are Welcome is the friendly neighbourhood bakery welcoming everyone to try their flakey pastries—as the name suggests. Their French butter croissants are made fresh every day and are the perfect way to start your day. If you're feeling decadent, though, go for their pain au chocolat made fresh with Belgian chocolate. Or if you're feeling particularly fancy, why not get both? Pre-order for collection on Fridays and weekends to make sure you don't miss out.
Loafer Bread
FITZROY NORTH
If it's an almond croissant you're after, then stop by Loafer Bread in Fitzroy North for one of the best in Melbourne. It's topped with just the right amount of toasted almond flakes and icing sugar, and the pastry is perfectly flakey. They also do a delectable chocolate croissant and a damn good plain one too. Their cinnamon scrolls also pack a punch if you're looking to switch things up a bit and give croissants a break—we won't tell anyone.
Penny for Pound
RICHMOND & MOORABBIN
Croissants don't get fresher than these ones, served straight from the oven every 30 minutes, Penny for Pound is the place to go if you like your pastries warm and flakey. Nestled in a side street off Bridge Road, Matilda and Ben opened up their gorgeous green doors in 2018 and it's been non-stop croissants galore ever since. They have one of the biggest varieties in Melbourne, with sweet options including a chocolate hazelnut croissant and a strawberry cheesecake croissant, as well as the classic almond option. They also do some savoury flavours, anyone for caramelised onion and gruyere? Or maybe pumpkin, feta and dukkah? We'll have one of everything please and thank you.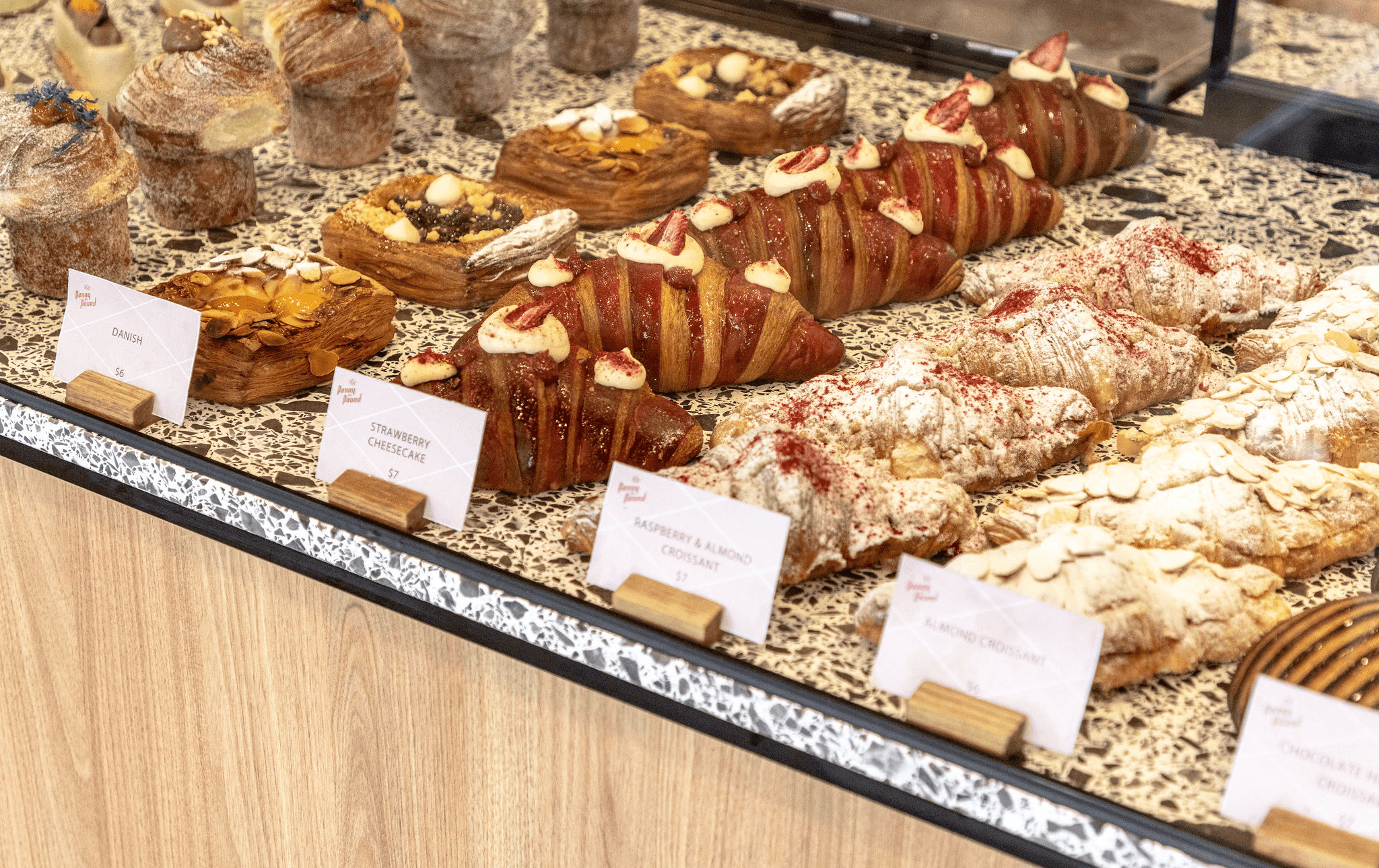 Tivoli Road Bakery
SOUTH YARRA
When it comes to pastries and baked goods, few do it better than Tivoli Road Bakery. The quaint South Yarra bakery and cafe is always densely populated with people flocking from all over town to sample the perfection they tend to their craft. Here you'll find a selection of pastry options but nothing surpasses the staple crossy. Easily one of the best croissants in Melbourne this creation has to be eaten to be explained; a perfectly structured exterior with just enough crunch gives way to a buttery and silky inside. Take it plain or with jam, either way, it's a win all round.
Blanc Bakery
BERWICK
Helmed by James McMurray, formerly of the destination bakery Burnham Beeches, Blanc is Berwick's own pastry institution. Tucked away on Adam's lane, the cosy store fit with polished concrete floors and white brick walls typically teems with locals all looking to sample the expertly-crafted croissants which are hand-rolled daily.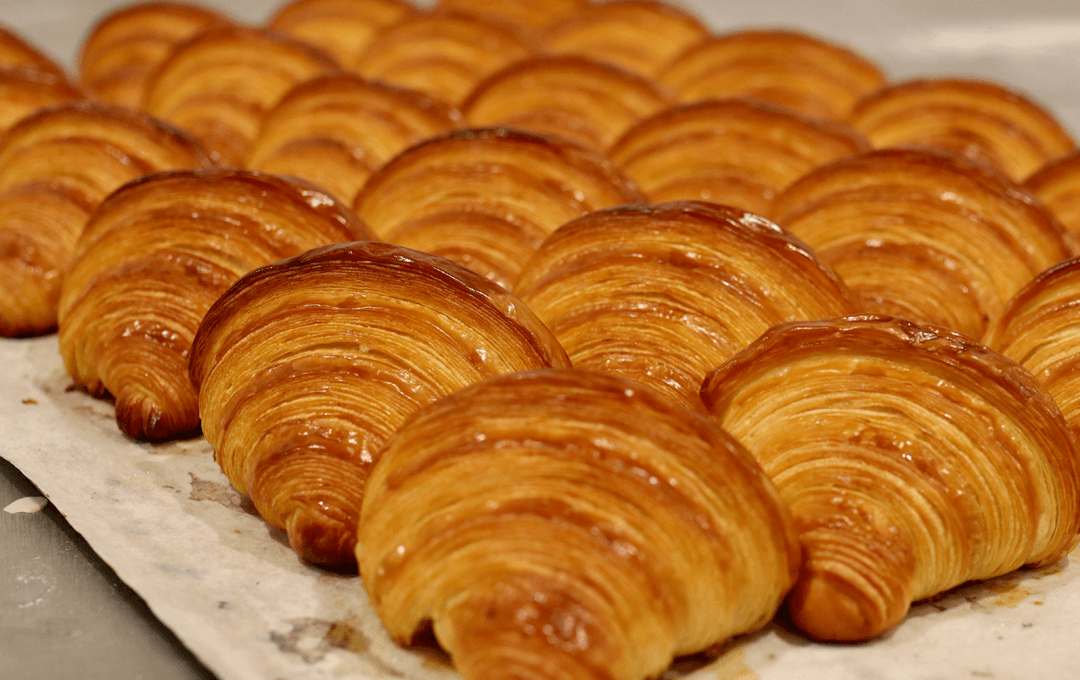 Falco Bakery
COLLINGWOOD
Focusing on small-batch and traditional techniques, this croissant really hits a spot. Perfectly dense and crisp, with a textured labyrinth of buttery layers—the bakers at Falco Bakery have aced a classic. You'll often find the line to the shop snaking out onto Smith Street, but for good reason, the flakey hand-made beauties are baked daily using organic flour and French butter of course.
Sourdough Kitchen
SEDDON
A relatively quiet achiever, Sourdough Kitchen is a westside favourite and has been crafting some of the best croissants in Melbourne for over a decade. Just as the name would suggest, they're a sourdough-based croissant giving them a much wider flavour profile and with the St David Dairy butter, there's a salty and an almost savoury flare.
AM Bakehouse
GLEN IRIS
An understated brick exterior shop front on Tooronga Road shields the secret pastry potential of this Glen Iris favourite. AM Bakehouse, a relative newcomer to the bakery community of Melbourne, has steadily built a reputation in the area for its a-grade baked goods, foremostly its croissants. Inside the minimalist cafe and bakery, you'll find a selection of artisan bread and a wide array of pastries, but it's the staples on which AM Bakehouse has built its rep, a true contender for the best croissants in Melbourne.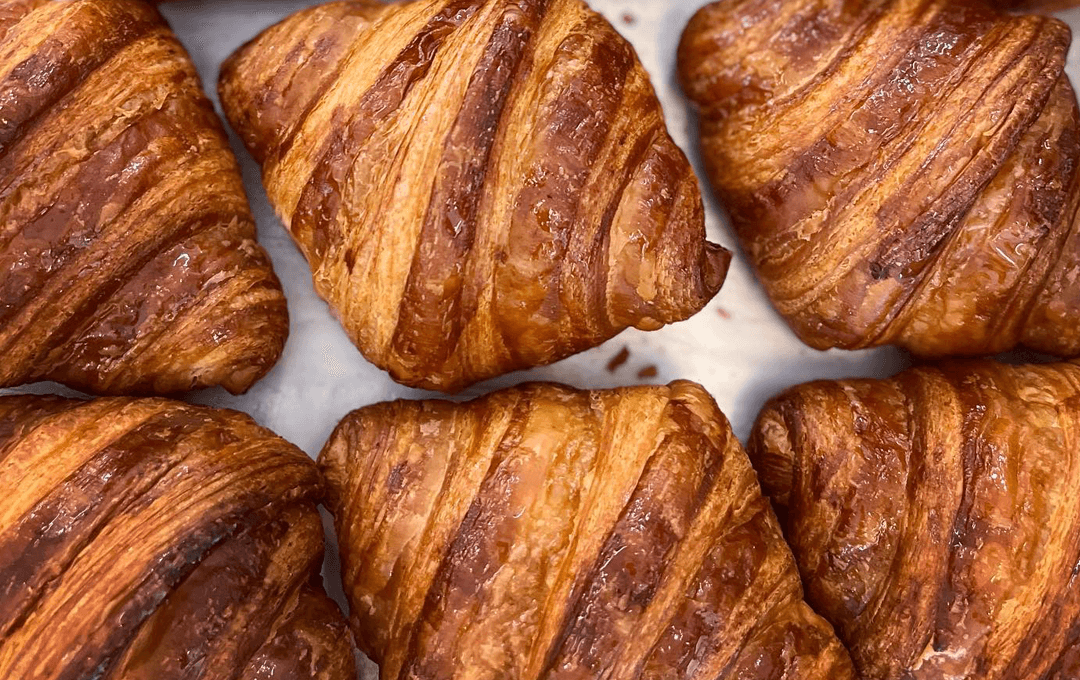 Dröm
BAYSWATER
Dröm is the ultimate artisanal bakery in the Bayswater region. Operating as a take-away-only establishment, they specialise in creating the very best freshly baked goods and bread. Iconic menu items include their crescent-shaped croissant, which is also available in Pain au chocolat form, and their distinctive half-moon croissant with a mixed berry glaze. They also do sandwiches and a rotating selection of pies and sausage rolls.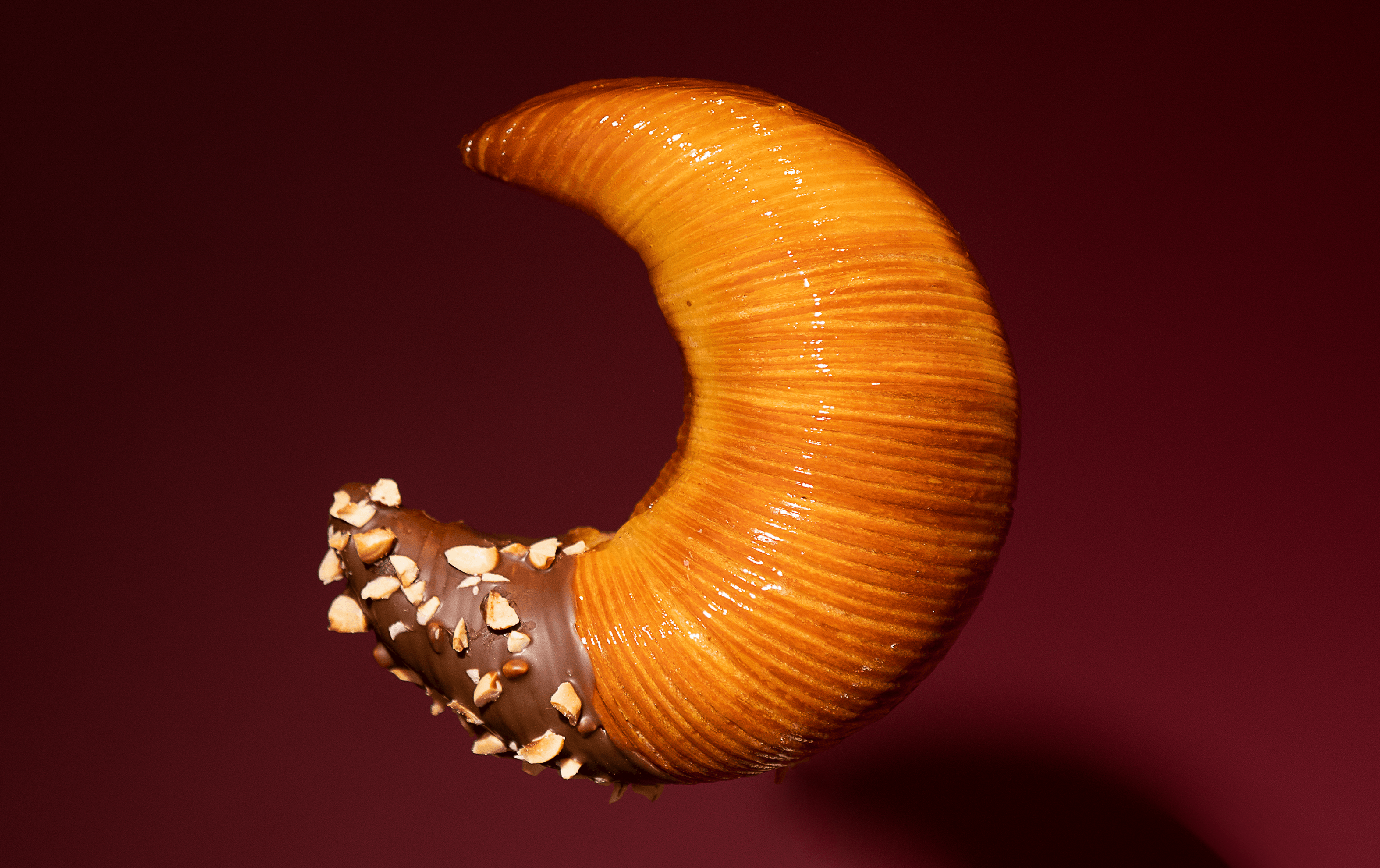 JC Pâtisserie
ABBORTSFORD
Imbued with firsthand Parisian experience, JC Pâtisserie Boulangerie is a departure from the traditional Melbourne bakery mould. Located on Henry Street in Abbotsford, The marble-walled and chandelier-hung venue serves a variety of exquisite baked goods, including their unconventional croissants which take on an almost rectangular shape with a flakier substance.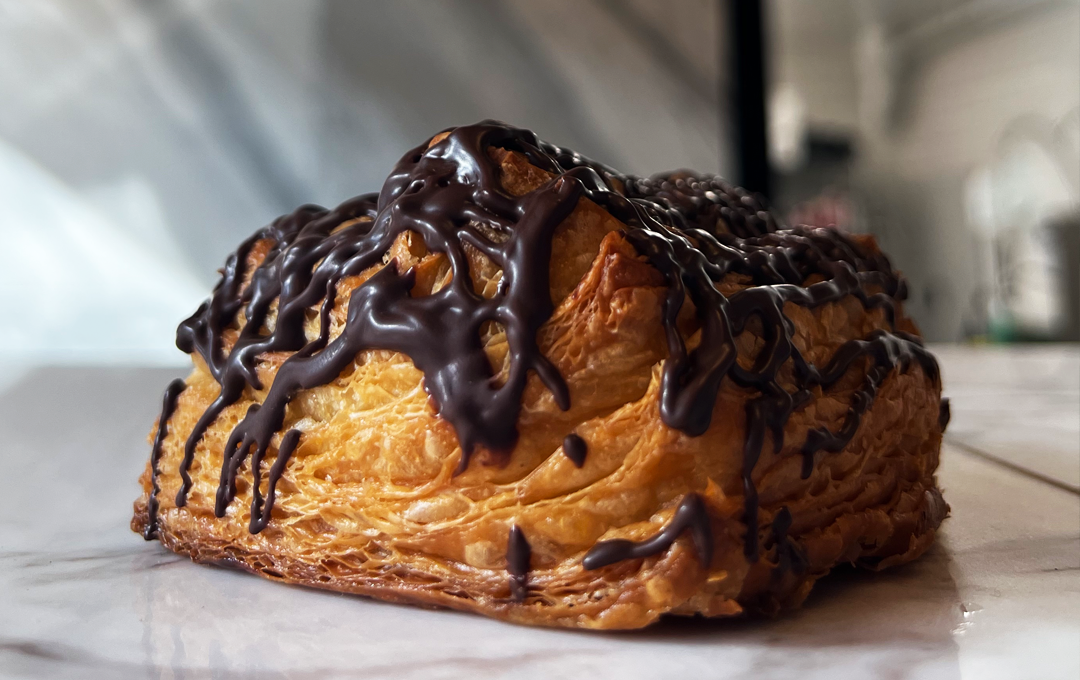 Ned's Bake
SOUTH YARRA, ARMADALE, ALBERT PARK & MIDDLE PARK
It's no doubt that Ned's Bake is an iconic brunch spot in Melbourne pumping out some of the greatest bread and baked goods that you can get your hands on. This part café, part boulangerie with four locations around our city produces some of the best and most diverse croissants in Melbourne. Go for a plain croissant, an almond croissant sprinkled with icing sugar, or even a veggie croissant stuffed with scrambled eggs.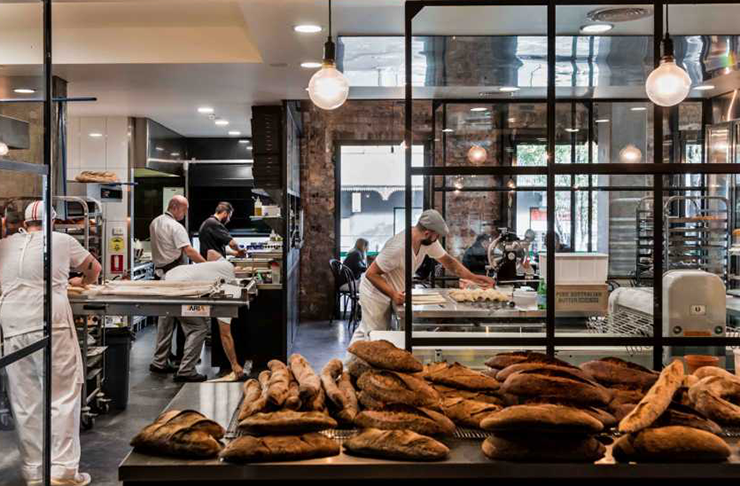 Q le Baker
SOUTH YARRA
Brought to you by pastry mastermind Quentin Berthonneaucute, Q Le Baker is the ideal shop to snag top-quality bread, handmade pies, the best buttery croissants and other artisanal baked goods. The cute, little hole-in-the-wall bread bar is located in the buzzing Prahran Market, and if you're there early enough, you can peer through the big window at 7 am and see the Q team hard at work.
Via Porta
MONT ALBERT, KEW & HAWTHORN
Since its inception in Mont Albert in 2019, the Via Porta collective has expanded to three locations with two other stores in Hawthorn (Bakehouse) and Kew (Pronto). All three Via Porta locations have distinct identities, yet all of them stock their delicate pastries, including some of the best croissants in Melbourne which are traditionally crafted with quality ingredients.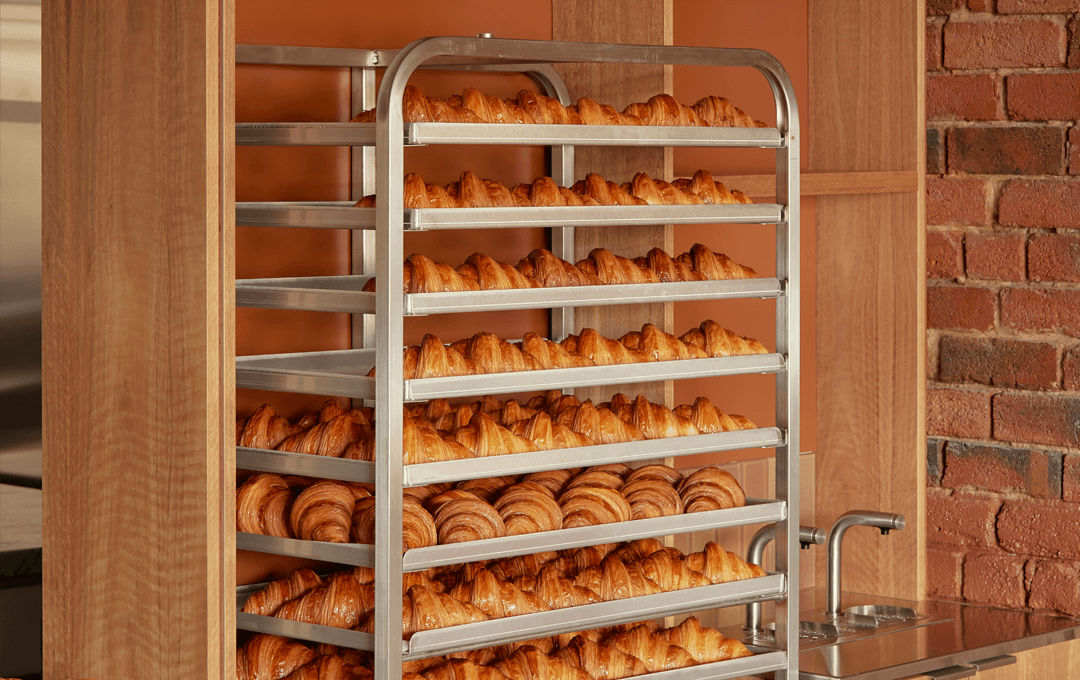 Noisette
PORT MELBOURNE, KEW & BENTLEIGH
With three locations and plenty of wholesaling around our city, Noisette has made a name for itself as an iconic Melbourne bakery. This French patisserie serves up some of the most glorious pastries in town, including state-of-the-art croissants in various flavours, including plain, almond, chocolate and almond, and Pain au Chocolat. And if you want to feel a little less naughty, they also offer mini versions of the buttery creations.
Baker D. Chirico
MONT ALBERT, KEW & HAWTHORN
With two locations in Carlton and South Yarra (and one interstate sibling on the way), Baker D. Chirico has become one of Melbourne's go-to bakeries for all things bread. From their endless loaves of chewy sourdough to their iconic hand-crafted pastries, this legendary spot is one to add to your list to get your hands on some of the best buttery croissants.
Check out more of Melbourne's best:
Melbourne's best restaurants
Melbourne's best cafes
Melbourne's best bars
Melbourne's best breakfast
Image credit:
Griffin Simm / Lune
Michael Gardenia / Monforte Viennoiserie