Some the best bakeries in Melbourne are generalists, others are specialists, and a few are entirely gluten-free. One thing's for sure though, the standard of baked goods in this city is reaching new heights in 2023.
Find your next favourite croissant, choux, olive-filled sourdough loaf, pie or sausage roll via the definitive guide to the best bakeries Melbourne has to offer:
Penny For Pound
Camberwell, Moorabbin, Richmond
It's been a big year or two for Penny For Pound, having recently opened their 800sqm pastry mecca in Moorabbin, followed by their Camberwell locale. And now after hiatus in the suburb of Richmond, the team has reopened with a new, bigger, and better shop front in the inner suburb. Helmed by Ben Wilson and Matilda Smith, the pair's pastry dreams kicked off back in 2016 and now in 2023 they've truly come true. Inside their locales are a tidy selection of a-grade baked goods including favourites like their strawberry cheesecake or cheese and vegemite croissants. There's also fresh bread and a display fridge filled with sangas ready for toasting.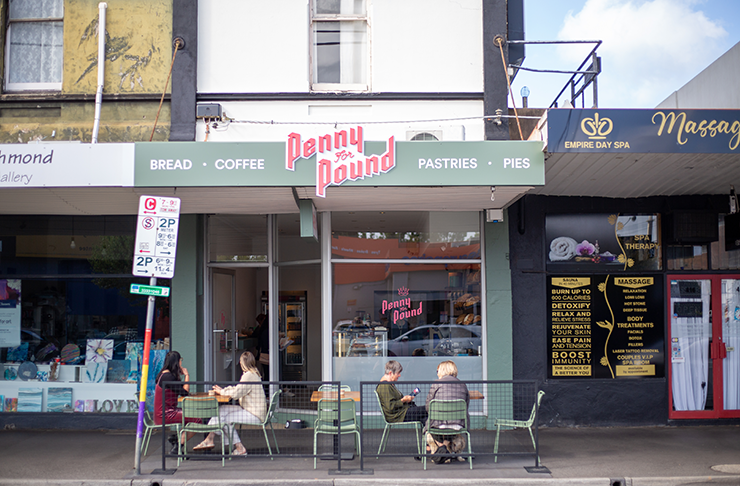 Falco
Collingwood
This northside favourite combines traditional techniques with an innovative spin, it's considered somewhat of the Falco ethos, and you'll find that they're bending the bakery rules to add a little Falco flavour into the mix.
Their cardamom buns are must-try when you visit, but that's only one reason it makes the best bakeries Melbourne list. Head Baker and co-owner Christine Tran spent a whole year developing the recipe, along with many others in the cabinet. Though If you're able to take your eyes off the baked goods behind the window, you'll notice that there's also a daily menu which you can select from. As well as drinks both hot and cold, it includes a range of sandwiches like ham and cheese, egg salad and more.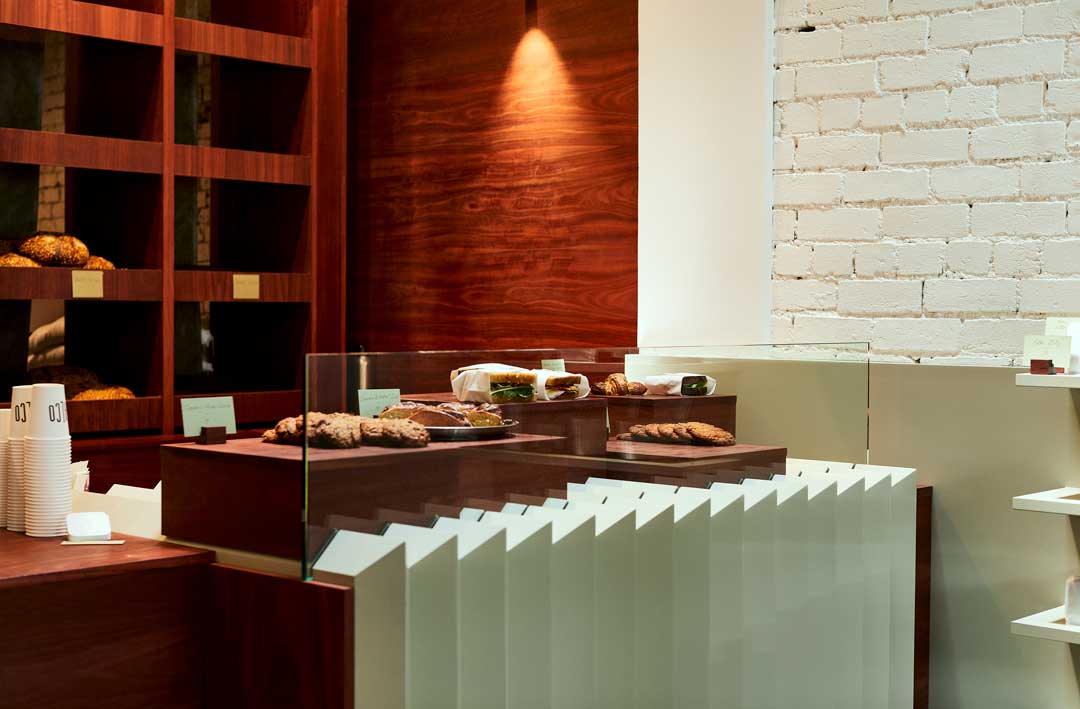 WIld Life Bakery
Brunswick
When owner Huw Murdoch spotted the cavernous warehouse space on Albert Street, he knew he'd hit the jackpot. Cathedral ceilings, exposed brick all over the place, with plenty of room for a dedicated bakery. Wild Life has to be one of Melbourne's most beautiful spaces we've seen in a long, long time. The fit-out is classic northside, but with a contemporary polish. There's huge porthole-esque windows where you can peer through and watch the sourdough magic taking place, or you could just get down on one of the fresh passionfruit and lemon curd tarts or endless baked treats that Brunswick and beyond can't get enough of.
Artisanal Bakehouse
Bentleigh
Artisanal Bakehouse which sits on Centre Road in Bentleigh is run by French duo Aymeric Vincent and David Caillaud, who collectively have amassed over 20 years experience in kitchens as pastry chefs and bakers, including in Paris' three Michelin star restaurant Guy Savoy, and Canne's Carlton.
You'll find your staple baked goods at Artisanal Bakehouse, though there are still specialities that come straight from the minds of the duo. For example, their standout creation the apple turnover, which is dense and buttery but light to the bite, as well as weekly specials—recently it was a Tropezienne, (a brioche soaked in syrup and filled with orange custard) a famed interpretation of the iconic Saint-Tropez dessert.
The calibre of the team behind the ovens is of course just one reason Artisanal Bakehouse is considered one of the best bakeries in Melbourne for 2023, but try it for yourself and you'll realise why on first bite.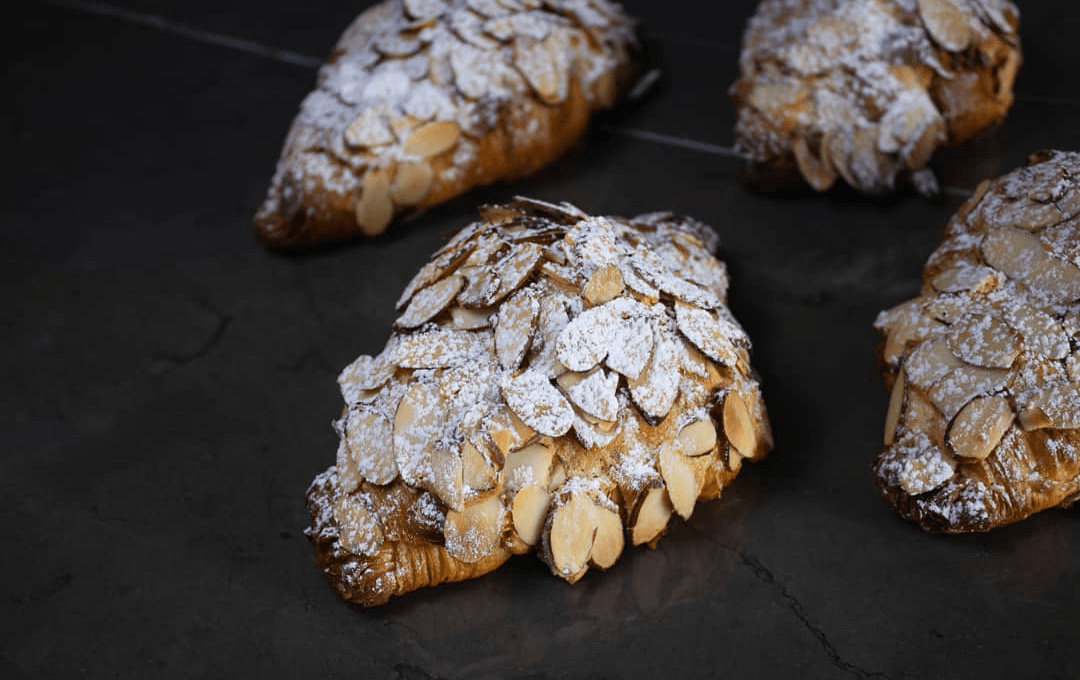 Tivoli Road Bakery
South Yarra
Formerly known as MoVida Bakery (and owned by Frank Camorra), head baker Michael James has took the thriving South Yarra business under his wing some years ago, and now in 2023, Tivoli Road is considered one of Melbourne's best bakeries. The artisan-inspired pastries and breads are baked fresh before your very eyes; many visit for golden pies and sausage rolls, meanwhile the sweet tooths will have a field day getting down on the likes of eclairs, cookies, lemon curd-filled doughnuts and more.
Kudo
CBD
A mere hole-in-the-wall of the heritage-listed Windsor Hotel, Kudo is the new CBD artisan bakery specialising in gluten-free bread and baked goods, and it's making quite the splash in 2023. Tucked away just off the corner of Little Collins and Spring Street, the cosy cafe and bakeshop is the joint venture between chef duo Felix Goodwin (Donovans, Sunda) and partner Elena Nguyen (European, Saigon Sally).
Inside Kudo, there's a previously unimaginable selection of gluten-free treasures, be it a matcha-infused canalé, pomelo chiffon cake, cream-filled choux pastry or even a pull-apart Mars Bar-style cookie with wattleseed. As impressive as the baked goods are, it's the bread here that's the star; foremostly the sourdough. For anyone who has sampled GF-bread, it's a tough act to emulate the real deal but it was just this creation that cemented Kudo as one of the best bakeries Melbourne has to offer.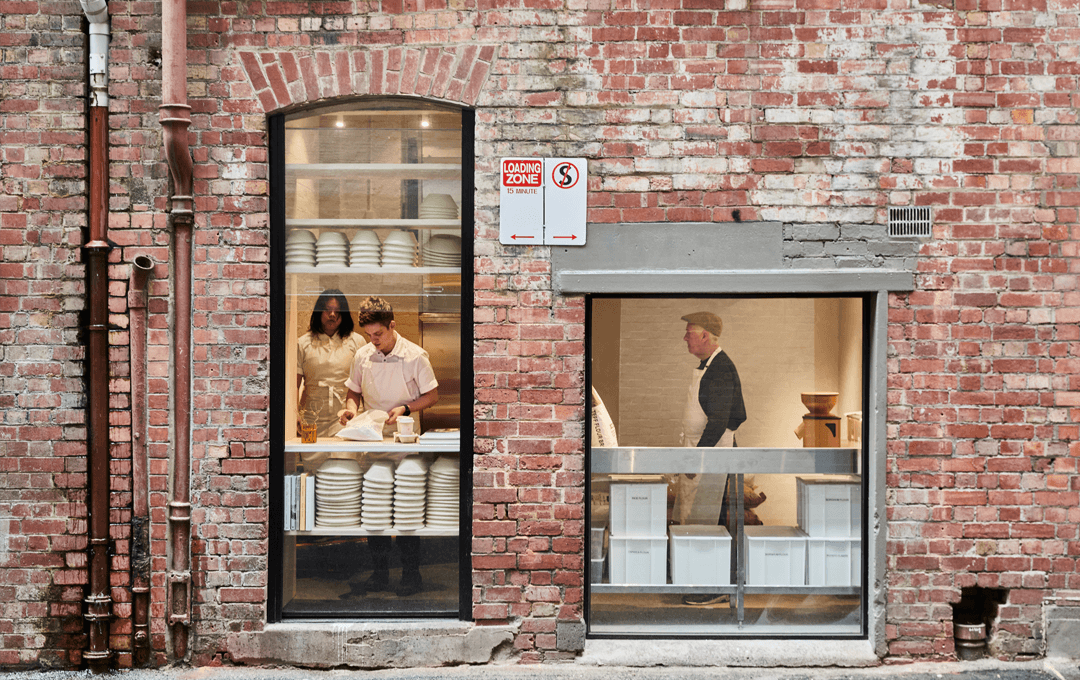 Tarts Anon
Cremorne, Collingwood
If you didn't slide into the Tarts Anon DM's did you even do lockdown in Melbourne? The clandestine dessert operation headed up by former Dinner By Heston chef and Lune alumni, Gareth Whitton and partner Catherine Way was a smash-hit when it kicked off a few years ago, and in 2023 they're going strong with two Tarts Anon locales.
Crowd favourites can usually be found at the specialty bakery's two locales: like the chocolate caramel, lemon and rhubarb and pecan and butterscotch that frequently feature in the lineup.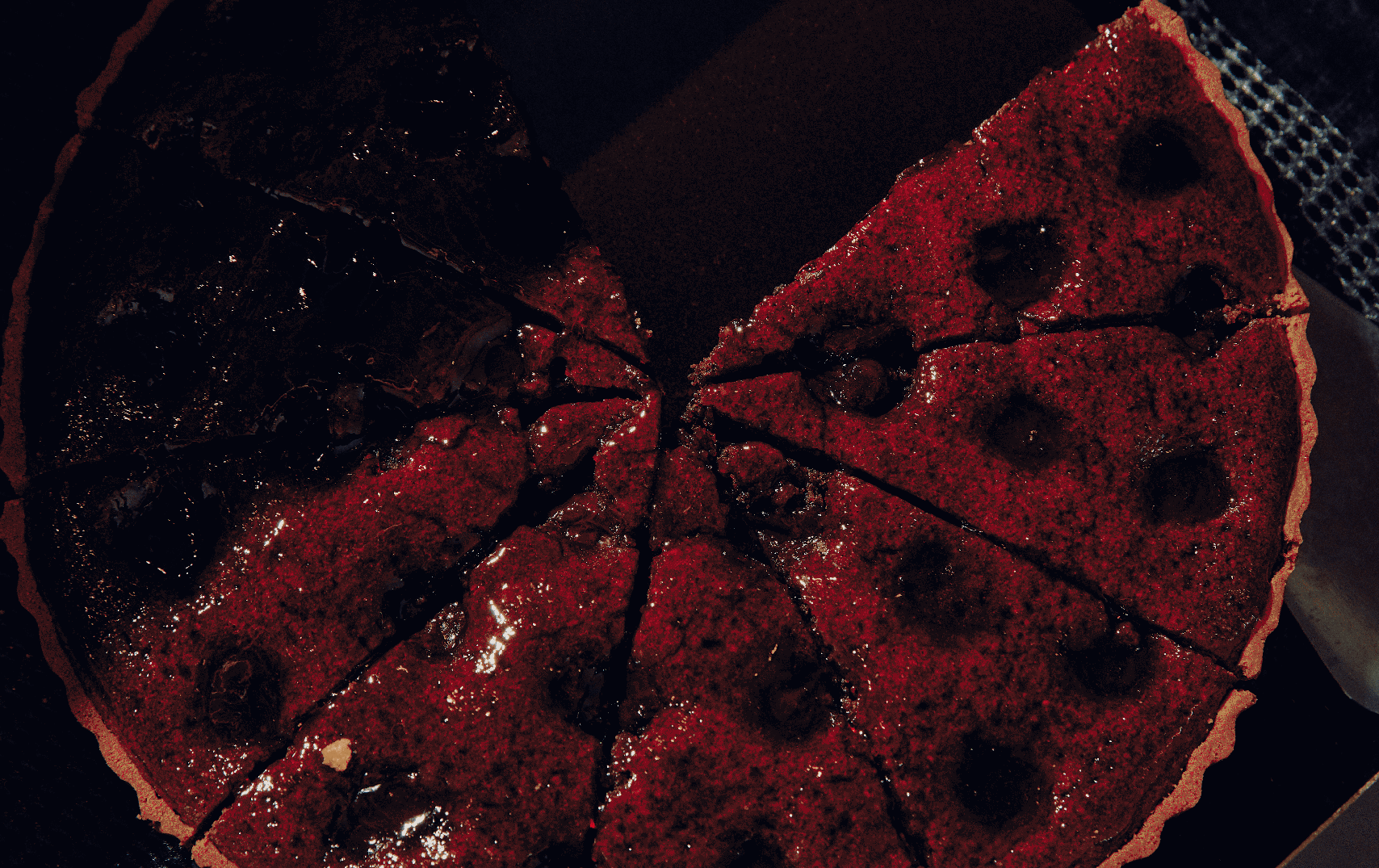 Dench
Fitzroy North
Famous for their organic sourdough bread, Dench Bakers in Fitzroy North is easily one of the best bakeries in Melbourne, and one of the most-loved, too. Highlights from this humble northside bakery include, but certainly aren't limited to, their classic chicken sandwich, their organic sourdoughs and their hot cross buns come Easter time.
Baker D. Chirico
Carlton, South Yarra
With interiors this striking, it's easy to get distracted upon entering a Baker D. Chirico. You'll find the breads cocooned within the wave-like wooden panels of the bakery, while the soft lighting throughout the space will charm you by both the details and the produce. Some of the standout eats that have had locals and newcomers alike raving are the delish fruit buns and nougat—head into a Baker D. Chirico and make up your own mind as to why this standout makes the Melbourne's best bakery list year in, year out.
Monforte Viennoiserie
Carlton North
Like a lot of hospitality ventures arising out of the COVID-19 pandemic, Monforte's menu is considered, with founder Giorgia McAllister Forte focusing on just a few offerings and refining the absolute heck out them—that being Euro-inspired pastries and artisan jams to accompany your weekend treat.
It's a croissant-heavy affair at one of Melbourne's smallest and best bakeries, with pretty much everything made on-site. The varieties on offer rotate regularly, with McAllister Forte leaning on the seasons for inspiration and ingredients; recent highlight e a savoury guanciale, a parmesan and thyme croissant, gluten-free strawberry and yuzu muffins along with a leatherwood honey and seasalt croissant that's been on the menu since day one. McAllister Forte's winning formula hasn't just been stumbled upon, though. The pastry chef of 10 years has earned her stripes at London's Violet in Hackney under baking royalty Claire Ptak, not to mention several seasons cheffing under England's Mark Hix. Her learnings may be of international pedigree, though the ingredients used are all gathered from within Australia, and most from local farms within Victoria.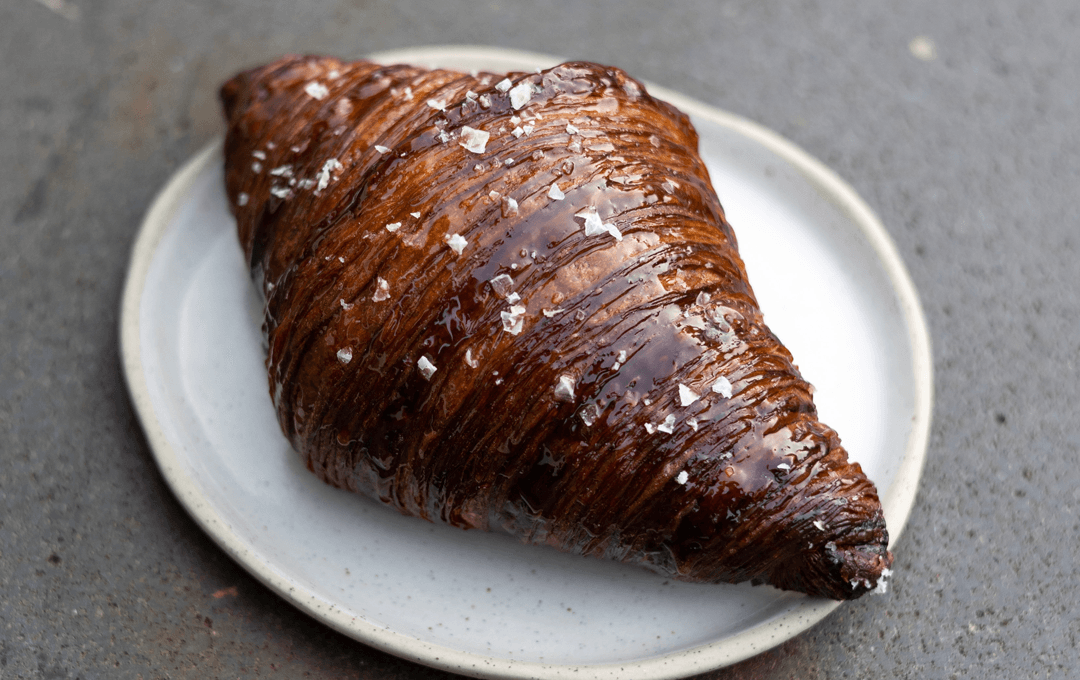 Loafer Bread
Fitzroy North
If it's an almond croissant you're after, then stop by Loafer Bread in Fitzroy North for one of the best in Melbourne. It's topped with just the right amount of toasted almond flakes and icing sugar, and the pastry is perfectly flakey. They also do a delectable chocolate croissant and a damn good plain one too. Loafer's been around for several years now, and in 2023 locals agree it's one of Melbourne's best.
Ned's Bake
Various Locations
Ned Radojcic isn't a guy to do things by halves. Years back, Ned flew to Berlin to meet with American master-baker Benjamin Tugwell, and Aussie baker Timothy Naughton (who's done stints at both Baker D. Chirico and Noisette), and brought them both back to work in Ned's. The result? Bread Nirvana.
Set one foot inside a Ned's Bake and you can tell it's all about the bread. Batons of light rye, slashed 'Chef's Loaves' of white sourdough and multigrain, gnarly green olive grissini sticks stuffed with olives the size of your fist (give or take). The loaves are displayed proudly in cabinets at one of the best bakeries in Melbourne, stacked high on the shelves, even tied to wire mesh and displayed in the windows. It smells of flour and newly-opened ovens and your grandma's kitchen.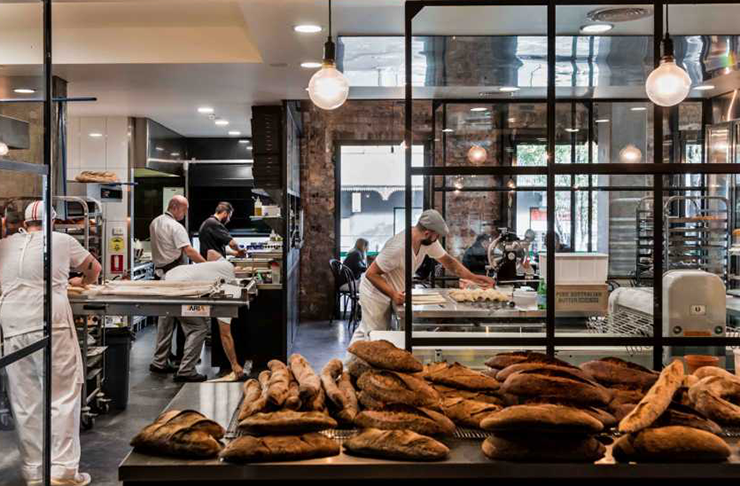 Q le BAKER
South Yarra
A cute hole-in-the-wall bread bar in Prahran Market. The name? Q le BAKER. The bread? Some of the best Melbourne has to offer. It's the kind of bread that is practically a meal in itself. Founder Quentin Berthonneau sources organic stone-ground flour from local mills like Rolling Stone and Laucke in South Australia. He then takes every ounce of his considerable bread-making skill, acquired during stints at Vue de Monde and Chez Dres, and creates sourdough masterpieces, and the result is one of the best bakeries Melbourne has to offer.
Dense, dark loaves with a crust that could stop bullets. Porridge & black rice bread, stuffed with wild oats. Buttermilk hot dog buns so soft they practically collapse under their own weight.
Candied Bakery
Spotswood
With a US-meets-Aussie approach to baked goods, Candied Bakery in Spotswood offers doughy delights that will have you seeing stars and stripes. The team here are cakes, doughnuts, flaky pies, nutella-stuffed croissants and even soft serve icecream, with flavours that rotate weekly. Candied does far more than the basic bakery items and is well worth the trip across town if you're on the hunt for one of the best bakeries in Melbourne.
Lune
Fitzroy, CBD
Lune truly needs no introduction. A front runner as one of Melbourne's best bakeries, Lune serves up deliciously flaky croissants, pastries, danishes and of course the cruffin. Wondering what a cruffin is? It's a genius combination of croissant and muffin, which founder Kate Reid puts different flavours on the menu regularly. Everything from lime splice, salted caramel, choc mousse and more.
There's always something new at Lune, and you can keep up to date with their specials over on The Feed, Urban List's food and bev news hub.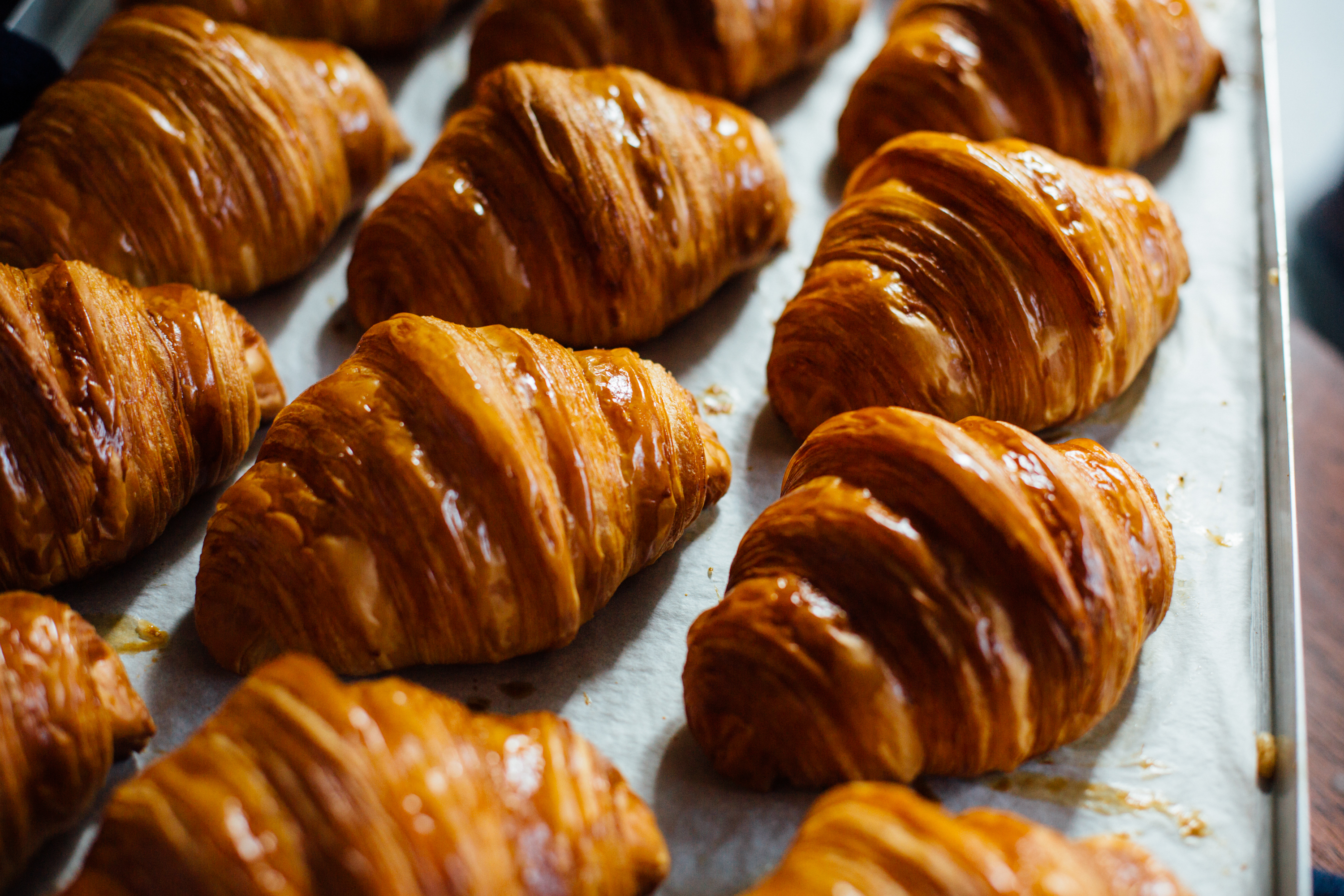 Rustica
Various Locations
Bakery empire Rustica is showing no signs of slowing down in 2023, and with five locations in and around Melbourne selling out on the regular, it makes sense. They're famous for their sourdoughs, though you'd be doing yourself a disservice not ordering up from the stellar breakfast, brunch and lunch menus.
Glazed
Elsternwick
Glazed was always going to make it onto the list of Melbourne's best bakeries. With an ex Vue De Monde chef at the helm, the Elsternwick-based gluten-free bakery has most dietary preferences covered with a range of cakes, bread, and sweet treats all free from gluten, dairy and nuts. Shoutout to the Brazilian Romeo & Juliet cheesecake, a New York style cheesecake with a South-American-inspired guava glaze.
For more of Melbourne's best, check these out:
Melbourne's best pies
Melbourne's best croissants
Melbourne's best breakfast
Melbourne's best cafes
Melbourne's best bars
Melbourne's best restaurants
Image credit: supplied