We're spoilt for choice when it comes to fine dining in Melbourne. The city is a melting pot of cuisines and influences, not to mention some seriously sleek interior design. Melbourne's best restaurants though are the ones that leave an impression, that keep you coming back for more. They're the whole package from the menu and the drinks list, to the decor and the service.
They're not all in the CBD though, some of Melbourne's best restaurants can be found in the most unexpected suburban streets, or they might be hidden underground, or on the 55th floor of the Rialto building. We've scoured the city for you to create the ultimate guide, all you need to do now is book.
Tipo 00
CBD
It's no lie that Melburnians love pasta, and Tipo 00 pasta bar definitely know their audience. Tucked away in Little Bourke Street, they've turned homemade pasta into an artform. Each item on the menu is lovingly created and garnished to perfection, from the gnocchi to the rabbit tagliatelle. Make sure you leave room for their classic Italian desserts though because you'll want one of each.
Gimlet
CBD
The most recent addition to Andrew McConnell's empire Gimlet at Cavendish House is like stepping back into a bygone era. Sitting in the middle of the CBD on Russell Street, the charmful space has a classical art-deco fit with marble tiles, stained wood, and booth dining, harkening back to the early twentieth-century eateries of New York and Paris. Now one of the best restaurants in Melbourne CBD expect to sit down to a euro-leaning menu filled with standout dishes like the cured rainbow trout, with mustard cucumbers and horseradish, and their signature wood-roasted southern rock lobster with saffron rice and bisque sauce.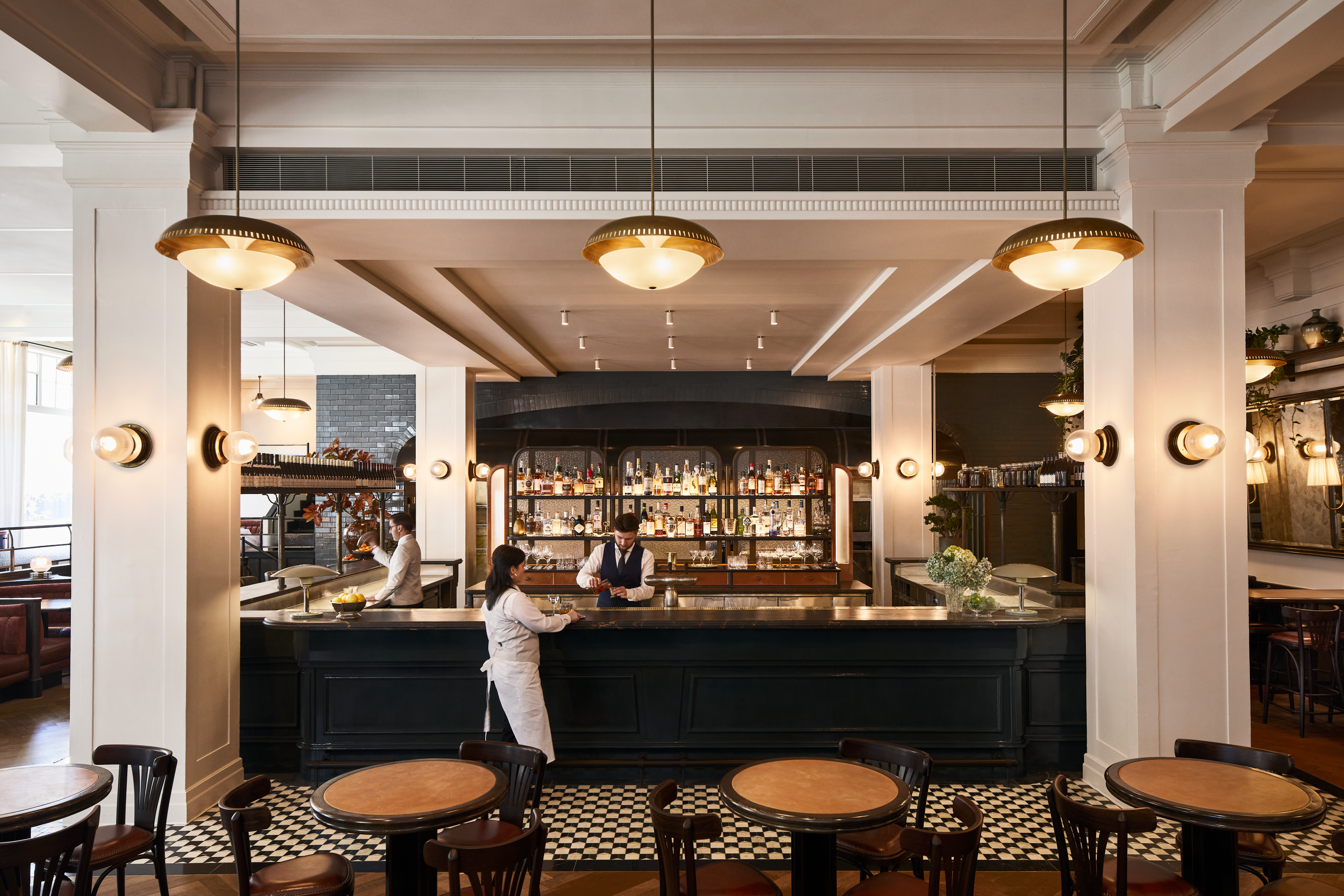 Vue de Monde
CBD
Remember that 55th floor I mentioned? This is dinner and a view like no other. Potentially our most iconic fine-dining spot, no 'best restaurants Melbourne' list would be complete without Vue de Monde. Created by Shannon Bennet, you'll never leave this restaurant disappointed. It's not cheap but it will be memorable. Prep your wallet, and your stomach, and sign up for the tasting menu ranging from $230 to $275 per person.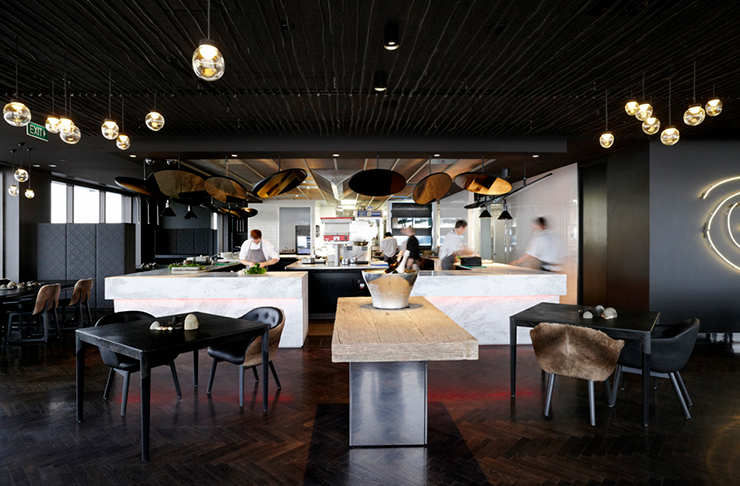 Chin Chin
CBD
If you've never been to Chin Chin, we can almost guarantee you've seen the queue at the very least. This South-East Asian staple of the LUCAS group has become a landmark of Melbourne dining and its menu has Melburnians and out of towners lining up down Flinders Lane for a seat. Try the crispy skin duck with ginger, coriander, and black vinegar sauce, and the pork roll-ups are a must-have as well. Get in line early or risk that queue, but it'll be worth the wait as this one's cemented itself as one of the best restaurants Melbourne has to offer.
Poodle
FITZROY
A former pupil of Andrew McConnell and ex-head chef of Marion, Josh Fry's Poodle Bar & Bistro is one of the most refreshing restaurants to open throughout last year. With a modern style dining menu that fuses classic French, with Australian and Asian flavours you can expect to sample dishes like whole market fish with XO sauce butter, Warrigal greens and lemon, as well as their baked Parisian gnocchi with Fioretto, Taleggio, and hazelnuts. With checkered floors and white-washed brick walls there's laid back vibe at Poodle making it one of the best restaurants in Melbourne for casual dining, whether you're on the bar or seated at a table there's plenty of atmosphere to this spot.
Florentino
CBD
The Florentino venue has been bringing classic fine dining to Melbourne since 1928. This mainstay on Melbourne's foodie scene under the guidance of Guy Grossi still pays attention to those small details from the white tablecloths to the shiny cutlery. The iconic building with its timber panelled walls and heritage details plays host to the restaurant, the cellar bar and the grill. With true Italian attention to flavour and wine pairings, this restaurant is a must for every Melburnian at least once in your life.
Supernormal
CBD
Just down the road from Chin Chin is the bustling Asian hot spot Supernormal—the brainchild of culinary extraordinaire Andrew McConnell. The menu is constantly changing, but it's always designed for sharing. You can go a la carte or order the banquet if you're feeling fancy. Supernormal is perfect for a family feast or dinner with foodie friends. They're also on Providoor for the ultimate lazy Friday night takeaway.
Cumulus Inc.
CBD
Cumulus Inc. is another one of Andrew McConnell's establishments, so you already know it's going to be good. It's one of Melbourne's favourite all-day eateries, serving up well-balanced dishes like tuna tartare with goats' cheese and crushed green peas, parmesan tart with truffle and endives, and snapper with braised leek and clams. Did we mention there's also a wine bar?
Pure South Dining
Southbank
Pure South Dining seafood lover's paradise is right on the edge of the Yarra in the heart of Southbank. The menu celebrates local produce from King Island, Flinders Island and Tasmania—hence the name. The team has a passion for sustainable and ethical sourcing, so with thirteen years of building relationships with farmers and fishermen behind them, you can tuck in knowing exactly where your food has come from.
Sunda Dining
CBD
An absolute marvel of South-Eastern Asian cuisine, Sunda puts a serious fine-dining lens onto the region. Led by chef Khanh Nguyen, a Vietnamese-Australian chef who has now achieved celebrity status, Sunda was his first restaurant in Melbourne. Dedicated to showcasing the fine dining qualities of South East Asian cuisine Nguyen has crafted a menu of Vietnamese, Malaysian, and Indonesian flavours. The menu champions the region with dishes like the Fremantle octopus, with lemongrass, bush tomato, and onion to the egg noodles, with xo sauce, chicken crackling, pepper berry prepare for your limitations of this cuisine to be dashed
Lûmé
South Melbourne
You could be forgiven for walking right by this restaurant without even noticing it, but walking through the unassuming terrace entrance is like stepping into a culinary Narnia. The Lûmé menu is inspired by Victoria's ecosystems, drawing on native and wild ingredients. Each plate of food on their degustation menu is like a work of art, it's almost too pretty to eat—almost. It's definitely up there among the best restaurants Melbourne has to visit if you can find it.
Embla
CBD
Embla is the epitome of quality Melbourne restaurants, a small intimate space that is always packed to the brim with eager diners and an array of wait staff who are well versed in guiding you through the culinary experience, offering sage advice and recommendations. It may be a tighter space than others, but the charm of Embla is what's made it such a popular spot. With a stellar range of wines and a menu of modern cuisine, it's an award-winning pair and has established itself as one of the best restaurants in Melbourne's CBD. The menu is based around seasonal produce and focuses heavily on local suppliers and regional producers, which means the dishes change regularly keeping things fresh and giving you a reason for repeat visits.
Atlas
South Yarra
Inspired by global travels and flavours, Charlie Carrington and his team of chefs at Atlas have created an evolving restaurant which brings the world to Melbourne. Every few months, the restaurant is transformed according to the cuisine. Travel the world through your taste buds in this fine dining experience like no other—reserve your seats in advance because this globe-trotting restaurant is regularly booked out.
France-Soir
South Yarra
This authentic French brasserie is not for the faint-hearted. It's busy and noisy and chaotic, but that's all part of the charm. The food in this South Yarra establishment screams classic french sophistication and the wine list reads like a book. Don't stress if you don't know your French wines though, the waiters at France-Soir are there to point you in the right direction.
Il Bacaro
CBD
The Italian restaurant with a longstanding history in Melbourne's CBD, after a recent refresh it has become a staple of fine dining. In lieu of typical large portion pasta dishes and carb-heavy entree's Il Bacaro and its menu is focused on regional Venetian cuisine providing a more refined and thoughtful approach to its culinary offering. Helmed by Chef David Dellai, who has curated a selection of dishes that showcase the region's classical pairings such as beef tartare with bone marrow Brulee and wild mushrooms— or their crowd favourite Spaghettini with Moreton Bay Bugs, garlic, chilli, and rocket. In atmosphere and cuisine, Il Bacaro has cemented itself as one the best Italian restaurants Melbourne has to offer.
Noir
Richmond
You'll find this moody french restaurant along Swan Street, just a short walk from the hustle and bustle around Richmond station and the Corner Hotel. Noir's modern menu has been cultivated by Irish head chef Peter Roddy and is inspired by the bistros of southern France. With over 100 beverage options to choose from, you can settle in here for an indulgent evening with some of the best french food in Melbourne.
Marion
Fitzroy
Part neighbourhood wine bar, part fine diner, Marion is all the things that we've come to love from Andrew McConnell's restaurants. The next-door neighbour to Cutler & Co, Marion has a much more accessible and laid back feel to it. The menu is meant for sharing and consists of a range of small and large plates, kick-off with some Blackmore wagyu bresaola then dive into some mussels with Nduja with fried bread, lovage, and aioli. In terms of wine you're spoilt for choice, the team on the floor are incredibly knowledgeable and will help you select a winner from the 20-plus page wine list that features bottles from across the world's top wine regions as well as quality Australian drops.
Minamishima
Richmond
Minamishimia in Richmond serves the omakase of Chef Koichi Minamishima. With 25 years experience behind him, this chef is known for his A-grade sashimi. You get one piece at a time, prepped with loving care and incredible attention to detail. If you want to impress some out-of-towners, this is a pretty good place to start. We don't throw around terms like 'Melbourne's best sushi' lightly, but this might just qualify.
Transformer
Fitzroy
As the more sophisticated big sister to Fitzroy favourite Veggie Bar, Transformer takes vegetarian food to a whole new level. The tasting plates are enough to make even the biggest carnivores question their preferences. The green walls and high ceilings with exposed beams will make you feel like you've stepped into New York, but with that Brunswick Street style, we all love. Definitely, one of the best vegetarian restaurants Melbourne has to offer.
Acre
Burwood
Tucked away in the sleepy south-east suburb of Burwood, Acre is one of the best new restaurants in Melbourne, offering farm to table meals with pristine views out across the Dandenong Ranges. Ingredients are picked fresh from the rooftop garden and greenhouse surrounding the restaurant, creating an urban oasis on the roof of the Burwood Brickworks shopping centre. You can wander through the veggie patches and say hello to the quail coop in this urban farm before sipping a G&T and tucking into a deliciously fresh lunch or dinner.
Navi
Yarraville
Navi is an intimate, degustation-only restaurant bringing fine dining to the inner-west. Head chef Julian Hills serves up experimental and wonderful delights you won't get anywhere else—we're talking brook trout roe macarons, slow-roasted tamarillo and truffle ice cream and wattleseed chocolate caramel.
Attica
Ripponlea
Attica doesn't really need much of an introduction. It's got three hats and regularly features as one of the World's 50 Best Restaurants. Led by chef wonder Ben Shewry who's creative and culinary mind has helped build the restaurant up to the international success that it is. Expect the unexpected with dishes like whipped emu egg and black ant lamington on offer. Lock this one in for a special occasion—plan ahead here because tables fill up weeks in advance.
Chancery Lane
CBD
The fine diner on Collins Street from Scott Pickett hasn't been around for a long time, but it has made some serious noise and has already started to establish itself as one of the best restaurants Melbourne has. Self-described as a 'classic bistro with an edge' Chancery Lane oozes decadence with rich euro-centric dining. The dimly lit and dark feature restaurant has shadowy marble benchtops with a mixture of table and booth dining centred around the bar. Scott's Euro-inspired menu ranges from smaller plates including four different caviars to Tasmania's Robbin Island Wagyu tartare to main plates of dry-aged Milawa duck, to grass-fed Hereford rib-eye.
Epocha
Carlton
Nestled away in Carlton, Epocha is an old favourite for dinners and weddings alike. With a four-course dining menu for $75 per head, the menu is a fusion of European flavours from Greece, France, Spain and Italy. It's like a Mediterranean tour on a plate, all served up in a welcoming atmosphere overlooking the iconic Exhibition Building and Carlton Gardens.

Image credit:
Navi | Griffin Simm
Poodle | Derek Swalwell
Chancery Lane | Tania Bahr-Vollrath
Gimlet | Sharyn Cairns
Sunda Dining | Jenna Fahey White