We're spoilt for choice when it comes to dining in Melbourne. We're a culinary destination where some of the finest talent and best restaurants in the world reside. A melting pot of different cuisines and influences, the diversity of the dining offering is what contributes to the strength of our hospitality community. Melbourne's best restaurants are the ones that leave an impression, a lasting aftertaste of satisfaction, they're the whole package from the menu to the drinks list, the decor and the service.
Dispersed across the sprawl of the city, some of the best restaurants in Melbourne can be found in the most unexpected suburban streets, they might be hidden underground, or perhaps on the 55th floor of the Rialto building. We've searched high and low across the city for you to create the ultimate guide, here are the best restaurants in Melbourne for November 2022:
Maha
CBD
The flagship of chef/cooking icon, Shane Delia, Maha opened up on Bond Street in the CBD over a decade ago. Rising with Melbourne's culinary boom, Maha established itself as a dining institution continuously evolving and developing its offering. Centred around Middle-Eastern flavours and drawing on Delia's own heritage, Maha is a spice-filled journey into his own interpretations on regional specialities and staples. Be it the tantalising array of mezze dishes, the now-famous Slow roasted lamb shoulder, or the simply ground-breaking Turkish delight doughnuts, Maha's continued excellence has firmly secured itself a spot among the best restaurants of Melbourne.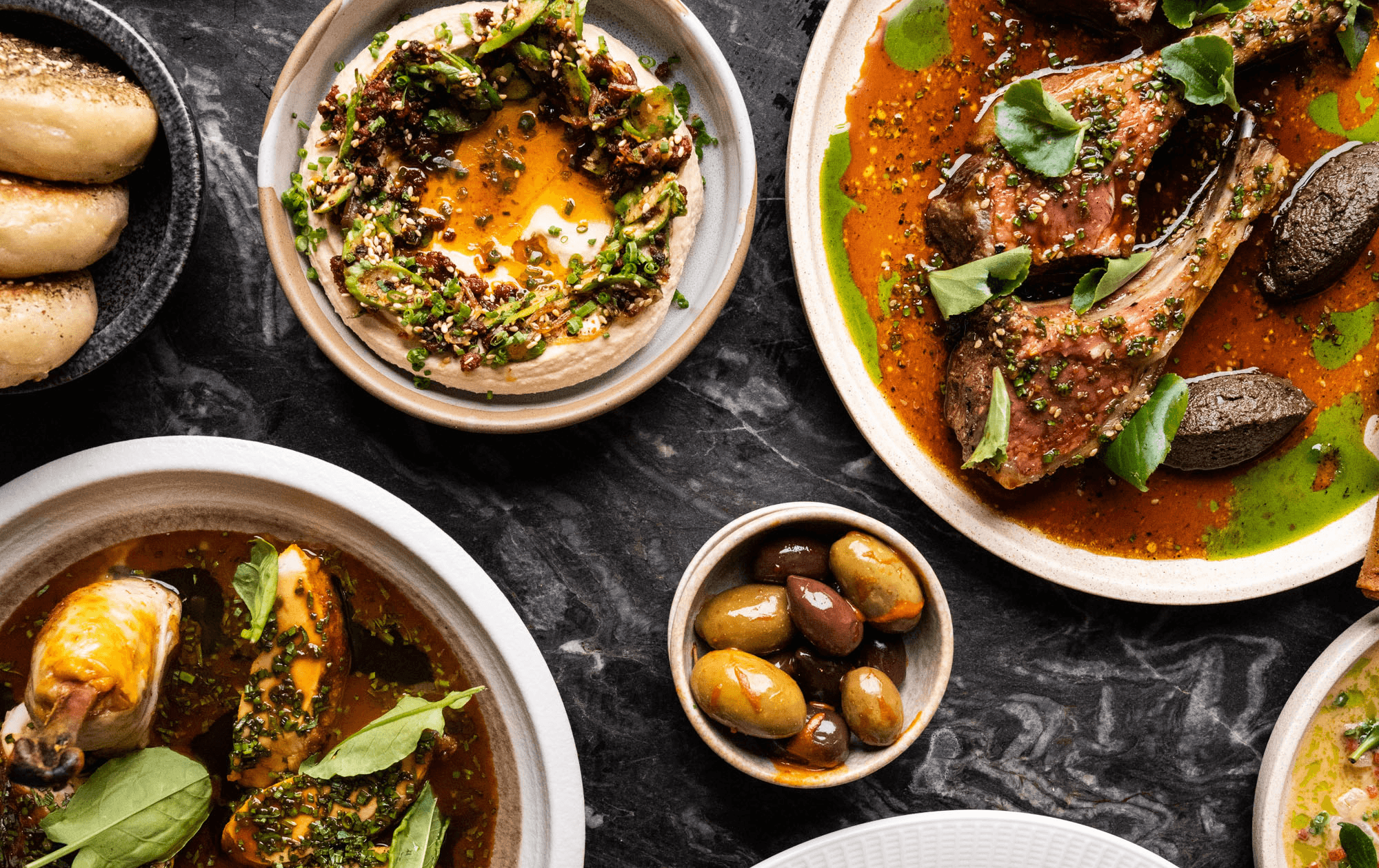 Carlton Wine Room
CARLTON
The neighbourhood bar and bistro is a stalwart of dining in the northern end of Melbourne. Situated on Faraday Street, the multi-level venue has swooned diners with its pairing of carefully curated wine and expertly considered dishes. Tidily designed with three levels in total, Carlton Wine Room has an accessible feel, the wine list which changes weekly features a selection typically in the 100+ region, be it a crisp Rosé from France or a cult-favoured pinot noir from the Yarra Valley. To accompany the tannins CWR's menu fuses modern Australian with European influences. This results in an eclectic collection of dishes from a Stracciatella with potato Foccacia to the more substantial wagyu rump with black garlic and pepper dressing.
New Quarter
RICHMOND
On the busy stretch of Swan Street, right on the corner of Lennox Street in Richmond, sits New Quarter. A newcomer to the area but anything but a newbie in the hospitality community, New Quarter is the most recent addition to the Commune Group (Hanoi Hannah, Tokyo Tina, Firebird). Its sleek black-painted exterior has little signage other than a single white sign that darts out from the building's roof. Deciding which dishes to have here is no easy feat, each course is stacked with memorable combinations of French-inspired Vietnamese cooking. Entree options like the raw Hiramasa kingfish with tamarind and spring onion oil is a fantastic first option, and their staple Banh Mi finger with whipped pate, chicken skin, and pickled cucumber is just one of the reasons many consider it one of the best restaurants in not just Richmond, but Melbourne, too.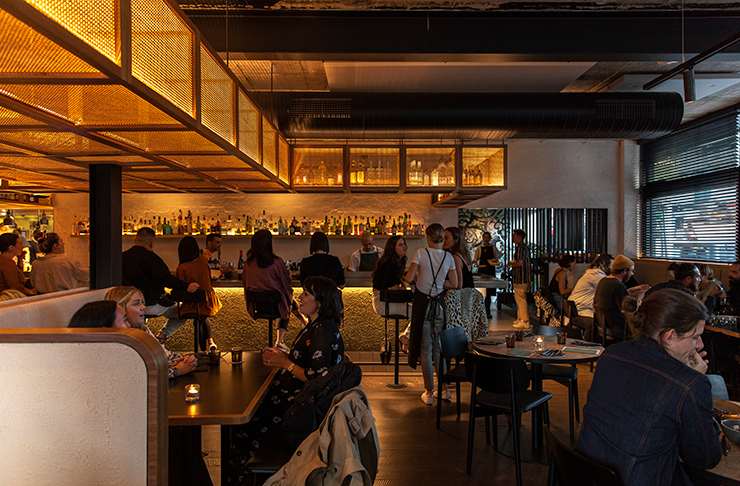 Serai
CBD
Serai opened just earlier in 2022, but it's made a major impact on Melbourne. The Filipino-fused flavours that Ross Magnaye and Shane Stafford have incorporated into Modern Australian cuisine have established the Race Club Laneway venue as one of the best restaurants in Melbourne. Now typically booked out a month in advance, Serai's allure comes in many forms, but foremostly it's the open fire that lights up the kitchen. Dishes from the menu are kissed across the flames imbuing an irreplaceable smokiness and depth of flavour to standouts like the calamari which are grilled and then topped with a spicy nduja made from Longganisa (Filipino sausage).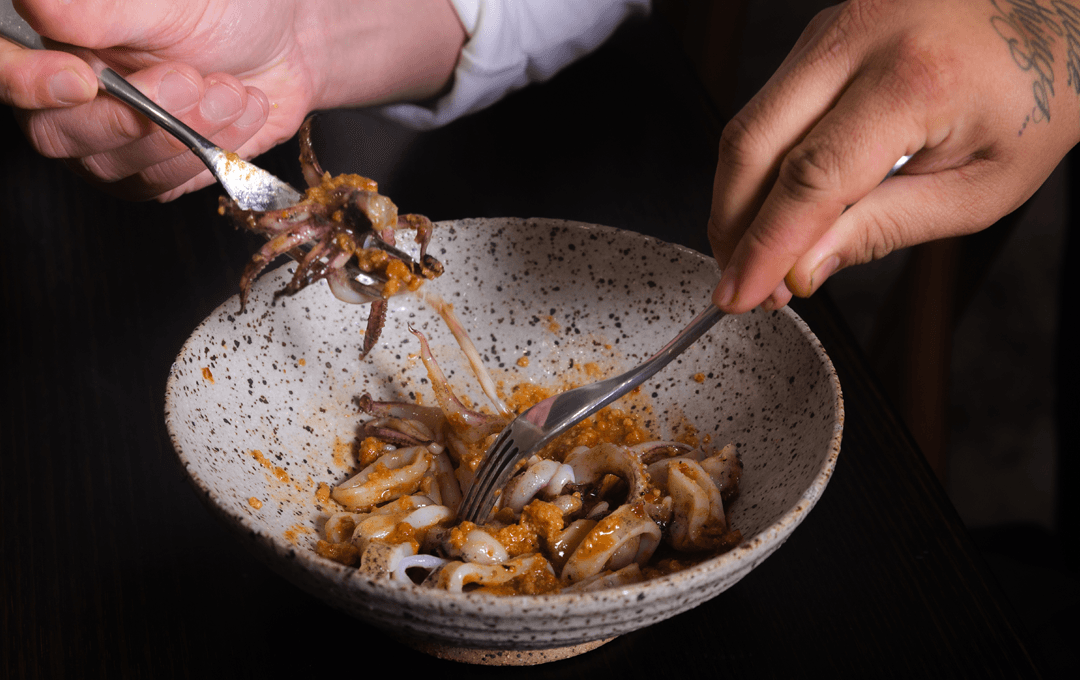 Grill Americano
CBD
Perfectly set into the chic surroundings of Flinders Lane, the new Grill Americano is the eloquent bar and diner from Chris Lucas. Inside, the leather booth seating and an expansive marble bar lead your eyes down to the end of the diner which has been purposefully curated to affect a very New York and Northern Italian- inspired bistro aesthetic. On the menu here, you'll find an extensive range of starters or Primi plates, hand-made pasta like the saffron Taglioni with scampi and Bottarga which is minimal in serve, but absolutely maxing out in flavour. White jacketed waiters, and experienced floor staff guide you every step right through to the main event, straight from the grill a selection of high-grade steak cuts including an absolute showstopping Bistecca Alla Fiorentina. It may be an early contender for the best restaurant in Melbourne but this one has dining institution written all over it.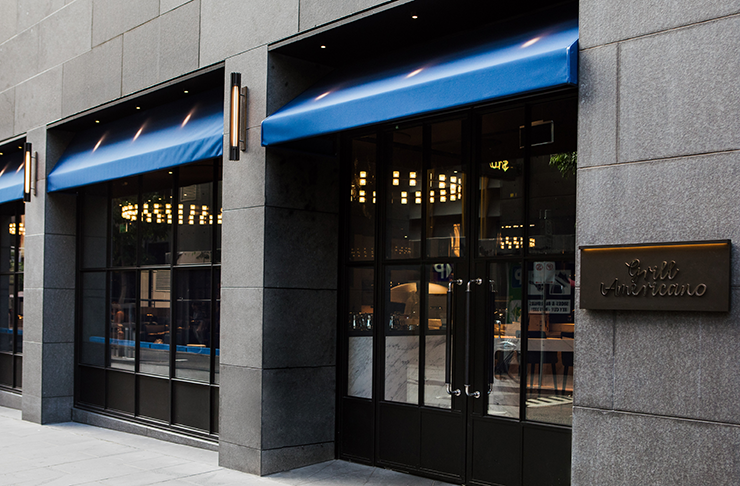 Tipo 00
CBD
It's no lie that Melburnians love pasta, and Tipo 00 pasta bar definitely know their audience. Tucked away in Little Bourke Street, Tipo 000 is one of the best restaurants Melbourne has to offer—they've truly turned homemade pasta into an art form. Each item on the menu is lovingly created and garnished to perfection, from the gnocchi to the rabbit tagliatelle. Make sure you leave room for their classic Italian desserts though because you'll want one of each.
Gimlet
CBD
The most recent addition to Andrew McConnell's empire, Gimlet at Cavendish House is like stepping back into a bygone era. Sitting in the middle of the CBD on Russell Street, the charmful space has a classical art-deco fit with marble tiles, stained wood, and booth dining, harkening back to the early twentieth-century eateries of New York and Paris. A favourite in 2022, and now one of the best restaurants in Melbourne CBD, expect to sit down to a euro-leaning menu filled with standout dishes like the cured rainbow trout, with mustard cucumbers and horseradish, and their signature wood-roasted southern rock lobster with saffron rice and bisque sauce.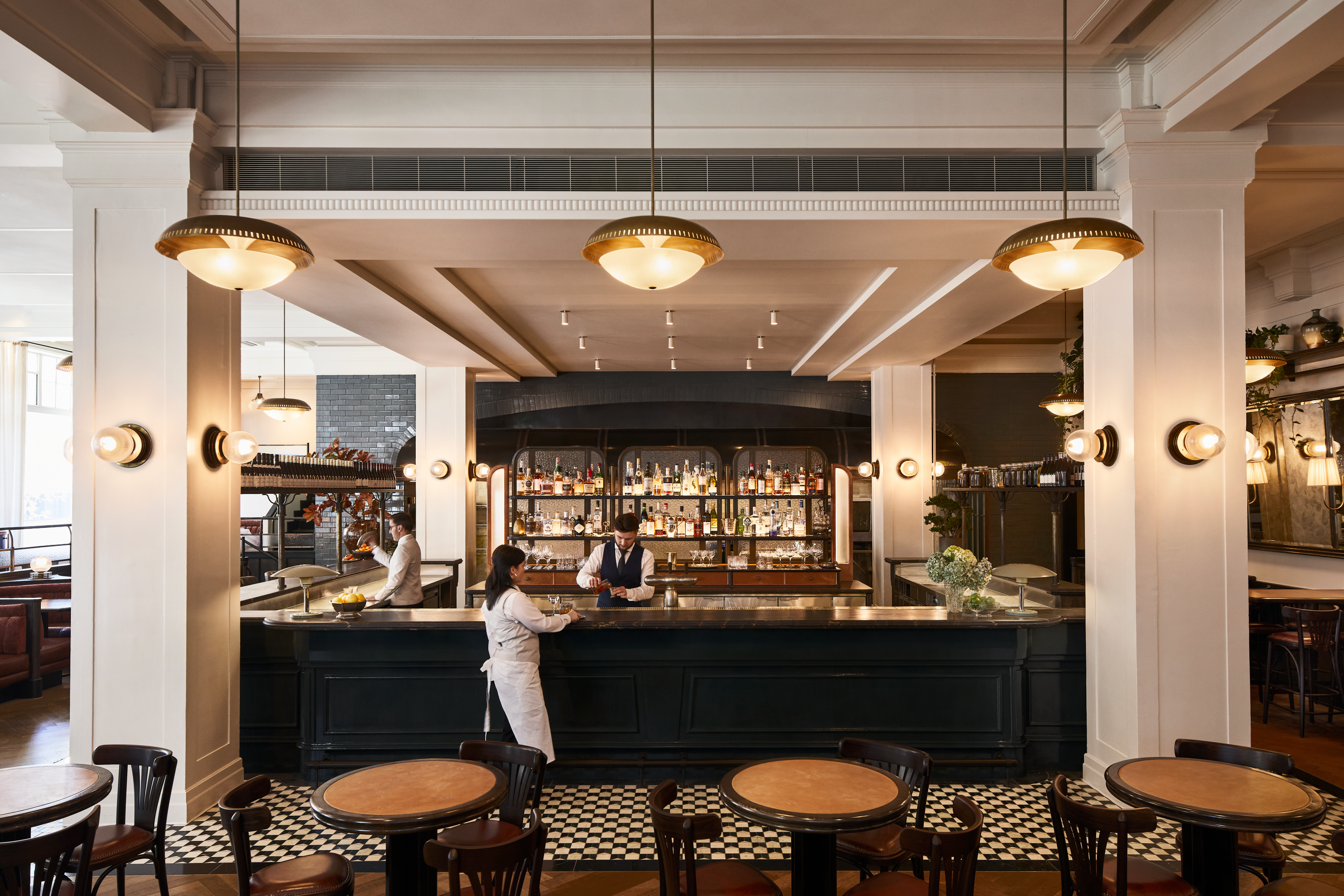 Vue de Monde
CBD
Remember that 55th floor I mentioned? This is dinner and a view like no other. Potentially our most iconic fine-dining spot, no 'best restaurants Melbourne' list would be complete without Vue de Monde. Created by Shannon Bennet, you'll never leave this restaurant disappointed. It's not cheap but it will be memorable. Prep your wallet, and your stomach, and sign up for the tasting menu ranging from $230 to $275 per person.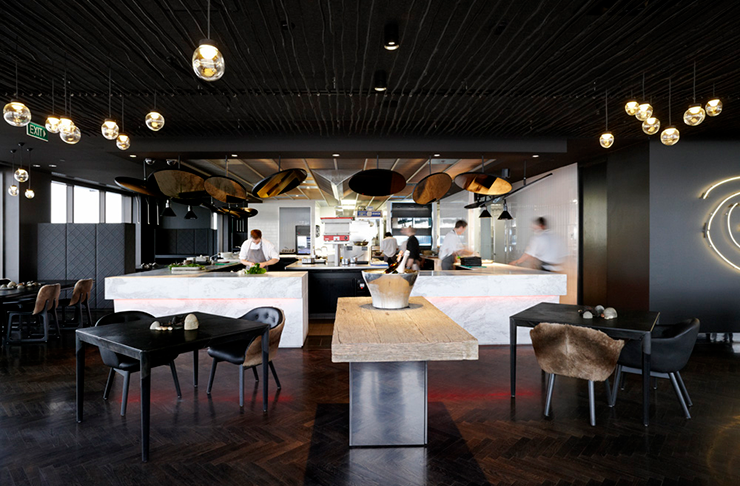 Maha Bar
COLLINGWOOD
From Chef and restaurateur Shane Delia comes Maha bar, the third instalment to the Maha empire and hands down one of Melbourne's best restaurants. At Maha bar, the focus is on a Middle Eastern, meze-style menu and cocktails, along with a considered wine list complementing what's on the table in front of you. The Harissa grilled octopus is truly something to behold, as are the cumin lamb roast ribs; vegans are also catered to with plenty of hero dishes that size up against those protein-heavy numbers.
Adding to the hospitality clout is Maha Bar's head chef, Niko Pasieka, being named as one of Melbourne Food & Wine's 30 under 30 chefs—so you know you're in good hands.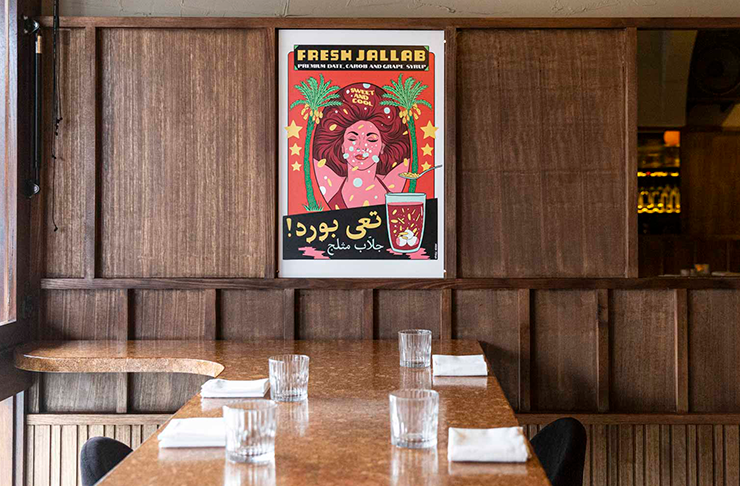 Chin Chin
CBD
If you've never been to Chin Chin, we can almost guarantee you've seen the queue at the very least. This South-East Asian staple of restaurateur, Chris Lucas has become a landmark of Melbourne dining and its menu has Melburnians and out-of-towners lining up down Flinders Lane for a seat. Try the crispy skin duck with ginger, coriander, and black vinegar sauce, and the pork roll-ups are a must-have as well. Get in line early or risk that queue, but it'll be worth the wait as this one's cemented itself as one of the best restaurants Melbourne has to offer.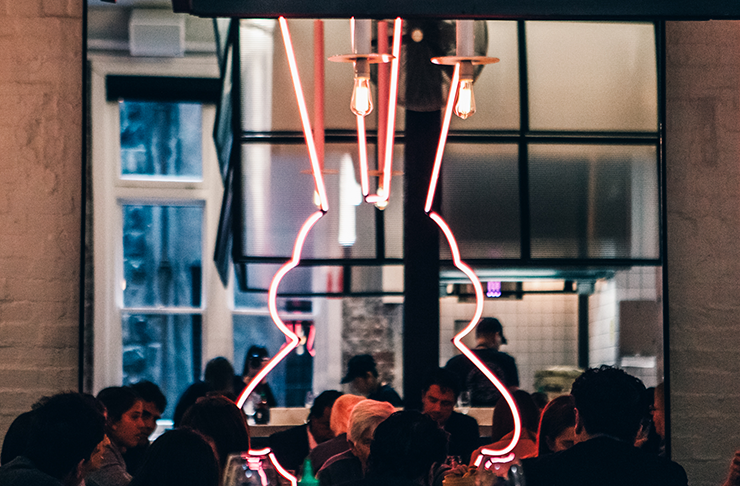 Poodle
FITZROY
A former pupil of Andrew McConnell and ex-head chef of Marion, Josh Fry's Poodle Bar & Bistro is one of the most refreshing restaurants to open throughout last year. With a modern style dining menu that fuses classic French, with Australian and Asian flavours you can expect to sample dishes like whole market fish with XO sauce butter, Warrigal greens and lemon, as well as their baked Parisian gnocchi with Fioretto, Taleggio, and hazelnuts. With checkered floors and white-washed brick walls there's laid back vibe at Poodle making it one of the best restaurants in Melbourne for casual dining, whether you're on the bar or seated at a table there's plenty of atmosphere to this spot.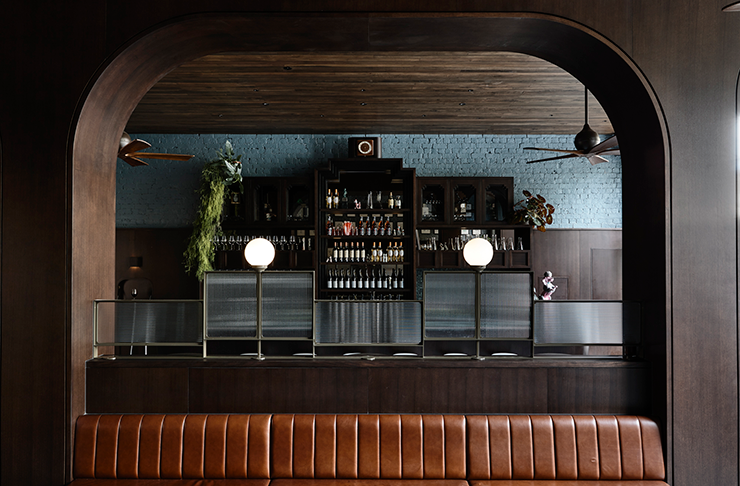 Mono-XO
COLLINGWOOD
You've probably seen Mono-XO's oysters—appropriately drenched in emulsified rice wine—across your IG feeds over the past year or two, and there's a good reason for that. Those oysters are just one of the many inventive dishes found on the Japanese-inspired menu that many return for at this 22-seat charmer. Diving deeper you'll find a scallop sando that'll likely become your favourite dish in Melbourne, and don't forget the delicate chicken + mushroom soup while you're there. In 2022, Mono-XO still goes under the radar, but make a booking and you'll quickly realise it's one of Melbourne's best restaurants.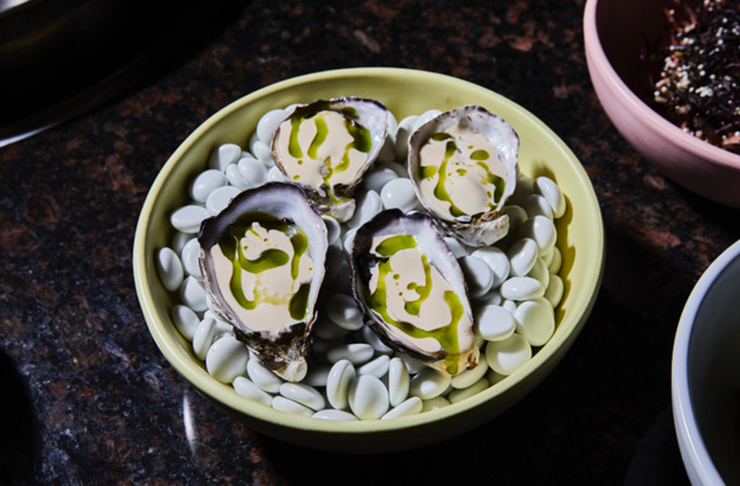 (Image credit: Parker Blain)
Copycat Bar & Restaurant
ELSTERNWICK
Taking over the former vodka stronghold of After The Tears, Copycat is quickly becoming one of the best restaurants in Melbourne's south. The venue is led by brother-run duo Nick and Zac Beerens (Mammoth Café Armadale) whilst the kitchen is headed up by executive chef Kevin Middleton (Donovan's, Naked for Satan). The chic diner just next door to the Classic Cinema has an easy allure, fancy enough to impress but without all the pretentious notions. The menu showcases diverse and quality local produce, a collection of dishes of uniquely Australian cuisine—all embued with a Euro-bistro flare. Go-to starters include the Japanese scallops with nduja dressing while larger plate options should be directed straight to the must-order spiced lamb shoulder with rose harissa—a real staple for the venue.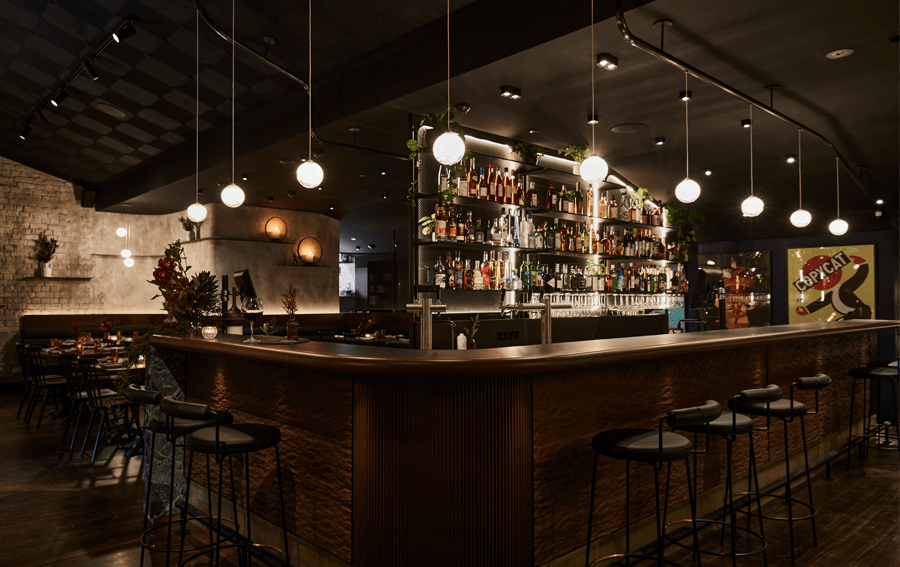 Moonhouse
BALACLAVA
Another feather in the cap of the already storied Commune Group, Moonhouse is the newest culinary destination from the Melbourne collective. Adding to the group's hospitality clout with venues like Hanoi Hannah, New Quarter and Firebird, Moonhouse is an elegant yet approachable two-storey modern Chinese-inspired bistro on Balaclava's Carlisle Street. The menu is laden with modern takes on timeless classics, from XO-sauce pippies with just the right amount of kick, a delicately balanced prawn toast, to an outright banging Hainanese chicken club sandwich. There are still hints of the Chinese influence of Moonhouse, take the seasonal jelly served in citrus skin which is a mature take on dessert and a nod to the tradition of serving fruit and jelly after a Chinese meal.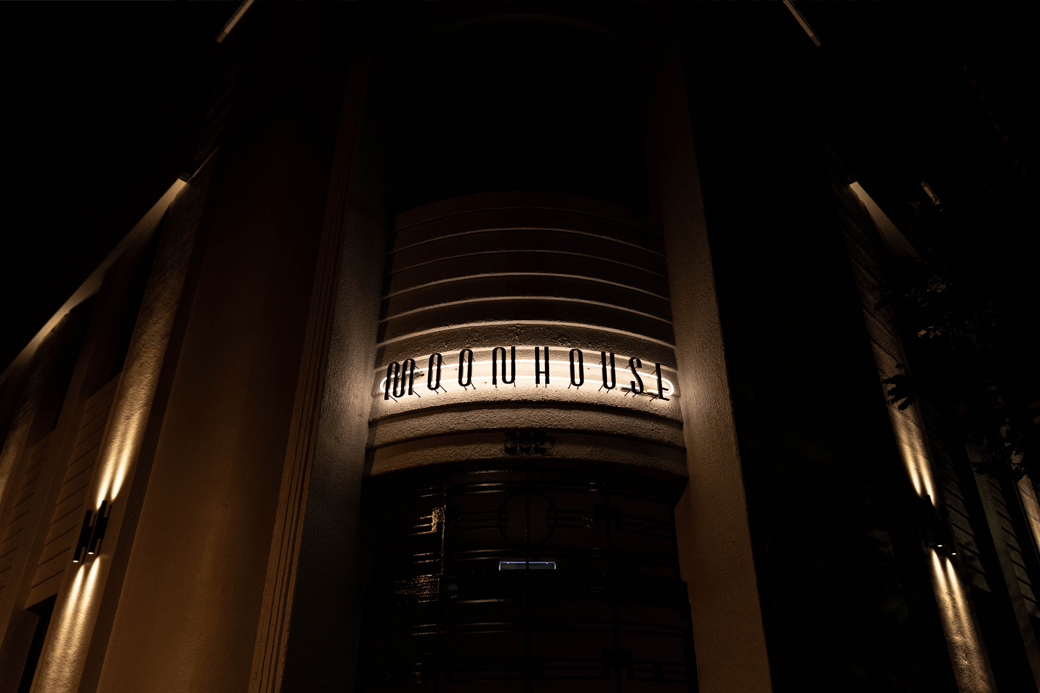 Florentino
CBD
The Florentino venue has been bringing classic fine dining to Melbourne since 1928 and into 2022. This mainstay on Melbourne's foodie scene under the guidance of Guy Grossi still pays attention to those small details from the white tablecloths to the shiny cutlery. The iconic building with its timber-panelled walls and heritage details plays host to the restaurant, the cellar bar and the grill. With true Italian attention to flavour and wine pairings, this restaurant is a must for every Melburnian at least once in your life.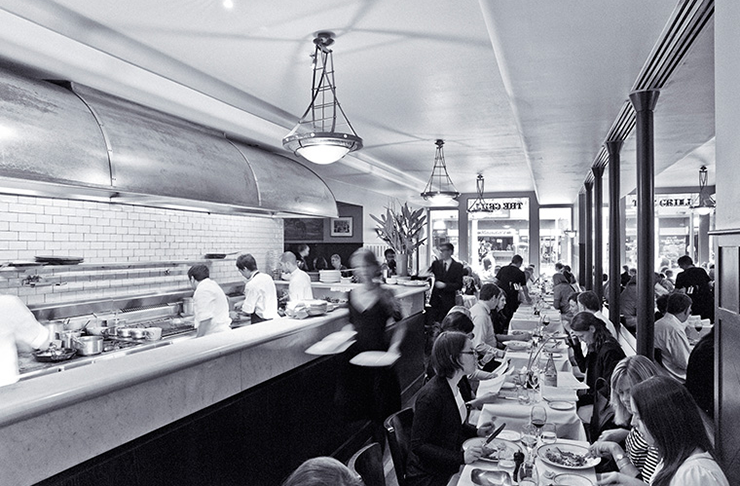 Supernormal
CBD
Just down the road from Chin Chin is the bustling Asian hot spot Supernormal—the brainchild of culinary extraordinaire Andrew McConnell. The menu is constantly changing, but it's always designed for sharing. You can go a la carte or order the banquet if you're feeling fancy. Supernormal is perfect for a family feast or dinner with foodie friends. They're also on Providoor for the ultimate lazy Friday night takeaway.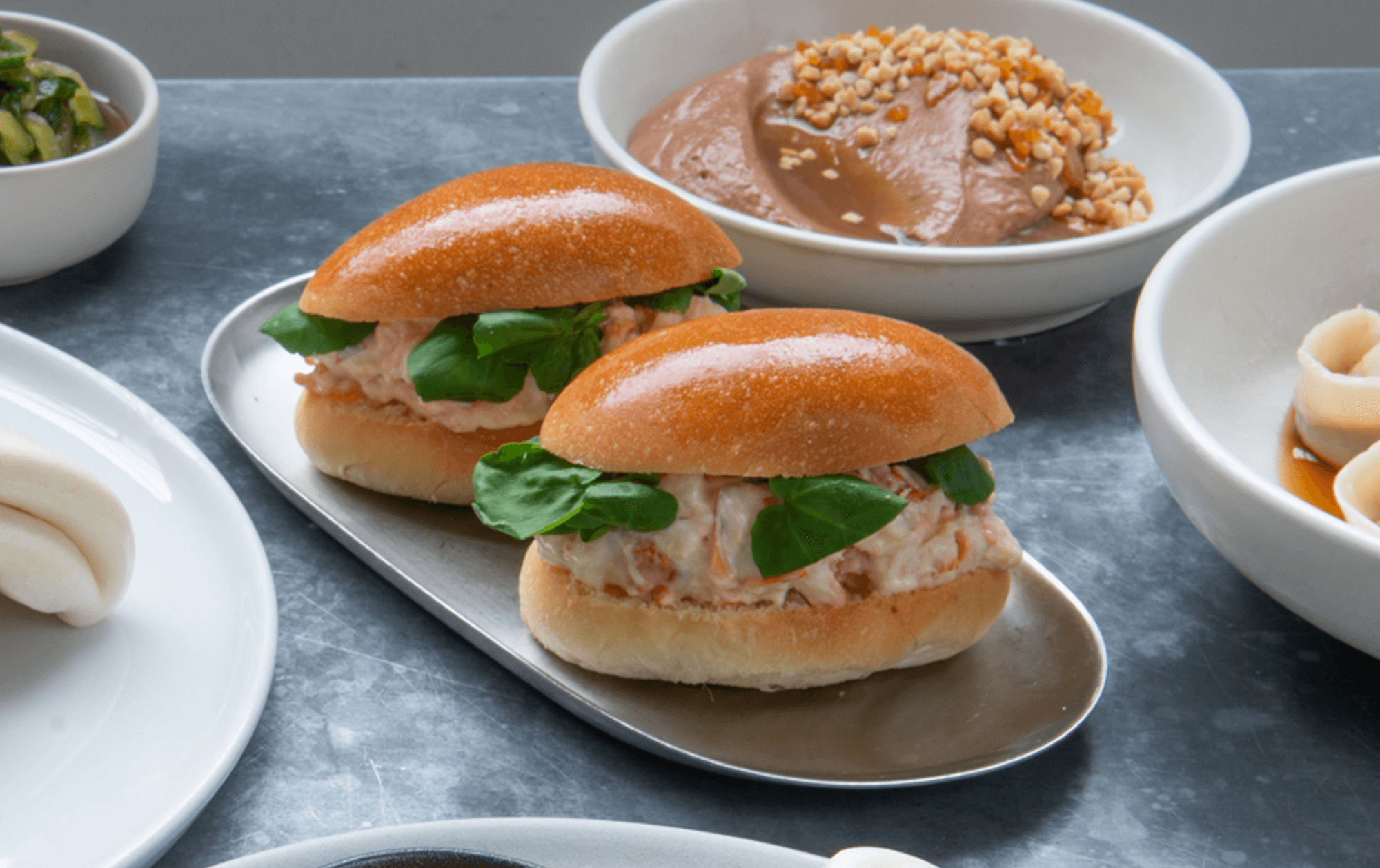 Cumulus Inc.
CBD
Cumulus Inc. is another one of Andrew McConnell's establishments, so you already know it's going to be one of the best restaurants Melbourne has to offer. It's one of Melbourne's favourite all-day eateries, serving up well-balanced dishes like tuna tartare with goats' cheese and crushed green peas, parmesan tart with truffle and endives, and snapper with braised leek and clams. Did we mention there's also a wine bar.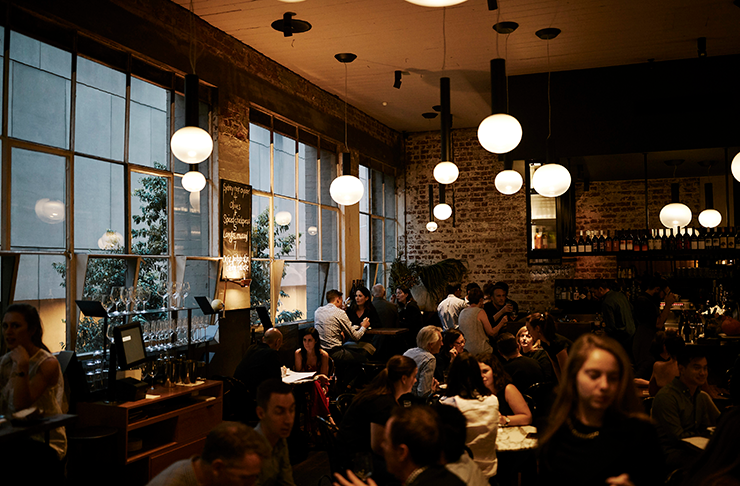 Pure South Dining
SOUTHBANK
Pure South Dining seafood lover's paradise is right on the edge of the Yarra in the heart of Southbank. The menu celebrates local produce from King Island, Flinders Island and Tasmania—hence the name. The team has a passion for sustainable and ethical sourcing, so with thirteen years of building relationships with farmers and fishermen behind them, you can tuck in knowing exactly where your food has come from.
Sunda Dining
CBD
An absolute marvel of South-Eastern Asian cuisine, Sunda puts a serious fine-dining lens onto the region. Led by chef Khanh Nguyen, a Vietnamese-Australian chef who has now achieved celebrity status, Sunda was his first restaurant in Melbourne and in 2022 it's known as one of the best. Dedicated to showcasing the fine dining qualities of South East Asian cuisine Nguyen has crafted a menu of Vietnamese, Malaysian, and Indonesian flavours. The menu champions the region with dishes like the Fremantle octopus, with lemongrass, bush tomato, and onion to the egg noodles, with xo sauce, chicken crackling, pepper berry prepare for your limitations of this cuisine to be dashed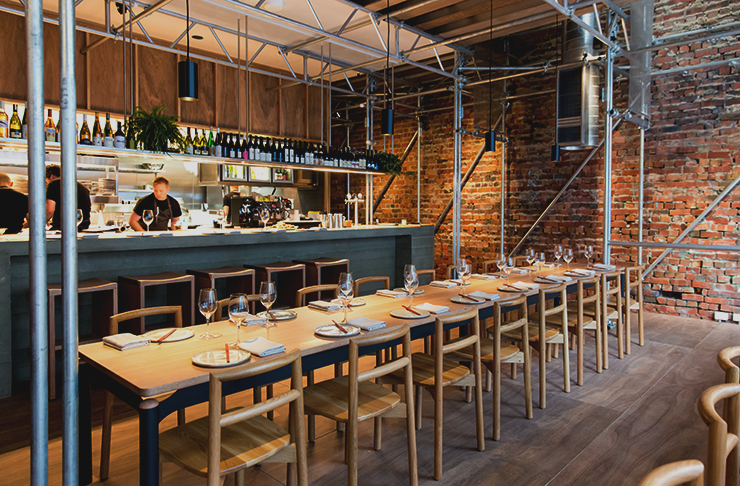 Lûmé
SOUTH MELBOURNE
You could be forgiven for walking right by this restaurant without even noticing it, but walking through the unassuming terrace entrance is like stepping into a culinary Narnia. The Lûmé menu is inspired by Victoria's ecosystems, drawing on native and wild ingredients. Each plate of food on their degustation menu is like a work of art, it's almost too pretty to eat—almost. It's definitely up there among the best restaurants Melbourne has to visit if you can find it.
Stokehouse
ST KILDA
The St Kilda seaside dining institution, Stokehouse which opened back in 1989 has long stood as one of the best restaurants Melbourne has to offer. Resting right on the foreshore, the floor-to-ceiling windows provide vistas of Port Phillip Bay, the inside is a light-filled space with pale-timber flooring and ceiling contrasting against white-clothed dining tables and chairs. Dining here plays on its coastal aesthetic with a Modern Australian menu laden with fish and seafood as well as top-grade cuts and local produce. With a focus on seasonality, Stokehouse's selection is ever-changing, from their current spring offering including smaller plates like a snapper crab Vol-Au-Vent to the seared coral trout which is served with a spiced abalone butter and a Cimi di Rapa.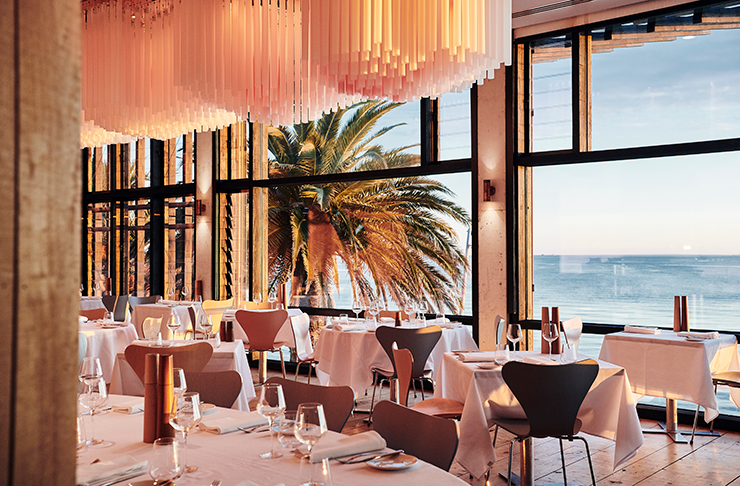 Embla
CBD
Embla is the epitome of quality Melbourne restaurants, a small intimate space that is always packed to the brim with eager diners and an array of wait staff who are well-versed in guiding you through the culinary experience, offering sage advice and recommendations. It may be a tighter space than others, but the charm of Embla is what's made it such a popular spot. With a stellar range of wines and a menu of modern cuisine, it's an award-winning pair and has established itself as one of the best restaurants in Melbourne's CBD. The menu is based around seasonal produce and focuses heavily on local suppliers and regional producers, which means the dishes change regularly keeping things fresh and giving you a reason for repeat visits.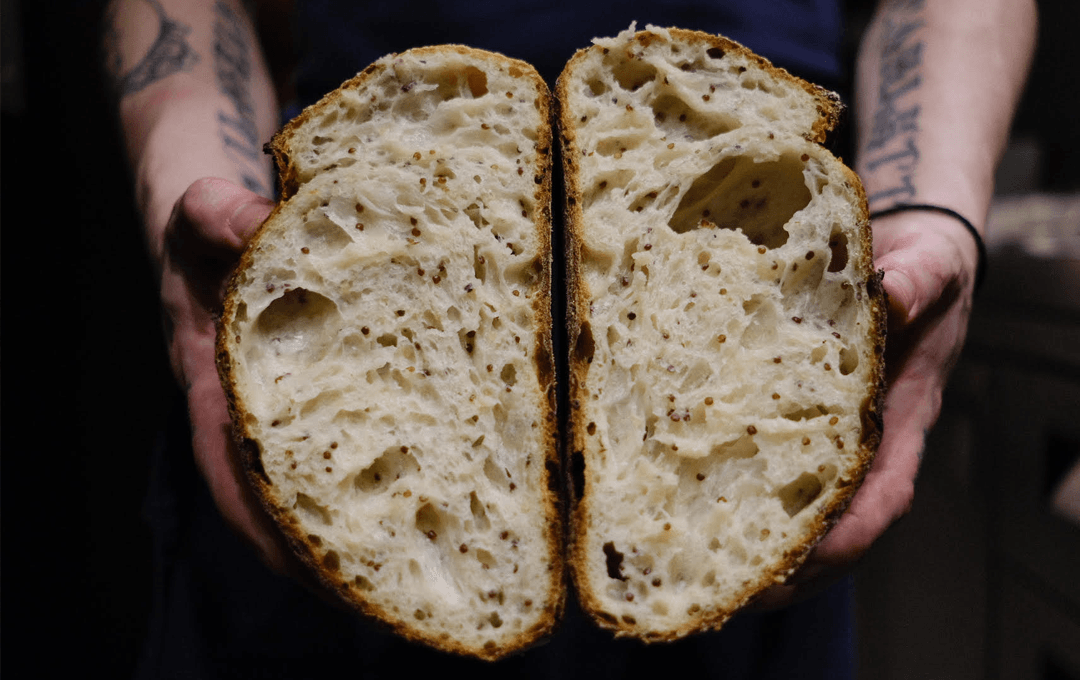 Smith St Bistrot
COLLINGWOOD
One of the best restaurants to open in Melbourne this year, Scott Pickett's dedicated-French diner, Smith St Bistrot harkens back to the 20th-century brasseries and speakeasies of Paris. Perched right in the thick of it of Collingwood, the 70-seat space is adorned with rich marble tables, chandelier lighting, a mezzanine level, and a private dining area, aptly named 'La Vie En Rose'. The menu unsurprisingly is a celebration of French cuisine, with several contemporary twists straight from the mind of Pickett, start with a selection of different origin caviar, then move onto the Vol-au-vent D'Escargot, and tackle the timeless, dry-aged eye fillet with a rich peppercorn jus. Dessert is suitably decadent and includes several staples of the cuisine, including a raspberry souffle and a timeless creme caramel.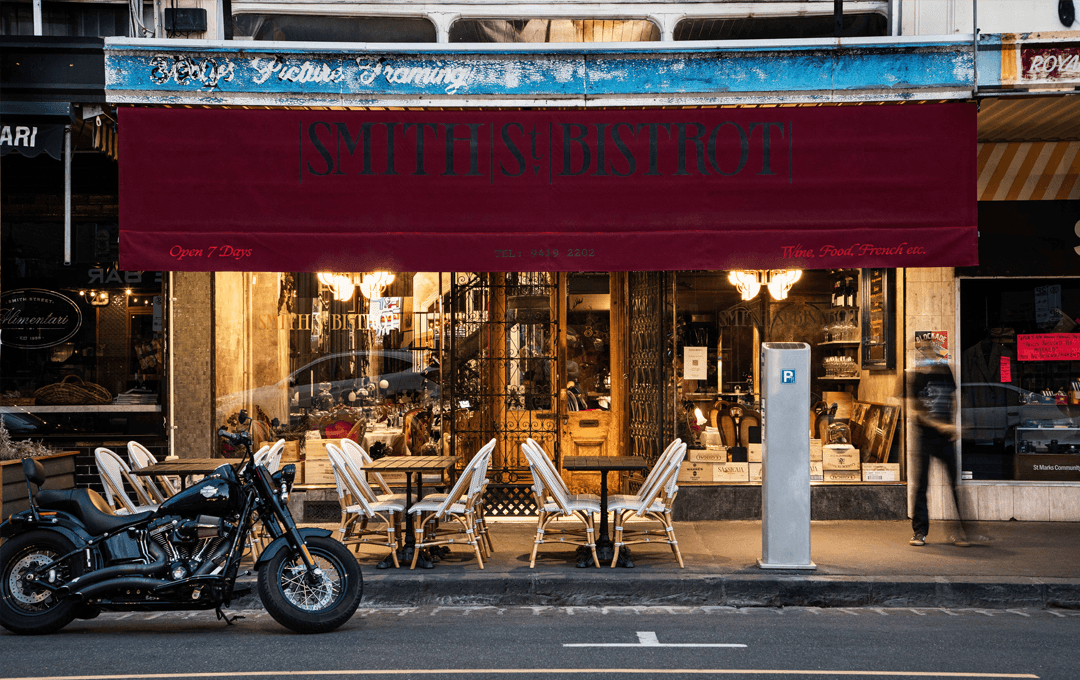 Atlas
SOUTH YARRA
Inspired by global travels and flavours, Charlie Carrington and his team of chefs at Atlas have created an evolving restaurant which brings the world to Melbourne. Every few months, the restaurant is transformed according to the cuisine. Travel the world through your taste buds in this fine dining experience like no other—reserve your seats in advance because this globe-trotting restaurant is regularly booked out.
Society
CBD
A crown jewel of Melbourne's culinary scene, Society is an experience beyond dining. The opulent, Manhattan-inspired bistro and bar hidden within the Collins Street precinct is completely multi-sensory, from the elevator up to the entrance, to the chandelier-adorned restaurant, a cavernous space that somehow still feels vibey and intimate. Although incredibly fancy, Society's charm is in its way to disarm any pretentious notions, sure it's not your every-week restaurant but it's a hell of a place to celebrate. The menu is minimal in choice but looms large in variety and flavour; starters like caviar served up alongside brioche rolls and crème fraîche is a no-brainer, and show-stopping mains like the Bouef En Croute (which is hand-carved tableside) make the journey all the more memorable, and is just one reason it makes the best restaurants Melbourne list in 2022.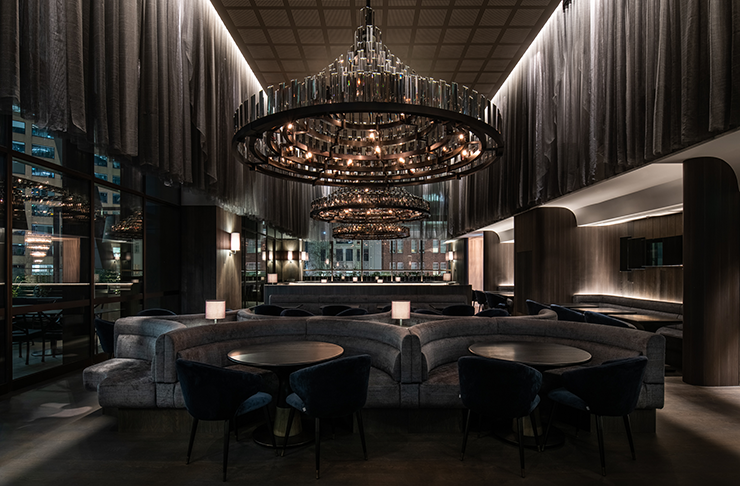 France-Soir
SOUTH YARRA
This authentic French brasserie is not for the faint-hearted. It's busy and noisy and chaotic, but that's all part of the charm. The food in this South Yarra establishment screams classic french sophistication and the wine list reads like a book. Don't stress if you don't know your French wines though, the waiters at France-Soir are there to point you in the right direction.
Il Bacaro
CBD
The Italian restaurant with a longstanding history in Melbourne's CBD, after a recent refresh it has become a staple of fine dining. In lieu of typical large portion pasta dishes and carb-heavy entree's Il Bacaro and its menu is focused on regional Venetian cuisine providing a more refined and thoughtful approach to its culinary offering. Helmed by Chef David Dellai, who has curated a selection of dishes that showcase the region's classical pairings such as beef tartare with bone marrow Brulee and wild mushrooms— or their crowd favourite Spaghettini with Moreton Bay Bugs, garlic, chilli, and rocket. In atmosphere and cuisine, Il Bacaro has cemented itself as one the best Italian restaurants Melbourne has to offer.
IDES
FITZROY
A True chef's chef, Peter Gunn has quite the CV in Melbourne, formerly the sous chef of prized-diner Attica. His restaurant IDES on Smith Street in Collingwood is a future-forward exploration of what dining is all about; technique-heavy dishes that are designed and delivered with impeccable skill. The sleek intimate and modern-designed space is the ideal backdrop for the modern interpretations straight from the mind of Gunn, stunning plates that are ever-changing from a warmed egg yolk served atop celeriac and shiso seeds to a white-cut pork belly with a spicy prawn dressing.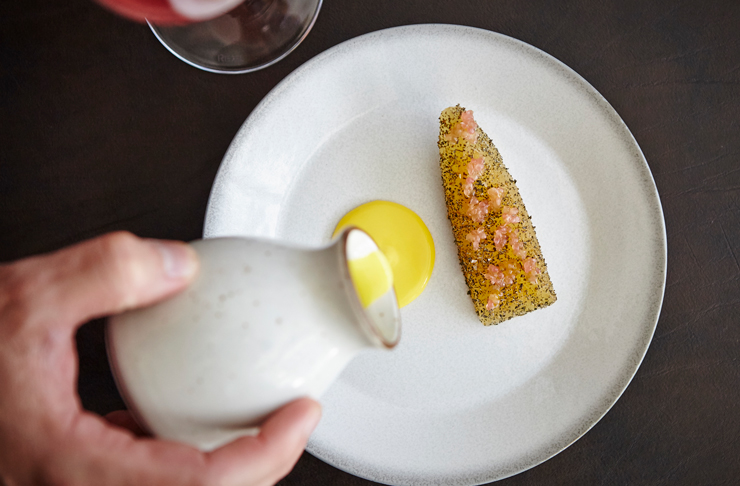 Noir
RICHMOND
You'll find this moody french restaurant along Swan Street, just a short walk from the hustle and bustle around Richmond station and the Corner Hotel. Noir's modern menu has been cultivated by Irish head chef Peter Roddy and is inspired by the bistros of southern France. With over 100 beverage options to choose from, you can settle in here for an indulgent evening with some of the best french food in Melbourne.
Marion
FITZROY
Part neighbourhood wine bar, part fine diner, Marion is all the things that we've come to love from Andrew McConnell's restaurants. The next-door neighbour to Cutler & Co, Marion has a much more accessible and laid back feel to it. The menu is meant for sharing and consists of a range of small and large plates, kick-off with some Blackmore wagyu bresaola then dive into some mussels with Nduja with fried bread, lovage, and aioli. In terms of wine you're spoilt for choice, the team on the floor are incredibly knowledgeable and will help you select a winner from the 20-plus page wine list that features bottles from across the world's top wine regions as well as quality Australian drops.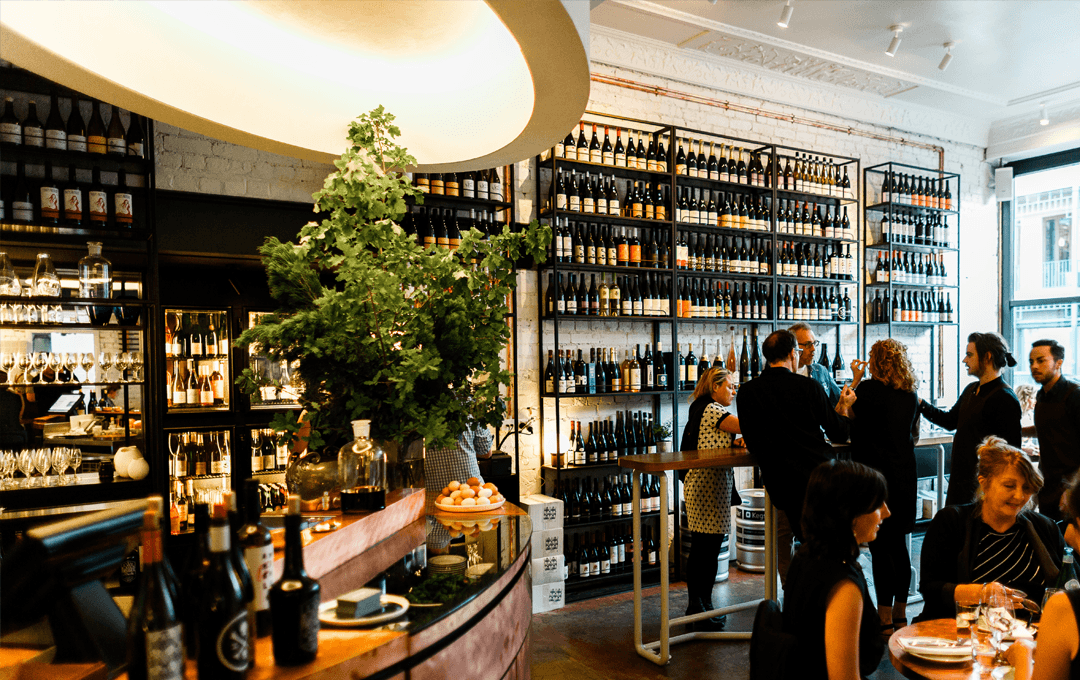 Minamishima
RICHMOND
Minamishimia in Richmond serves the omakase of Chef Koichi Minamishima. With 25 years experience behind him, this chef is known for his A-grade sashimi. You get one piece at a time, prepped with loving care and incredible attention to detail. If you want to impress some out-of-towners, this is a pretty good place to start. We don't throw around terms like 'Melbourne's best sushi' lightly, but this might just qualify for it as well as one of 'Melbourne's best restaurants'.
Transformer
FITZROY
As the more sophisticated big sister to Fitzroy favourite Veggie Bar, Transformer takes vegetarian food to a whole new level. The tasting plates are enough to make even the biggest carnivores question their preferences. The green walls and high ceilings with exposed beams will make you feel like you've stepped into New York, but with that Brunswick Street style, we all love. Definitely, one of the best vegetarian restaurants Melbourne has to offer.
Nomad
CBD
Sydney's famed Mediterranean diner in Surry Hills has made the trip south and set up its second locale in the swank-filled Flinders Lane. Hospitality royalty in New South Wales' culinary community, Nomad made its bones impressing Sydney diners with their quirky reinterpretations to classic Euro-style cuisine including their insanely popular duck mortadella. The second Nomad iteration is situated on the ground floor of the Adelphi Hotel and features the signature wood-fired oven and house flatbread that helped the diner rise to fame. Owners, Rebecca and Al Yazbek have a strong local focus for NOMAD Melbourne; utilising local produce, creating relationships with local suppliers and farmers to ensure the highest quality, and also helping create a new identity to the Sydney counterpart. The 100-seat diner may be new, but its quickly earned the accolade of one of Melbourne's best restaurants.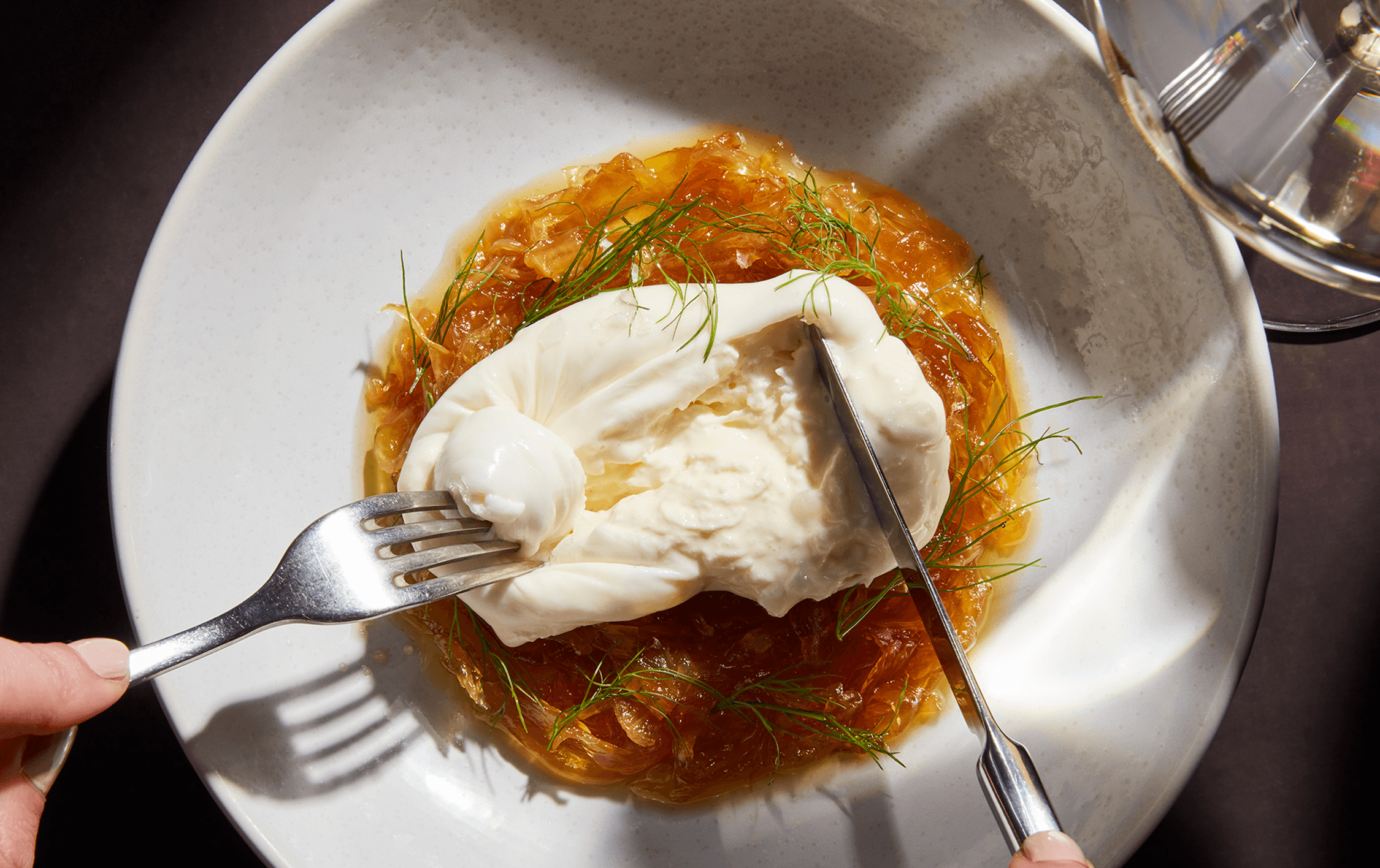 Hope St Radio
COLLINGWOOD
Not only is it a home for the community-centric radio station which welcomes a raft of different musical talent it is also a fully-fledged wine bar and restaurant. With the food handled by home-grown hero Ellie Bouhadana of Ellie's Table, the menu is brimming with her penchant for handmade pasta, local produce and seasonal dishes. Sample fresh Pappardelle with rabbit and nettle or Antipasti of focaccia with whipped garlic and thyme butter alongside a list of wines from local and international makers. Situated in the newly-minted Collingwood Yards, this restaurant is a beacon of culinary culture for the co-op establishment and is more than deserving of a spot on 'Melbourne's best restaurants' list.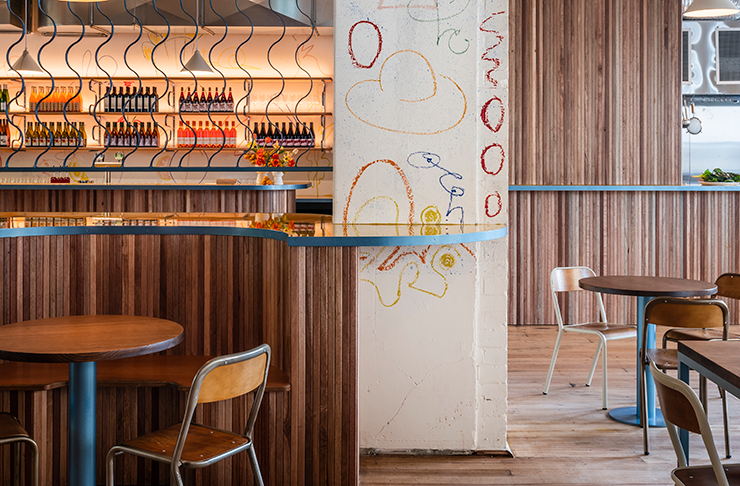 Flower Drum
CBD
Chances are if you live in Melbourne, you've heard of Flower Drum. The Chinese restaurant is one of the best restaurants Melbourne has to offer. The fine-diner is known for its legacy as a Chinese culinary institution with its elegant interior, elite service, and a gold-standard repertoire of Cantonese dishes. With lunch and dinner banquet menus, the hard guesswork goes right out the window and you're left with a bountiful selection of plates that imprint long-lasting memories on your tastebuds. You have to try their sesame-marinated jellyfish, prawn and chives Har Gao or spring onion pastry filled with pork.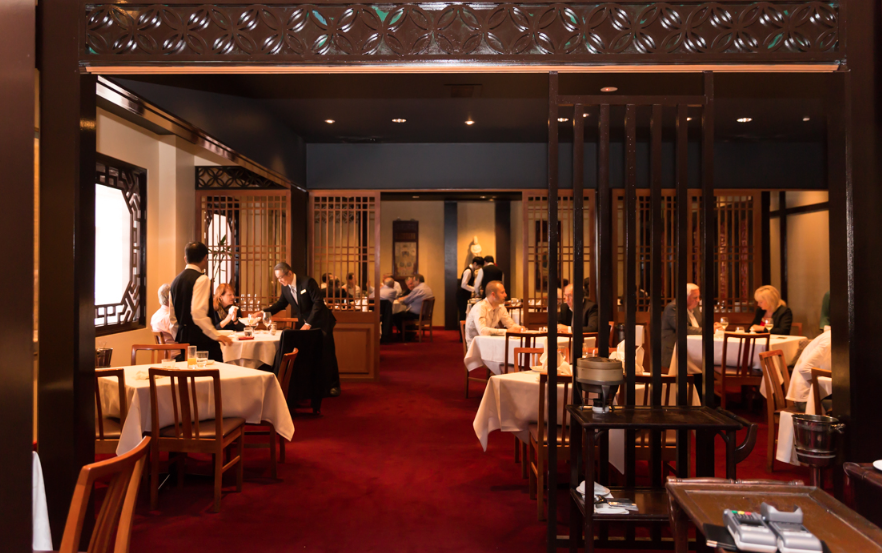 Etta
BRUNSWICK EAST
Walking into Etta feels like you've been invited into a good friend's house, and that good friend happens to be really damn talented in the kitchen. This contemporary diner focuses on local ingredients and bold, wholesome flavours—highlights include the stracciatella, and the raw beef and salted mushrooms, which you can order as a snack in the cosy front bar or as part of a full menu experience in the adjoining dining room.
Lee Ho Fook
CBD
Follow the neon light down the alleyway and step into the dimly lit, rendered brick walls of chef Victor Liong's, Lee Ho Fook. Dining here will rid you of your preconceived notions of Chinese fine dining as Victor's modern approach pairs the legacy of traditional dishes with his own creative interpretation take the smoked eel foie gras with candied konbu and pink peppercorn or pork jowl with Warragul greens, and a star anise roast duck sauce. There's also a dizzying amount of wines on offer but with wine pairing menu options you can leave it to the in-house sommeliers.
Osteria Illaria
CBD
The concept is based on a modern Italian osteria: a casual wine bar and eatery where you can kick back with a glass of wine and a slew of modern Italian-inspired dishes. Just up the hill from Tipo 00 on Little Bourke Street, Osteria Illaria has a bold white fit out with all patchwork paint and sleek bistro furniture, with a big open kitchen full of flashing pans and sizzling octopus on the grill. The menu is classically compact and effortlessly classy. Start with a cocktail spritz then tuck into scallops with friggitelli peppers and guanciale (pork-cheek salami) or snapper tartare then move onto a black Angus scotch fillet with black garlic and potato. If you're a fan of Tipo 00, you owe it to yourself to check out Osteria. With Papadakis and manager Luke Skidmore at the helm, you're in safe hands.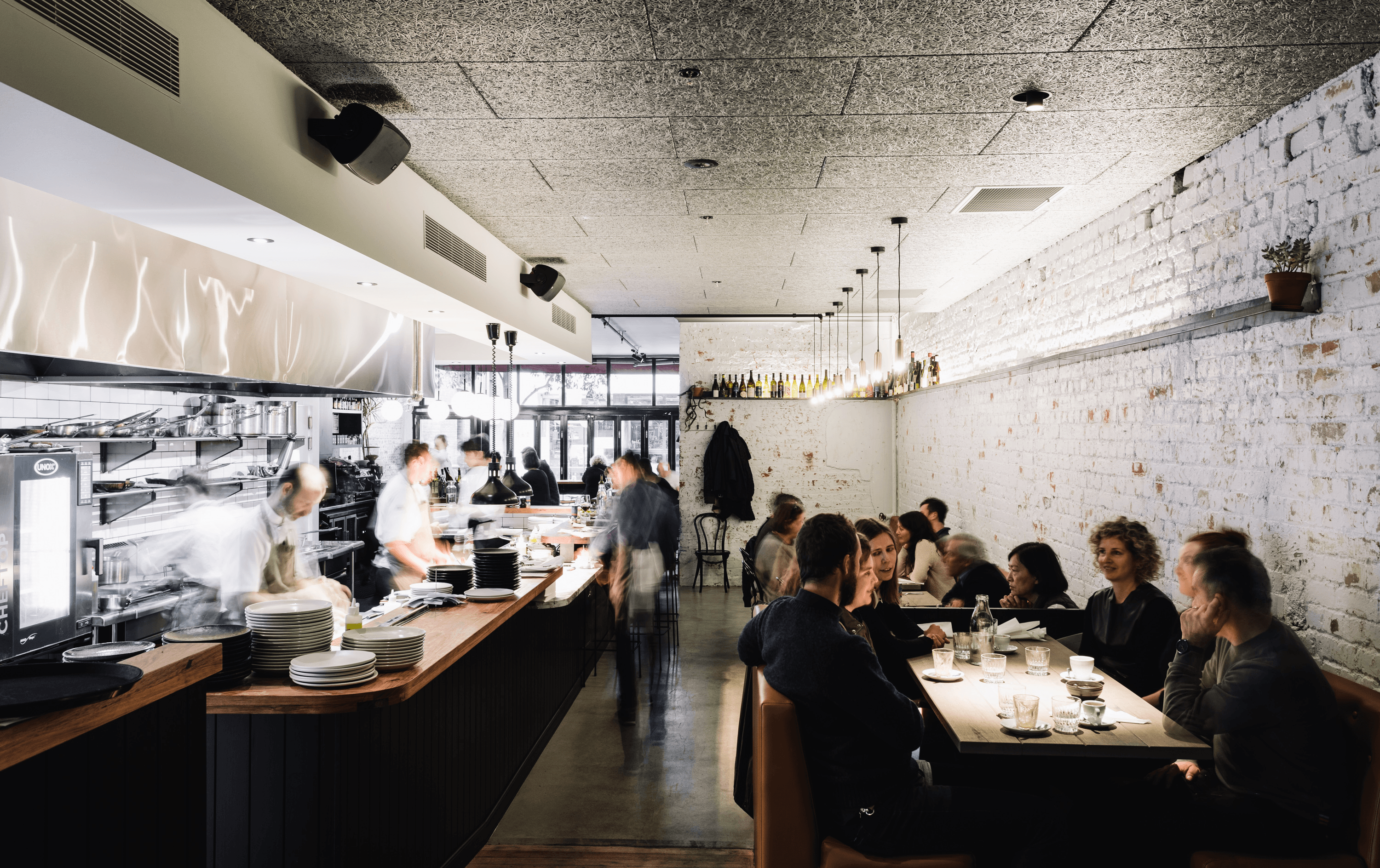 Cutler & Co
FITZROY
Another Fitzroy institution, Cutler & Co. pretty much set the scene for the culinary destination that Gertrude Street would become. Andrew McConnell opened this place back in 2009 and has since stood as one of the best restaurants in Melbourne. The idea was to celebrate local produce and execute it with flair and sophistication. Think timeless classics fused with a contemporary accent like the kangaroo tartare tart to the wood-grilled Gundagai lamb with zucchini blossom and fried anchovy. It certainly won't be inexpensive but it will be one you will never forget.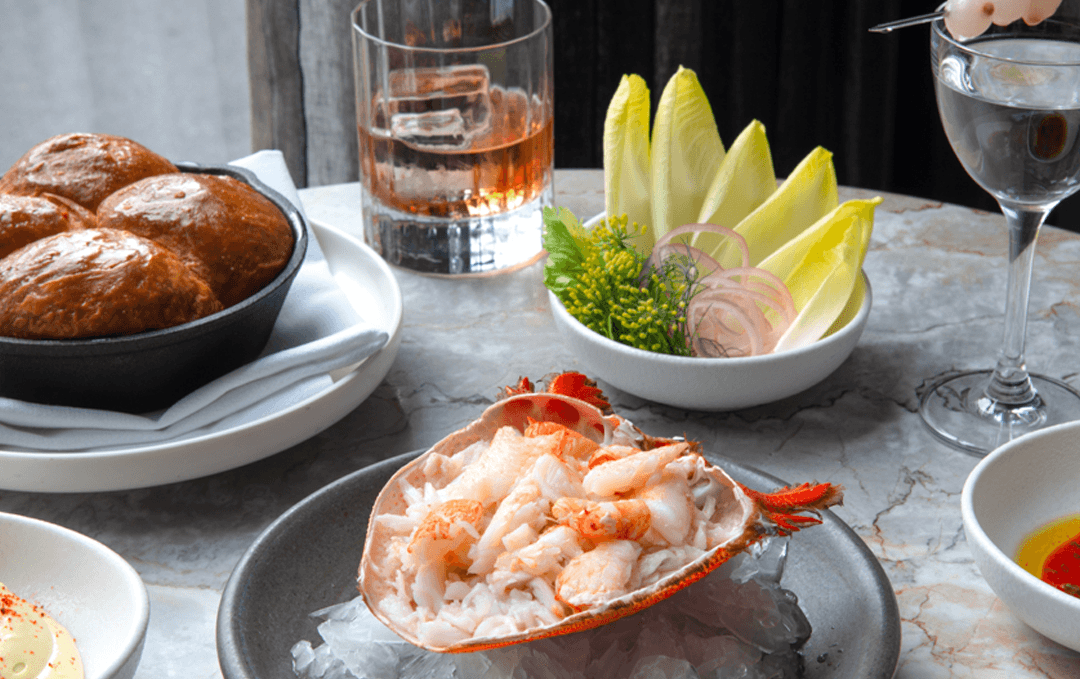 Bar Liberty
FITZROY
Bar Liberty's vandalised hanging sign tells you all you need to know about this irreverent diner on Johnston Street. Helmed by a team whose collective experience includes Cutler & Co, Rockwell & Sons, and Attica; this Fitzroy local has it finely dialled. The intimately spaced restaurant has a classically minimal fit out with dark-stained wooden and white-washed walls and is filled with a team who well and truly know a thing a two. The menu is has a seasonal focus and will incorporate contemporary dishes with an inventive flair; from torched kingfish to wood-grilled hanger steak with sauce Robert, capers, and parsley. The drinks menu is just as much as a drawcard with an extensive but carefully curated wine list of natural, pet-nats, reds, whites, and even orange drops; or try their in-house bottled Negronis that go down far too easily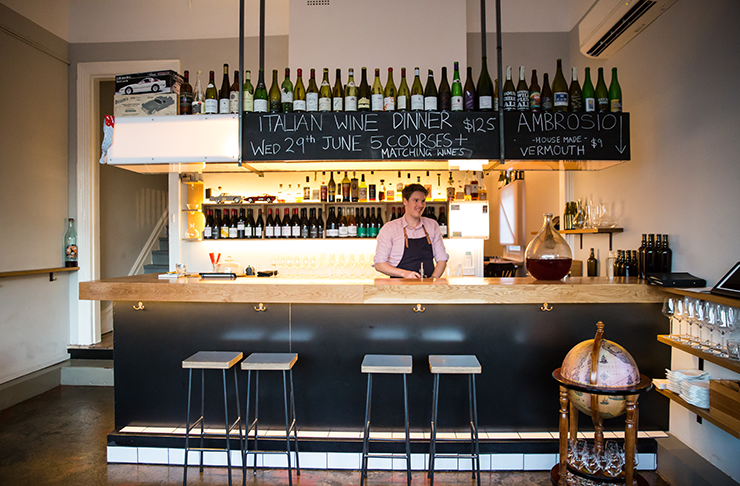 Neighbourhood Wine
FITZROY NORTH
Neighbourhood Wine is one of our favourite wine bars and restaurants in Fitzroy North—combines great local wines and a fantastic seasonal menu in one of the quaintest spaces in Melbourne. The former Fitzroy club room has been transformed into a sleek space with plenty of charm with a set menu that focuses on local produce and accommodates the wine perfectly. You can expect a fusion of contemporary plates from hand-made tagliatelle with artichoke and Ricotta Salata, to flank steak with XO butter.
ARU
CBD
Just when you thought chef, Khanh Nguyen couldn't top his Punch Lane diner, Sunda he goes and doubles down with ARU. The second CBD-situated diner opened up in the middle of 2022 and has been in the ranks of the best restaurants in Melbourne ever since. Playing of his repertoire and heritage of Asian flavours, ARU boldly explores the potential of Nguyen's inventiveness with a menu loaded with clever interpretations of staple dishes like the duck sausage sanga an extremely dialled-up take on a Bunnings snag with leatherwood honey, fried onion and peanuts. But perhaps the most notorious menu item since opening has to be the flavours of banh mi pate, a remarkably instagrammable 'pate en croute' fusing his Nguyen's Vietnamese heritage alongside classical french cuisine.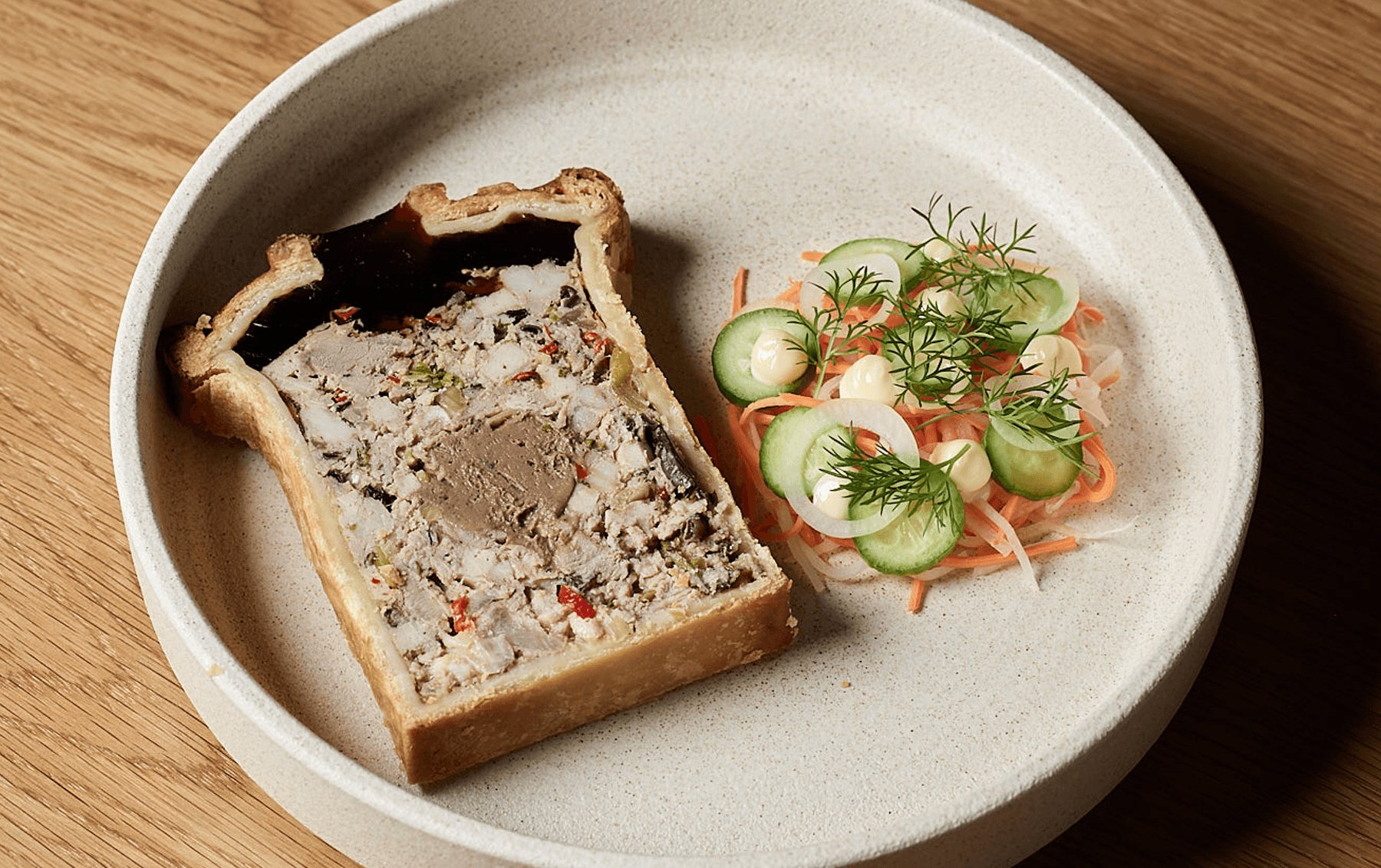 Acre
BURWOOD
Tucked away in the sleepy south-east suburb of Burwood, Acre is one of the best new restaurants in Melbourne, offering farm to table meals with pristine views out across the Dandenong Ranges. Ingredients are picked fresh from the rooftop garden and greenhouse surrounding the restaurant, creating an urban oasis on the roof of the Burwood Brickworks shopping centre. You can wander through the veggie patches and say hello to the quail coop in this urban farm before sipping a G&T and tucking into a deliciously fresh lunch or dinner.
Navi
YARRAVILLE
Navi is an intimate, degustation-only restaurant bringing fine dining to the inner-west. Head chef Julian Hills serves up experimental and wonderful delights you won't get anywhere else—we're talking brook trout roe macarons, slow-roasted tamarillo and truffle ice cream and wattleseed chocolate caramel.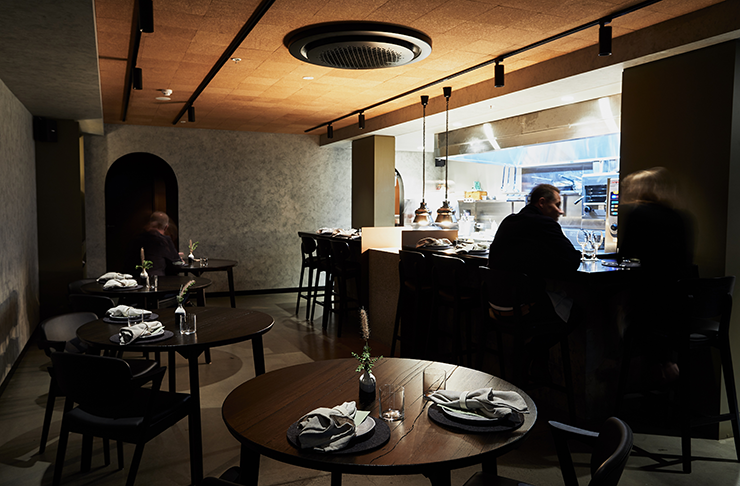 Attica
RIPPONLEA
Attica doesn't really need much of an introduction. It's got three hats and regularly features as one of the World's 50 Best Restaurants. Led by chef wonder Ben Shewry whose creative and culinary mind has helped build the restaurant up to the international success that it is. Expect the unexpected with dishes like whipped emu egg and black ant lamington on offer. Lock this one in for a special occasion at one of Melbourne's best restaurants—plan ahead here because tables fill up weeks in advance.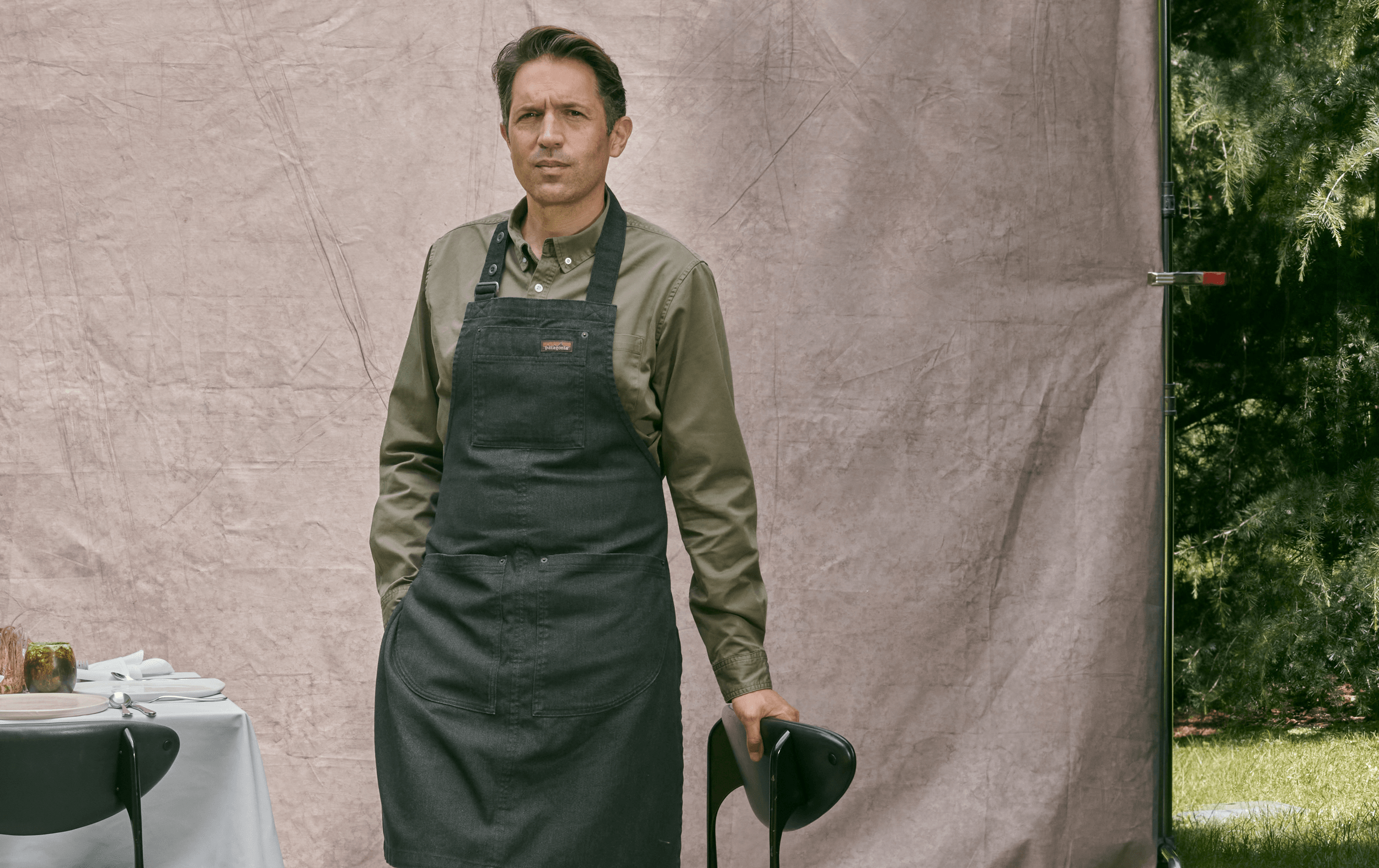 Chancery Lane
CBD
The fine diner on Collins Street from Scott Pickett hasn't been around for a long time, but it has made some serious noise and has already started to establish itself as one of the best restaurants Melbourne has. Self-described as a 'classic bistro with an edge' Chancery Lane oozes decadence with rich euro-centric dining. The dimly lit and dark feature restaurant has shadowy marble benchtops with a mixture of table and booth dining centred around the bar. Scott's Euro-inspired menu ranges from smaller plates including four different caviars to Tasmania's Robbin Island Wagyu tartare to main plates of dry-aged Milawa duck, to grass-fed Hereford rib-eye.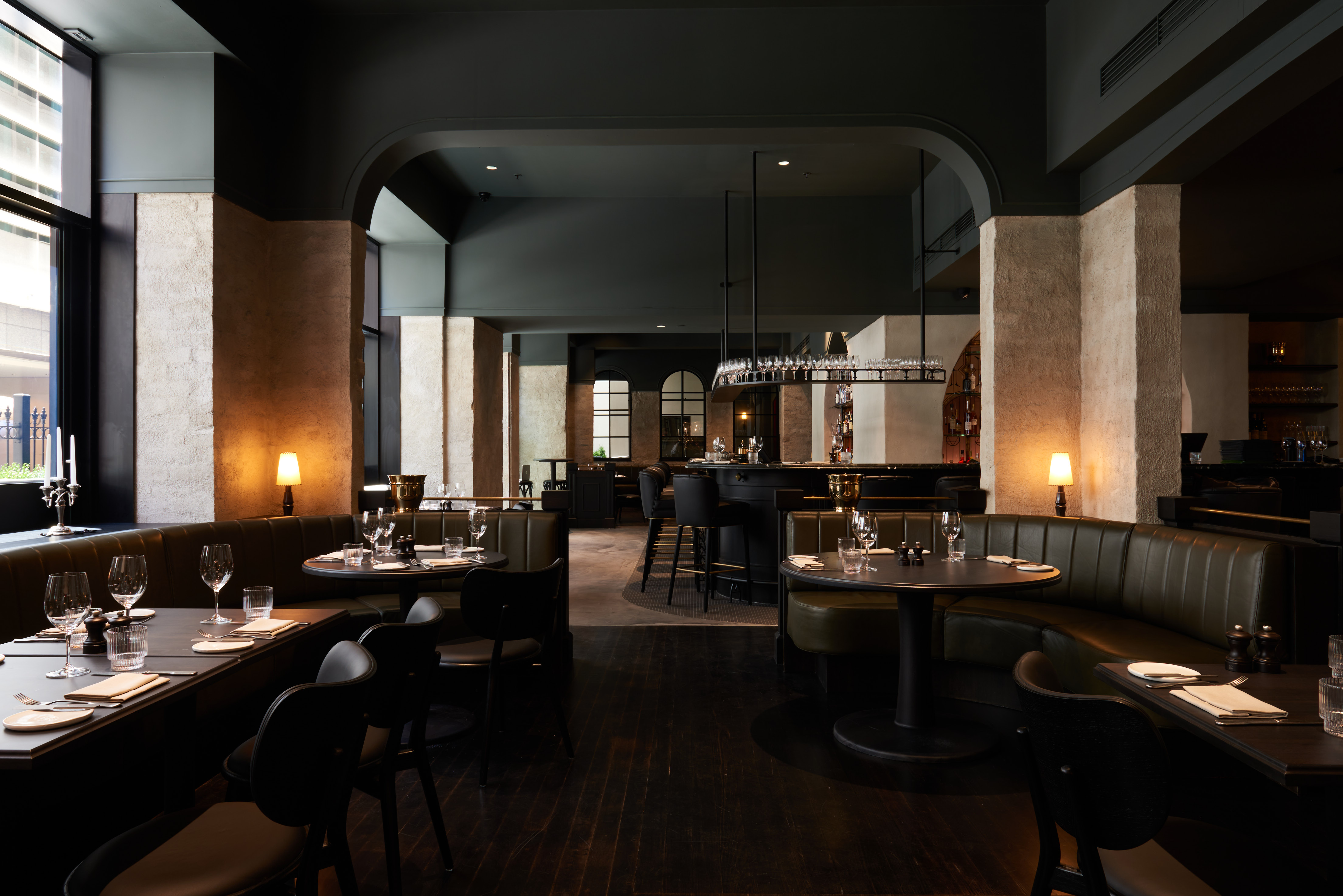 Epocha
CARLTON
There's no better place for a swanky European meal than right outside Carlton Gardens, and Epocha has the view set up just right for you. With menu influences reaching from souther and central Europe, there are dishes that encompass the wide diverse flavours of the region. Dressed in a gorgeous 19th-century building, lunch is usually a la carte, with a special roast lunch on Sundays, but dinner is at least three courses, with dishes such as Aylesbury duck with Jerusalem artichoke and pear, charred cauliflower with oyster mushrooms and saltbush, and slow cooked beef cheek with heirloom beetroot and kohlrabi.

Image credit:
Maha | Brook James
Navi | Griffin Simm
Poodle | Derek Swalwell
Chancery Lane | Tania Bahr-Vollrath
Gimlet | Sharyn Cairns
Mono-XO | Parker Blain
Attica | Josh Robenstone
Sunda Dining | Jenna Fahey White
Aru | Kristoffer Paulsen
Osteria Illaria | Griffin Simm
Cumulus Inc | Kristoffer Paulsen