It's no secret that Melbourne's CBD is home to some of the best restaurants in the world, our innovative and ever-expanding dining scene continues to flourish and year on year we're treated to standout to new spots planting their flag in the culinary ground.
It can be hard to navigate this gastronomic community so we've saved you the time. From cheap to charm-the-heck-out-of-them, here's where to find the best restaurants in Melbourne CBD for 2022.
Sunda
Sitting up on Punch lane on the top end of the city Sunda is a truly unique experience, its wide glass shop front leads into a seated area that wraps around an open plan kitchen. Sunda's dining offering is a unique combination of Vietnamese-based dishes with heavy Malaysian and Indonesian influences, two cuisines previously underrepresented in Melbourne's fine dining space.
Led by Khanh Nguyen the menu features two tasting menus, with Sunda classics like smoked scallop, betel leaf, desert lime, and cucumber—egg noodles with xo sauce, chicken crackling, and pepperberry. Sunda is easily one of the best CBD restaurants Melbourne's got, and will have you reconsidering your perception of South-East Asian cuisine.
Butcher's Diner
Those after a quick feed at any time of day—or night—need look no further than Butcher's Diner. First thing's first, as the name eludes to, they take their meat seriously with much of it aged in-house. Get started with the basics done right, like steak and eggs or a cheeseburger that has to be one of the best in the CBD; otherwise, try something different like a pork tongue skewer and pair it up with one of the many brews on offer at one of Melbourne's best spots for a casual feed.
Pellegrini's
A mainstay to Melbourne CBD and for good reason. This casual Italian diner is a go-to for the 9 to 5ers and the afterhour warriors alike; here you'll find classic bolognese and hefty slabs of lasagne at a very, very reasonable price point. Don't forget to wash it all down with a glass of the house granita.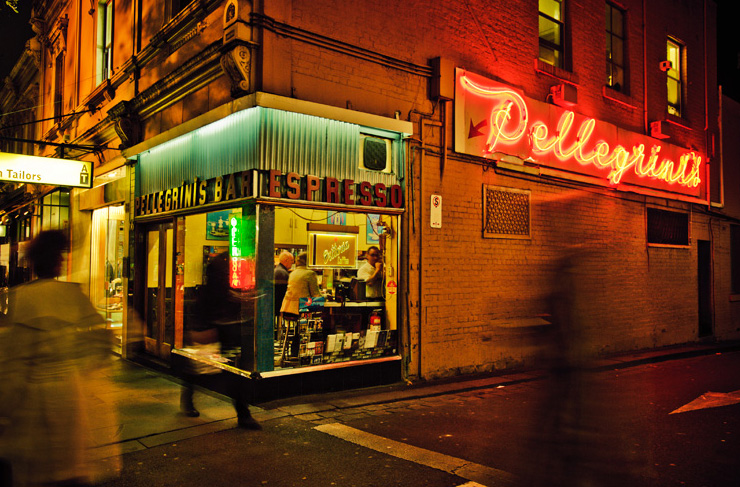 Aru
One of the CBD's most anticipated openings for 2022 was Khanh Nguyen's ARU. Here, Nguyen brings together Australian and Indonesian flavours under a fine dining lens. You'll find plenty of flamed-licked meats, seafood and fish on the menu where this trailblazing chef employs foundational processes like fermentation, smoking, curing and preserving to create one of Melbourne's most unique menus. The dry-aged duck is just one of the heroes here, but another that you've likely seen posted on your feeds is the Pate En Croute, which is reminiscent of a banh mi encapsulated in delicate pastry.
Embla
Since Embla opened in Melbourne's CBD it has ingrained itself in the fine dining scene. Widely popular due to the laid-back vibe that it emits and the distinctly modern Australian dishes that rotate through seasonal menus like Pipis, butter beans, butter beans, and basil—stracciatella, oyster mushroom, almond xo there's always something beautifully paired to dive into.
The intimately spaced dining of Embla and waitstaff devoid of pretentiousness is the perfect environment for sampling share plates among friends or dividing a set menu amongst a significant other. Making it one of the best restaurants CBD Melbourne has on offer.
Dom's Social
Hidden up an inconspicuous staircase off Swanston Street, Dom's Social is three levels of good times and stellar pizza. The dining room is vibey enough for a date, while the pool room is perfect for you and a few mates; you can choose your own adventure when it comes to the bill at the end of the night with a pizza and a drink coming in at under $50 with the right selections. Those willing to go all out will relish in a killer selection of Lambrusco by the bottle that'll balance out that porchini and truffle pie, or maybe you're more inclined toward a mortadella and honey number.
Gimlet | At Cavendish House
Step back almost a century into the very definition of the work 'swank'. Gimlet is the latest addition to the Andrew McConnel empire and joins the ranks of other highly-praised AMC favourites (Supernormal, Cumulus, Marion, Cutler & Co).
Modelled with an early nineteenth-century design that harkens back to grand hotels of 1920's era London and New York Gimlet is a fanciful affair. The menu is significantly more modern than the space, it's a fusion of traditional European cuisine with a classic McConnell flair of modernity, for example, the Southern rock lobster, wood-roasted in saffron rice with "bisque" sauce.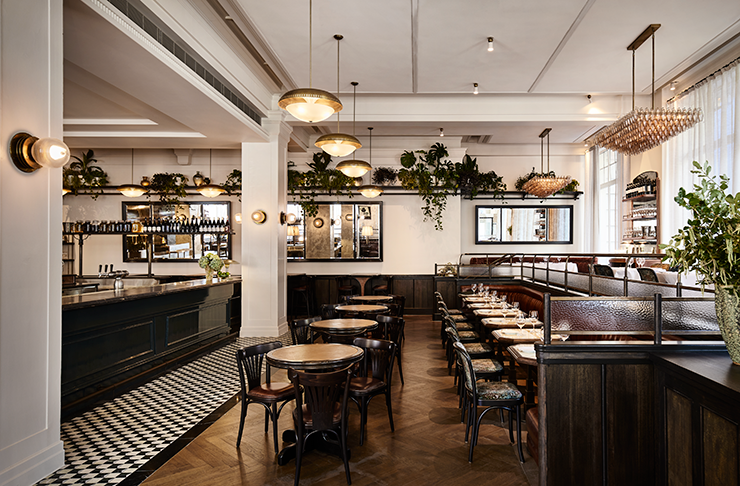 Serai
Serai opened earlier in 2022, but the groundswell of noise has been almost deafening, and for good reason, owners Ross Magnaye, Shane Stafford and Ben Waters are serving up some of the most interesting food in Melbourne. You'll find a Filipino influence across the menu, though the ethos to what's on the plate is more about open fire cooking than anything else. A prime example of this is one of the hero dishes, a bone marrow which Ross comments is 'very Australian' and even uses Kangaroo which is smoked in the woodfire and then covered in a coconut vinaigrette, 'Kinilaw-style' which is similar to a ceviche. Book ahead at one of Melbourne CBD's best new restaurants here.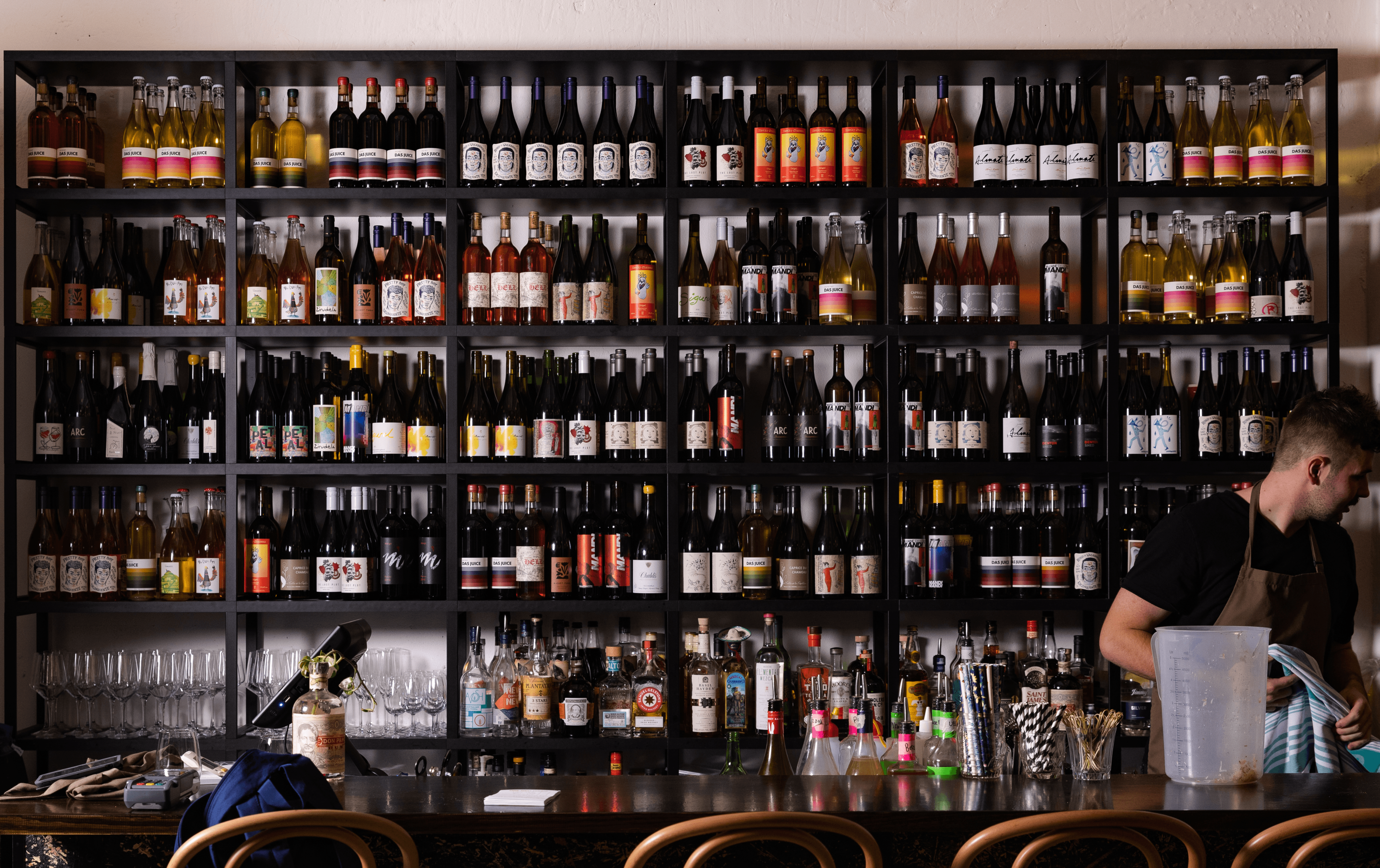 Farmer's Daughters
Farmer's Daughters launched in early 2022 with a simple concept of celebrating the diverse and dynamic produce that the Gippsland area of Victoria has to offer. Its three-storey space is a complete homage to the plentiful and dynamic region, incorporating native wood into the fit-out from the area's vast bushland.
Featuring a deli, a restaurant, and a rooftop there's plenty to experience. All menus have been inspired by founder and executive chef Alejandro Saravia Pastuso, and offer a taste into culinary rich Gippsland through tasting plates and wines. It may be new but the concept and execution of Farmer's Daughters have cemented it as one of the best restaurants CBD Melbourne has.
Kata Kita
Kata Kita takes a contemporary approach to Indonesian cuisine, with classics like Nasi Goreng found in front of at least one diner at any one time, while those who prefer to dial it up a notch can opt for a squid ink counterpart of the Indonesian essential dish. Those who want to go the full hog might find themselves ordering up on the Grandma's Babi Kecap, a sweet and salty pork belly with salted veggies; or perhaps the Sop Konro, a beef rib soup which'll warm a belly of your own. If you're looking for a solid feed at a modest price point, Kata Kita is one of the best in the CBD.
Lee Ho Fook
Follow the neon light down the alleyway and step into the dimly lit, rendered brick walls of chef Victor Liong's Lee Ho Fook. Dining here will rid you of your preconceived notions of Chinese fine dining as Victor's modern approach pairs the legacy of traditional dishes with his own creative interpretation like smoked eel, foie gras, candied konbu, and pink peppercorn or pork jowl, baby bok choi cooked in mussel water, Warragul greens, star anise roast duck sauce.
There's also a dizzying amount of wines on offer but with wine pairing menu options you can leave it to the in-house experts. This is one city restaurant to consider next time you're in the big smoke.
Chancery Lane
Another new kid on the block Chancery Lane is a Euro-leaning bistro that joins the alumni of must-hit CBD destinations. With their own signature approach to European-based fine dining Chancery is backed by a team of hospitality veterans and led by Scott Pickett (Longrain, Matilda, Estelle).
One of the most unique dining experience's that Melbourne has on offer, the menu is refined to perfection with options including John Dory fish on the bone with Café De Paris butter as a main, and the decadent Pedro Ximénez (Spanish dessert wine), sultana, chocolate tart to round things out. Can't have the best restaurant CBD list without this newcomer.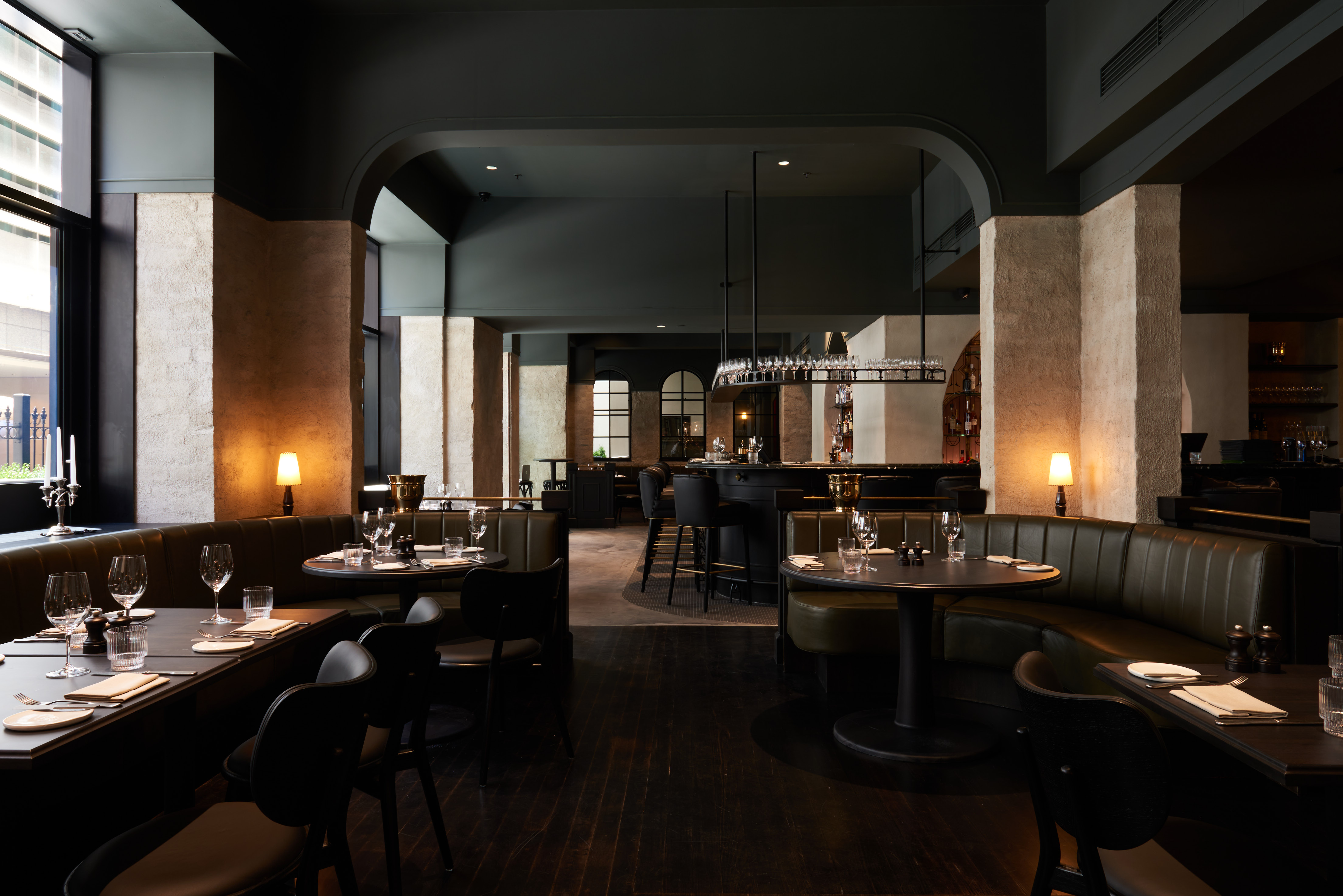 Tipo 00
A true pioneer in the pasta space, Tipo 00 exploded onto the scene with its quaint and intimately spaced restaurant on Little Bourke Street back in 2014. Tipo earned its best CBD restaurant status by introducing curious diners to pasta house-made and cooked to perfection with a series of different sauces and accompaniments.
For an entrée, treat yourself to beef carpaccio with black figs & vincotto (cooked wine), and follow it up with the gnocchi with braised duck, porcini & pecorino pepato. Don't forget the name-sake dessert 'tipomisù' a clever interpretation of the Italian staple.
Chin Chin
If you've ever walked down Flinders Lane and wondered what that massive queue was all about, congratulations—you've just found Chin Chin.
Still the city's most buzzing pan-Asian eatery. Just on the other side of that door is some seriously tasty South-East Asian cuisine, in a seriously funky setting. We're ordering the crispy barramundi and green apple salad, with caramelised pork, peanuts, chilli and lemongrass. And then the Isaan style spicy hot BBQ chicken. And that's just for starters...get in early if you want to avoid the crowds.
Supernormal
It's only a short stroll to Flinders Lane's other Asian masterpiece—of course, we're talking Supernormal.
Andrew McConnell's crown jewel and home to the most famous lobster roll in Melbourne. The Supernormal menu is changing all the time, but it's always designed to be shared, so grab a couple of mates and try a serve of duck bao, a whole snapper with burnt butter sauce, wild watercress and shaved kombu, some beef tartare, and whatever else you can fit in.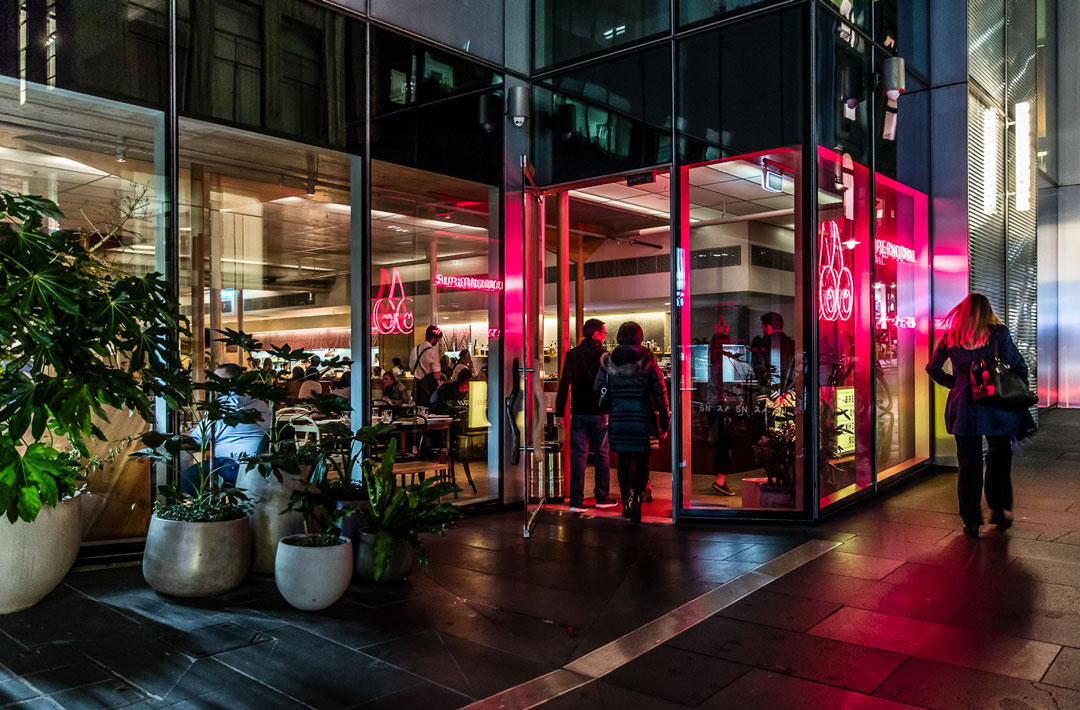 Cumulus Inc.
From one McConnell venture to another. Cumulus Inc. is one of Melbourne's fanciest all-day eateries: part cafe, part wine bar, and part restaurant. A staple resident on Flinders Lane, Cumulus has defined itself as one of Melbourne's best CBD restaurants and accordingly is filled throughout the day and well into the night.
If you're at a loss as to what to choose, go for the flatbread with Barletta onion, anchovy & cultured butter, followed by the slow-roasted lamb shoulder with almond and smoked paprika.
Vue de monde
Vue de Monde is one of the most iconic classical fine-dining restaurants that Melbourne has. Its legacy as a catalyst for Melbourne's culinary boom has been well documented and its creator Simon Bennet has risen to a supreme figure in Melbourne's hospitality community.
The menu is sleek and refined, with simplistic yet rich pairings with some of the city's best fine dining, paired with carefully selected wines by the team's sommeliers it's an experience as much as it is a meal. It certainly won't be cheap, but it's one you'll remember forever.
Ishizuka
If you're rolling with a big budget and ready to spend at one of the best Japanese food Melbourne has to offer, boy have we got the restaurant for you.
Ishizuka screams indulgence, with the menu changing seasonally. And we're talking a revolving nightly set menu of 11 unbeatable dishes. And here's the kicker: it only serves a small cluster of lucky diners each evening. Book ahead for this one. It fills up like weeks in advance.
Longrain
Originally opened in 1999 then closing briefly in 2020 for reasons we don't need to discuss again, Longrain once again reigns supreme in the Melbourne CBD restaurant scene. It's all thanks to restaurateur, chef and hospo veteran Scott Pickett. Book into this longstanding Thai-inspired favourite here.
Grill Americano
On the menu at this slick American steakhouse which opened early 2022, you'll find dishes celebrating three essential elements of Italian cooking: charcoal, woodfired and steam. It begins with the likes of fresh-baked focaccias served with housemade green olive butter, plenty of Cicchetti and a top-shelf mozzarella selection. Somewhere in the middle sits the handmade pastas—don't miss the pappardelle of slow-cooked Wagyu beef and porcini ragu—while rounding out the main event are several showstoppers in the form of Bistecca steaks on and off the bone. Meanwhile, at the Grill Americano bar, you'll find nods to Italian classics such as the smoked Negroni, while the 2,000+ bottle cellar will bring local and international producers to that glass on your table—and as the name would suggest, you'll also find a healthy grip of Americano's. Hands down one of the swankiest restaurants in the CBD, and one of the best, too.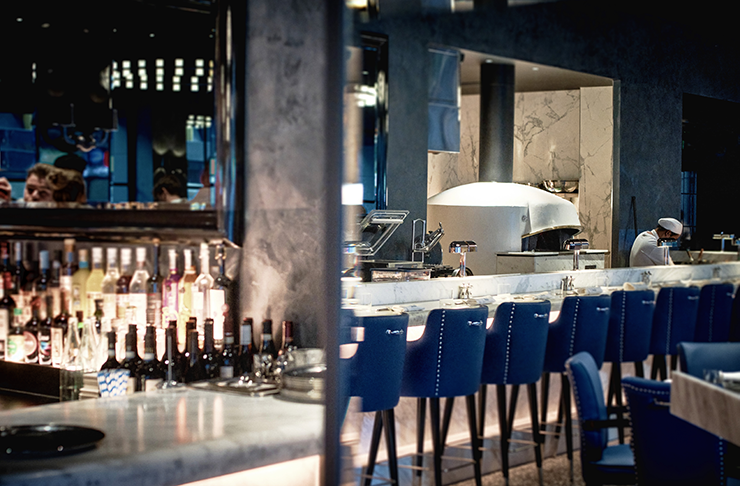 Coda
Coda's French-Vietnamese fusion menu is all about innovation and carefully balanced flavours. Nab the crispy tapioca and prawn betel leaf with kaffir lime and green chilli for starters, and chase it down with Beijing crispy aromatic chicken with plum salt.
The rum-roasted pineapple and Thai basil sorbet with whipped mascarpone cream and Sablé Breton are also absolutely insane. Check it out on Flinders Lane.
Pho Bo Ga Mekong
For cheap and cheerful, you can't go past Pho Bo Ga Mekong on Swanston Street. This CBD pho spot has been around for a minute now, and in 2022 many a Melburnian still consider it their go to for a bowl of beef or noodle soup. The team at Mekong think it's one of the best restaurants in Melbourne because Bill Clinton once ate two bowls there (and that's immortalised by a written sign on the wall, but we think it's the best because of their commitment to outstanding Viet cuisine.
San Telmo
When the craving for Argentine food strikes, Melbournians head to San Telmo. Accept no substitutes. We're talking empanadas, chargrilled sardines, house-made pork and beef sausages, and of course, big hunks of meat.
This is one of the best CBD restaurants on offer for flame-grilled or steaks. With Lamb rump, flank steak, beef sirloin, ribs, eye fillet—you name it, they've got it and it's cooked damn well (or medium-rare, if that's how you prefer). A lovely mid-week date night option.
Flower Drum
We'd be remiss not to mention Flower Drum, one of Melbourne's most iconic restaurants.
As it should be—with the ultra-high standard of Chinese dishes being served up daily. A dim sum selection to die for, quail san choi bow, crispy pork ribs with a crunchy garlic crumble, whole fish, flavour-packed hot and sour soup—you can see why we get excited about this one. A lot of Melbournians wait for a special occasion to check out Flower Drum, but it's really good any time you're hungry. Worth the splurge.
Kisumé
Let's round this out with one more Asian restaurant because Melbourne's CBD does Asian food better than almost anywhere.
We mentioned the queues on Flinders Lane for Chin Chin, but we forget to mention the lines going the other way to get into Kisume. Helmed by head chef Yonge Kim, their extensive knowledge of sushi and sake leads to an award-winning dining experience.
You could spend an entire evening exploring this split-level Japanese restaurant and sake temple. Don't expect a cheap feed though—this is as fancy as Melbourne gets.
Feel like just devouring a pizza instead? Here are Melbourne's best pizza joints.
Image credit: Supplied